The Wrecker's Guide To South West Devon – Part Two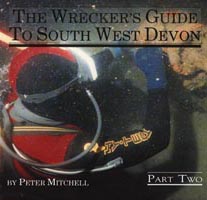 | | | |
| --- | --- | --- |
| Buy the Wreckers Guide To South West Devon Part 2 for Kindle at Amazon.co.uk | | |
The south western coast of England has no lack of shipwrecks, and this second volume of The Wreckers Guide To South West Devon traces the history, fate and rediscovery by scuba divers of another collection of wrecks around Plymouth. Packed full of rare archive photos and previously obscure information trawled from maritime history records, each wreck featured in The Wrecker's Guide has been dived extensively by author Peter Mitchell, providing first hand insight into what remains and what these shipwrecks can still tell us of their past.
| | | |
| --- | --- | --- |
| Buy the Wreckers Guide To South West Devon Part 2 for Kindle at Amazon.co.uk | | |
This book is available in Kindle format. There is currently no print edition available.
Note: You don't need an actual Kindle device to read The Plymouth Breakwater - you can read it on your PC, Mac, iPad, and many other devices using the free Kindle software available from Amazon.
Simply download the free Kindle software and purchase the Kindle book and you can then read it on your favourite device without needing a Kindle.
Download Kindle for PC, Kindle for Mac, Kindle for iPad and more from Amazon.co.uk
The Wreckers Guide To South West Devon Part 2 contains complete histories, photos and wreck location marks for the following wrecks - those underlined appear on this site.
Submarine A7
the Wreck With No Name
Barquentine
San Pedro El Mayor
Cantabria
Charter
Jane Rowe
Liberta
Soudan
Heye-P