As you've probably guessed, Submerged Productions is run for fun rather than profit. Submerged Productions is essentially a cottage industry, run by myself along with a lot of support and encouragement from my wife Joyce and the invaluable help of my dive partners – Sound Diving's Steve Carpenter, Dave "My Flower" Page, Brasso Brassington, now sadly removed to the wilds of Nottingham, Pete Hearn who also keeps the boat running,and Geof Skinner who keeps the whole show on the road with endless cups of tea and practical help. A later addition was the incomparable Sally Tyler who is a marine biologist and worked for the D.D.R.C. Luckily for her she escaped our clutches and ran off to marry a nice policeman and have a family. The latest person to join the crew is Peter Rowlands, a superb underwater photographer and contributor to many publications.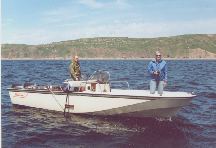 Geoff Skinner and Peter Mitchell
I also received a wealth of research tips and treasures from Steve Johnson, John Benhenha, Dick Larn, George Sandford and Al Down,and most importantly Gordon Crimp who was invaluable in the early days.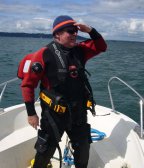 Peter Rowlands
Without the help of Roger Webber I would have never found the A7 in the days before sats or some of the other wrecks in this site. I am also very grateful for other dive skippers like Richard King and Dick Linford who freely share their information on different dive sites.

Sally Tyler and Dave Page
While I'd naturally be delighted if you bought any of my books and videos, all I really hope is that you enjoy the information on this site and that it contributes in some small way to your enjoyment of diving.
You can email me at peter@submerged.co.uk or write to me at
Peter Mitchell
Submerged Productions
5 Western College Road
Mannamead
Plymouth
Devon
PL4 7AG