I am very grateful to Leo Styles for sending me this great story about Austin McNamara and his pair of sea boot stockings. Although it is a light hearted story, to me it just emphasises the quiet bravery of men like Austin. The politicians are always saying how we will never forget those who suffer on our behalf. Unfortunately most of us have. Maybe this, and other stories here, will do a little to redress that.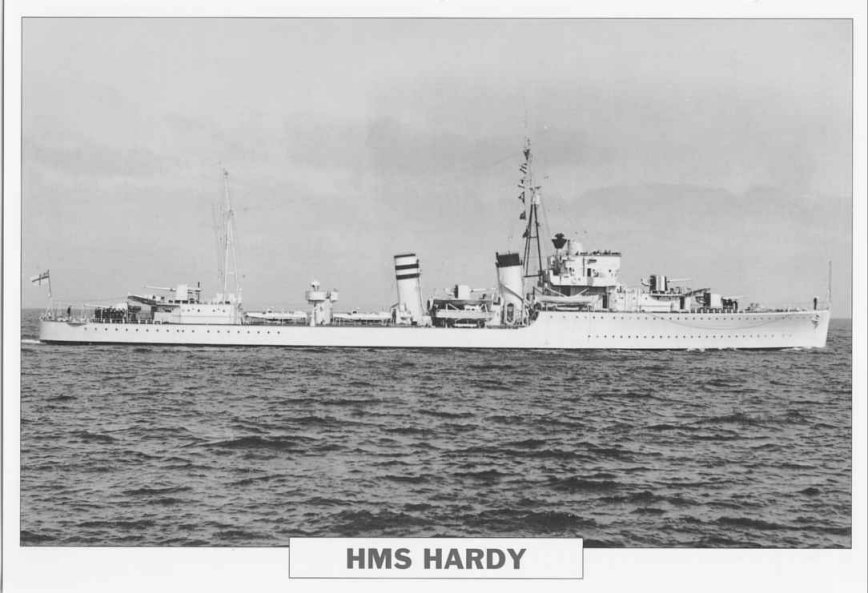 HMS Hardy
Leo writes This is the story that my 12 year old son Patrick gave as part of a school class presentation in his first year of secondary education. The human interest story obviously is related to Austin McNamara of Bolton, and coincidentally my son delivered the presentation on 1 March 2004, the 60th anniversary of Austin's untimely death during the war in 1944.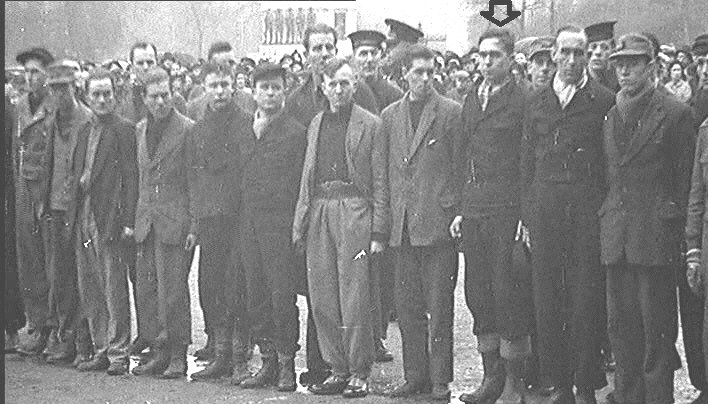 Two views of Austin Mcnamara at Horse Guards Parade. Look for the arrow.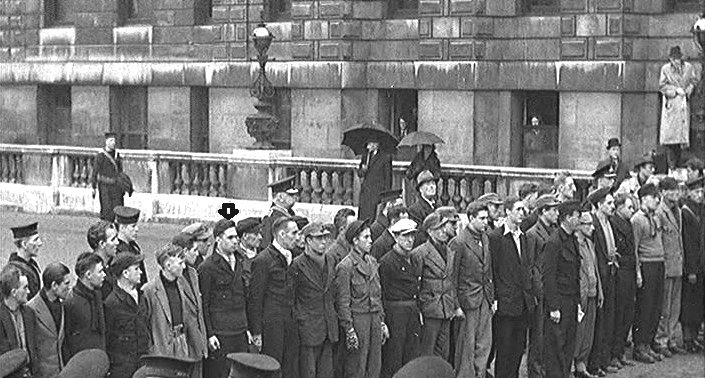 Two views of Austin Mcnamara at Horse Guards Parade. Look for the arrow.
Two views of Austin Mcnamara at Horse Guards Parade. Look for the arrow.
I'd like to share with you an artefact that has historical significance to my family. This is a pair of sea boot stockings. They belonged to my great uncle, Austin McNamara, who was my grandmother's brother. He received them from some Norwegian fishermen who rescued him from his naval ship, the HMS Hardy when it was sunk while in action against German destroyers at Narvik on the coast of Norway, on the 10th April, 1940. They would have been cold and wet from being in the water so the fishermen gave them some of their clothing. When he returned to England he was issued with a new naval uniform but he kept the sea boot stockings, a hat, a scarf and gloves. The survivors were inspected and addressed by Winston Churchill on the 19th April1940. In these photos, Austin is still wearing the fisherman's clothing.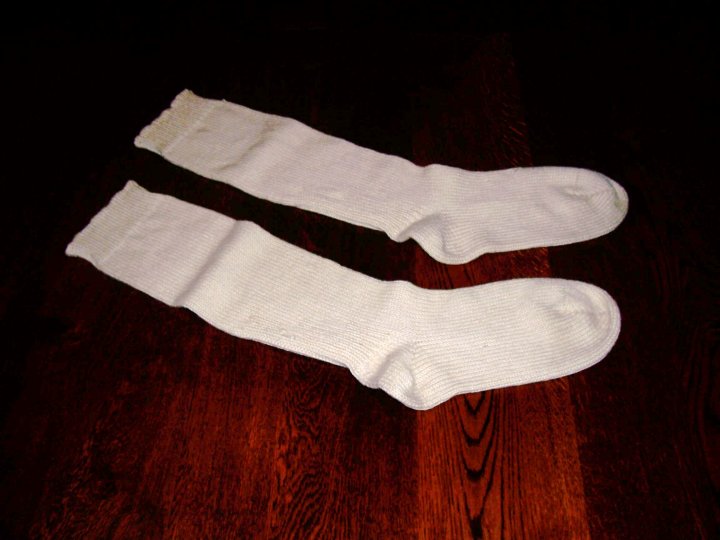 The legenary stockings. Photo P.Styles.
Almost 4 years later Austin was on the HMS Gould which was torpedoed and sunk by a German submarine in an area between Ireland and the Azores (west of Portugal). Half an hour later, this German submarine was in turn sunk by other British ships with only one German survivor! The Ministry of Defence's Naval historical Branch's records show that the cause of death of Able Seaman Austin McNamara was "Missing – Death on War Service Presumed", the assumption being that he lost his life as a result of the action that day, 1st of March 1944. He was 23 years of age.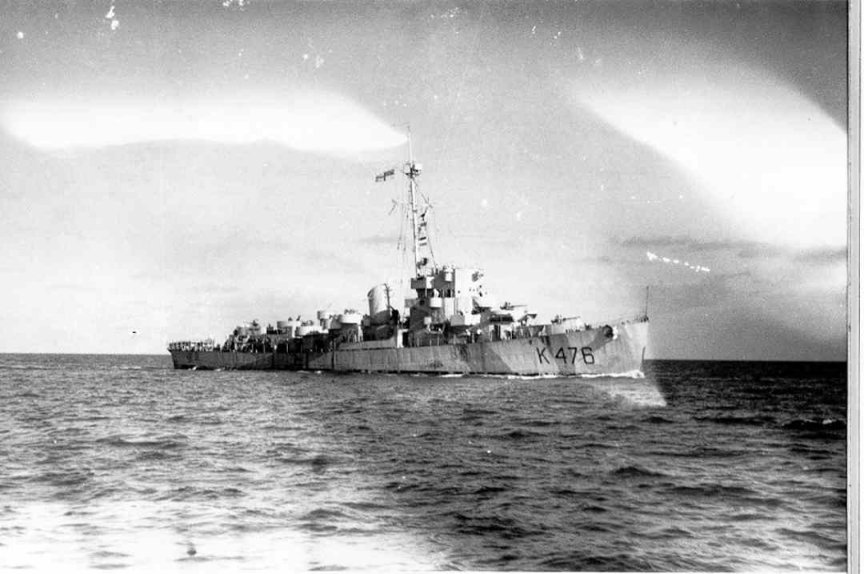 H.M.S. Gould. Photo Navy-photos
When my grandmother married my grandfather, they came out from England to live in Australia. My grandmother brought Austin's scarf, gloves, cap and the sea boot stockings with her. My grandfather used to ride a motorbike to work so he used the scarf and gloves until they wore out. My grandmother can't remember what happened to his cap. A few years ago, she asked if we would like to keep the sea boot stockings. My artefact has some historical value due to its age, more than 64 years old and due to its link with the Second World War. It is obviously of great sentimental value to our family. As far as monetary value goes, they would cost about 50 dollars to make today but this does not take into account any value given for their historical worth.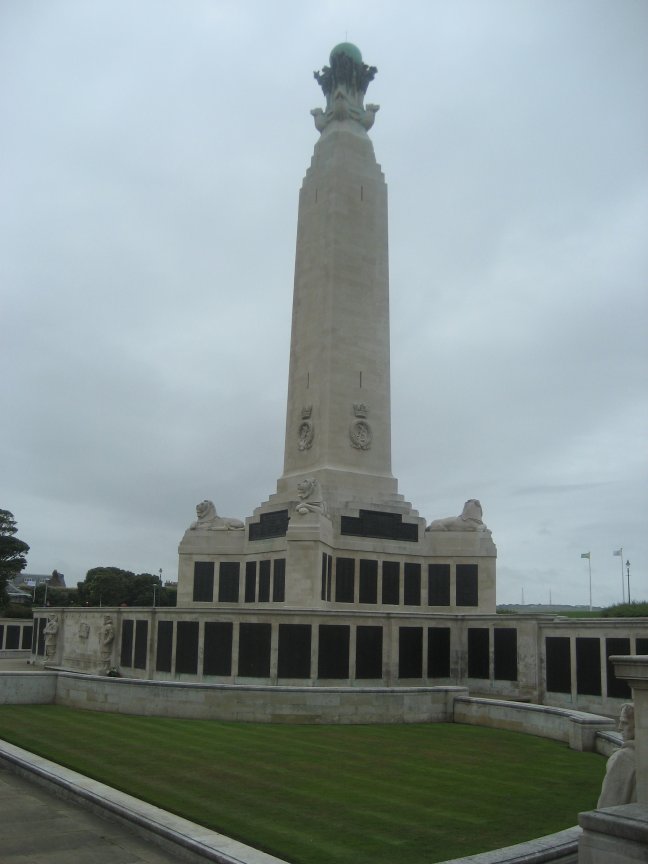 Plymouths War Memorial.
Austin, together with his shipmates, is remembered with honour at the Plymouth Naval Memorial in England.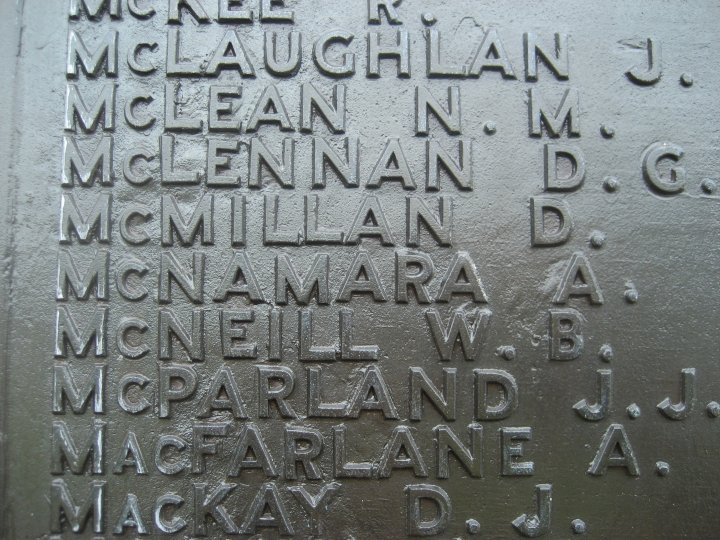 Austin McNamara. Rest in peace.