In 1859 the French launched "La Gloire". This armoured warship was developed using knowledge gained during the "Crimean War" when it was found that "Roundshot" fired from smoothbore cannon would bounce off the sides of "Armoured Ships" and cause no damage. Her appearance rendered all of our coastal defence forts, and our wooden walled warships, obsolete overnight.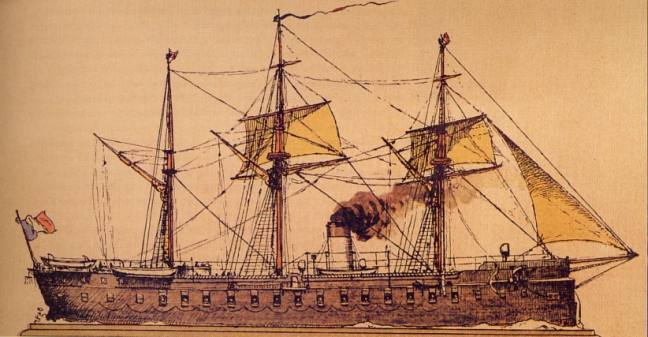 La Gloire.
This sparked an arms race the like of which had never been seen before, and whose effect is carried on to this day. Although explosive shells had been available for smoothbore cannon for many years, they were still spherical and had minimal penetrative effect. A pointed, cylindrical projectile was required, along with a much higher velocity when fired.
Armstrong" lead coated shell showing rifling marks engraved into lead from firing.
The earliest, successful guns and projectiles that fitted this bill were those produced by Sir Thomas Armstrong in the 1860's. The guns were "Rifled" and the projectiles were lead coated to allow the rifling to grip and rotate the shell thus giving it greater accuracy and range. The lead coating also sealed the gap between the shell and the bore thus minimising the amount of "Windage" or "Blowpast" of gases and ensuring that more of the energy from the gunpowder's explosion went into driving the projectile.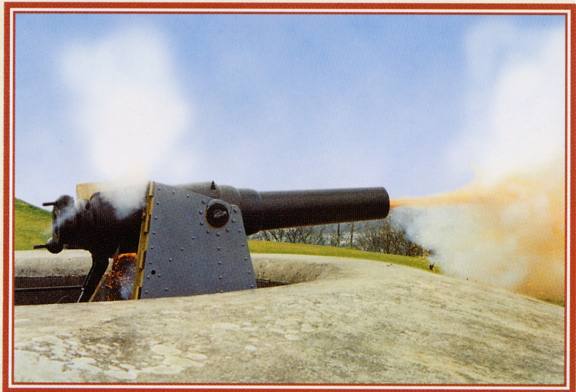 Replica "Armstrong" Breech loading gun at Crownhil fort showing the weakness inherent in its design with gases escaping from beneath the breech.
Also, because it was now cylindrical, much greater weight of impact could be concentrated on its target than was possible with spherical shot. There was a drawback with "Armstrong" guns, however, in that the metal technology of the day was not quite up to the mark, and there were many instances of the breeches of these guns blowing out and killing and maiming the gun crew. Also the lead coating was prone to stripping off on firing and the shell would become unbalanced and fly off in unpredictable directions.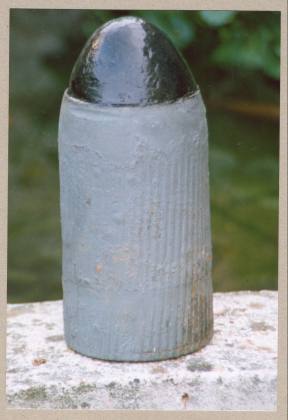 "Armstrong" lead coated solid shot.
By the mid 1860's guns reverted to being muzzle loaded. This was not the apparent retrograde step it first appeared. Gun manufacturing and casting techniques were better understood and weapons up to 17.25″ calibre could be made. Those around Plymouth ranged from a fairly small 2.5″ (7 & 9lb.) field gun up to 12″ or 13.5″ pieces. Most common size found is the 6″ (64lb) shell, but 9″ & 12″ are frequently seen as well.
6″ (64lb) RML shells
These guns were rifled with 3 or 5 or more coarse grooves, the shells carried a series of Copper / Bronze studs which rode in the grooves to impart rotation to the shell on firing.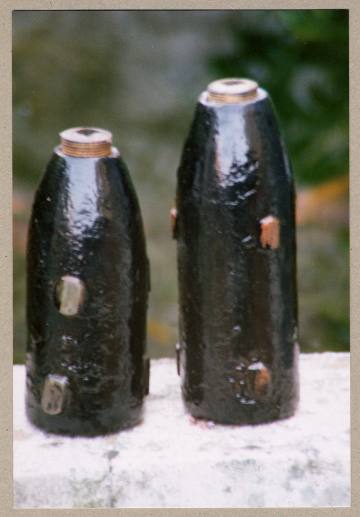 7 & 9lb field gun RML shells
Because the shell had to be a fairly loose fit in the guns bore to allow it to be loaded, a large copper disc was first placed on top of the powder charge before the shell was loaded.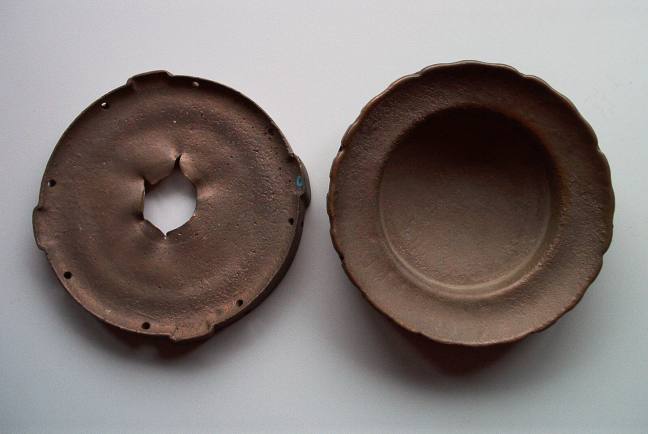 Two types of Gas Check. The right hand one is, unusually, intact.
This "Obturator" or "Gas check" would be forced onto sharp radial ribs on the rear of the shell on firing and through this grip would spin the shell to stabilise it in flight. These can sometimes be found but are usually badly damaged.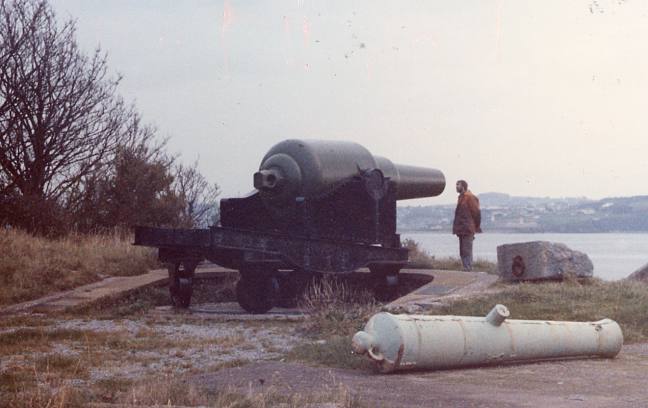 !2 inch R.M.L. on Drakes Island, Plymouth.
Largest RML ever produced were the 17.25″ (100 ton) weapons that were emplaced on Malta and Gibraltar. Only example now existing is on Malta at Fort Rinella.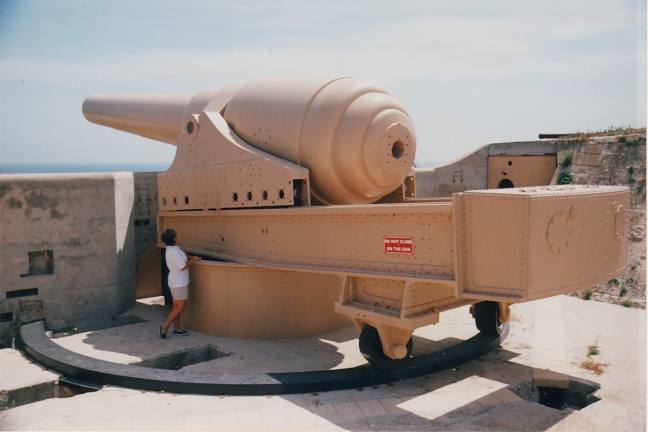 17.25″ (100 ton) RML Gun and Emplacement.
RML Guns continued in use until approx. 1895-1900. Many old and obsolete smooth bore cannon given a new lease of life by having a "Rifled liner" inserted and expanded into place by firing a heavy "proof" charge. These were called "Palliser Conversions" an example of which can be seen at Dartmouth.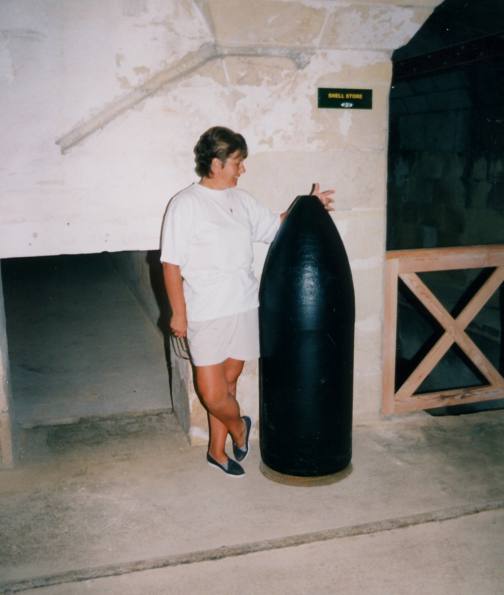 17.25″ (100 ton) RML shell.
By 1890's technology allowed newer and better Breech Loading Guns to be manufactured. The shells for these guns were also fairly different in that instead of studs ( and the weakness they built into the shell body) they were fitted with a circular "Driving band" an inch or more up from the base of the shell. This again provided a gas seal and also provided the means to spin the shell in its passage up the guns barrel.
6″ breech loaded shot on seabed showing "Driving Band" and thickness of "Concretion" which has been partially removed.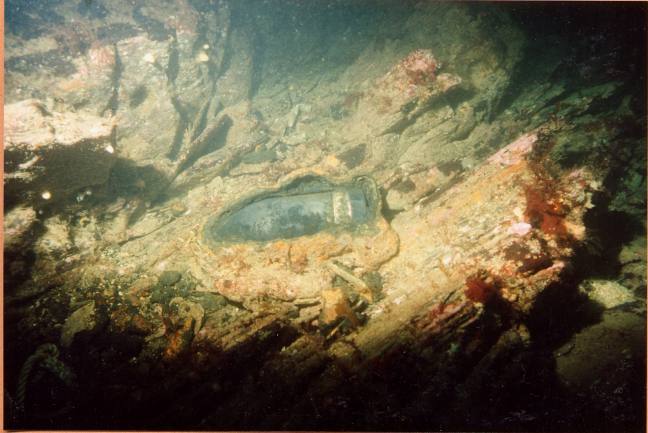 6″ breech loaded shot on seabed showing "Driving Band" and thickness of "Concretion" which has been partially removed.