No visit to this part of the coast should miss the opportunity to visit this museam, which is the only one of its kind in South Africa. Situated in Independence Street, the museam building was once an Anglican Rectory built in 1838. What is now the Shipwreck hall was built in 1864.
Apparently the money for the building ran out when they got to the roof. A prayer meeting was held and the Lord asked to provide. Shortly afterwards, so the story goes, the English sailing ship Ethelhedra ran on to the rocks and broke up, her timbers being washed ashore, where they were used to complete the building.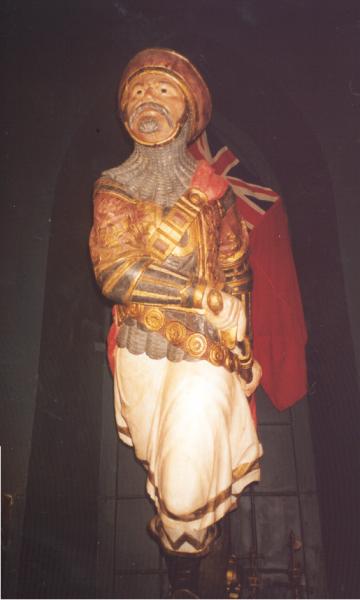 An unknown figure head.
The museam houses a good collection of exhibit, including cannons, carronades, ships figureheads, and many other pieces of furniture and other artifacts salvaged from the many ships lost along this part of the coast.
There is a whole section devoted to the Arniston with many interesting artifacts and pieces of jewelry from the wreck which was excavated in 1982 by the University of Cape Town, and later declared a National Monument.
Incidentally, although the wreck lies in 30 feet of water, a wooden section of the port side lies on the shore opposite the memorial. Although it is normally covered by sand it does sometimes become exposed after a strong southeast storm.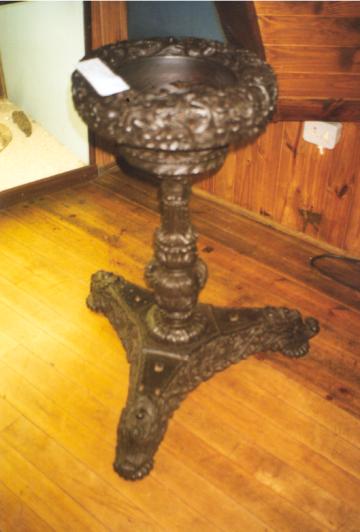 Baptismal font from the ' Queen of the Thames ' a luxury passenger liner wrecked near Ryspunt, near Arniston in 1871
Another very interesting wreck is that of the Nicobar, a Danish ship wrecked at Quoin Point in 1783. The Museam has an exhibit of the Swedish Cob coins found on her. These are a strange square ,or oblong shape, and the museam sells replicas of them in a nice presentation pack.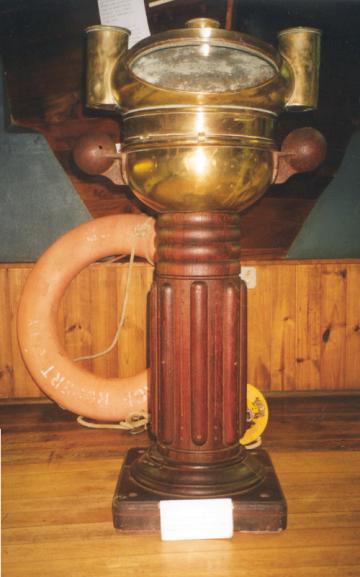 This binnacle is also from the ' Queen of the Thames'
The staff at the museam are extremely helpful and they have loads of maps and other mementos like the Birkenhead plaque for sail. They also have a great selection of wreck photos. They don't sell them yet, but I think they will in the future.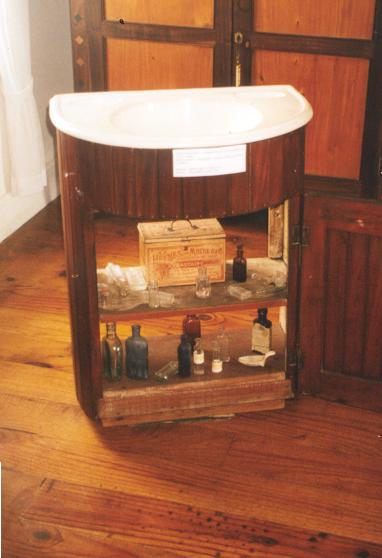 This porcelain washbasin came from the ' Sceptre ' which ran onto the rocks near Struisbaai in May 1925.
Breadersdorp is a funny old fashioned sort of place, but very nice. There are lots of little coffee shops and the wholeplace bustles in a fifties kind of way. It is also called the Gateway to the Agullas, which is about 38 km down the R 319.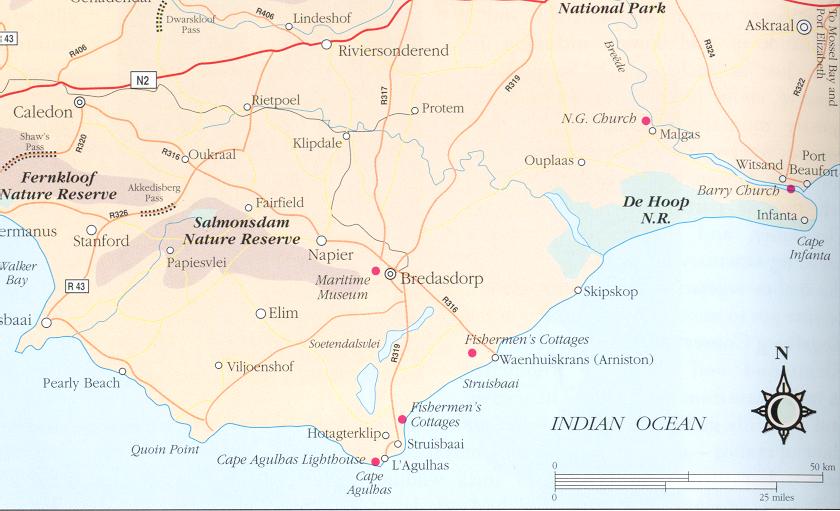 Directions to the Bredasdorp Shipwreck Museam.
South Africa Shipwreck Trail