I am extremely grateful to Jim Knight for some of the information and photos in this article
Lionel Crabb was born in 1909 to Hugh and Beatrice Crabb who lived at the time in South London.(he later got the nickname 'Buster' in honour of the American swimmer, turned actor, Buster Crabbe) They were a poor family and Crabb's father Hugh was listed as Missing during the Great War. For most of Crabb's early days he was brought up by Frank Jarvis, a relative of Beatrice who came to stay after the War. For a short and unhappy time Lionel went to school at Brighton College but then transferred to H.M.S.Conway, a Naval Academy. When he left school he was a bit of a drifter having lots of different jobs, and not much liking any of them. In the end Crabb tried to join the Navy in 1939 when he was twenty eight. He was refused on medical grounds, was to old to join the Reserves, so he joined the Merchant Navy instead.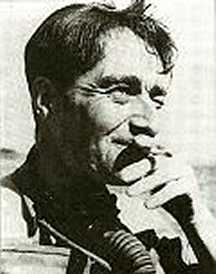 Lionel 'Buster' Crabb.
When the Second World War started up he trained as a Merchant Seaman Gunner, and because of this he was able to join the Royal Navy Patrol Service that used trawlers to clear mines. At last he was where he wanted to be. Unfortunately he had to have a medical at some stage, and when he did, it was found that he had a weak left eye, and so he was banned from further sea service. Fed up, Crabb volunteered for Special Duties, and ended up becoming a mine and bomb disposal expert. He was sent to Gibraltar in 1942 to work with the Mediterranean Fleet Clearance Diving Team. His job was to make safe the mines and warheads that the divers discovered. After doing this for a while he thought he could be of more use if he became a diver, and applied to join the Team. Crabb hated the idea of any sort of fitness training, smoke and drank heavily and could only just swim three lengths of a swimming pool, but the head of the Diving team Lieutenant Bailey, accepted him because he was good at mine disposal. (incidentally, when I did my Ships Diver training in 1967, there was no requirement for you to be able to swim)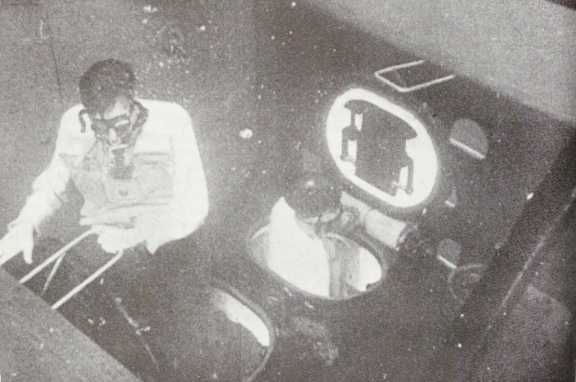 Davis Submersible Escape Apparatus.
In those days diving equipment was very rudimentary, as up to the outbreak of the Second World War the Navy did not consider the Diver to have an offensive role, and used them mostly for clearance diving or repairing ships bottoms. However attacks by the Italians using Midget Submarines during the First World War put soon paid to this idea. By the time the Second World War started the Italians had become much more sophisticated, and by 1941 had damaged two battleships, H.M.S. Queen Elizabeth and H.M.S. Valiant in the port of Alexandria. By the time Italy surrendered, their midget submarines had sunk 190,000 tons of merchant shipping, and over 90,000 tons of Allied warships. Bailey and Crabb built up the Underwater Working Party, and when Bailey broke his ankle, Crabb took it over. Crabb had to constantly adapt to the Italian threat especially when the Italian's started to use human torpedoes. The unit secretly took up residence in an old battered steamer called the Olterra moored in a neutral Spanish port just five miles from Gibraltar.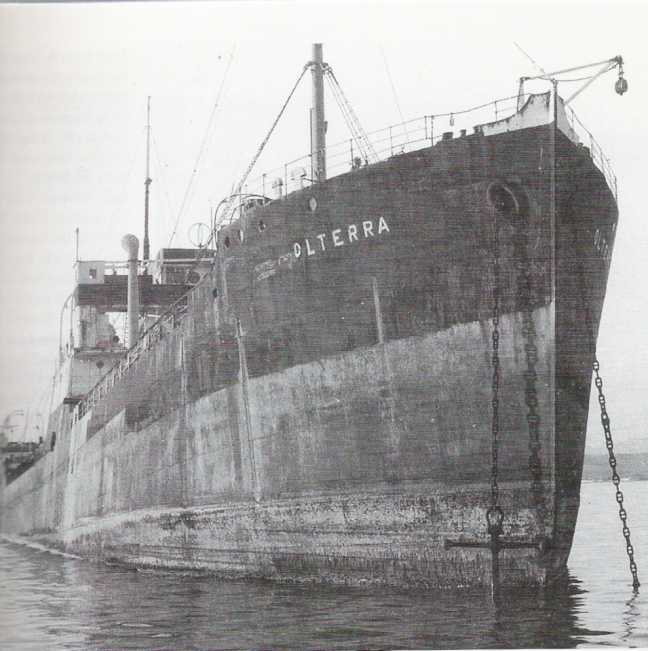 The Italians used this a a secret base.
On board the Olterra the Italians made a workshop to equip their subs and cut an entrance hole below the waterline so that the human torpedo's could be launched in complete secrecy. On the 7th December three of these were launched to attack shipping in Gibraltar Harbour, and it was only because of Crabb's vigilance along with his assistant Leading Seaman Bell, that all the attacks were foiled. Just imagine it. With no proper equipment, no suits, just overalls, no fins, just plimsolls, and to breathe a Davis Submersible Escape Apparatus, the two of them patrolled in the dark searching ships bottoms never knowing if a mine was about to go off.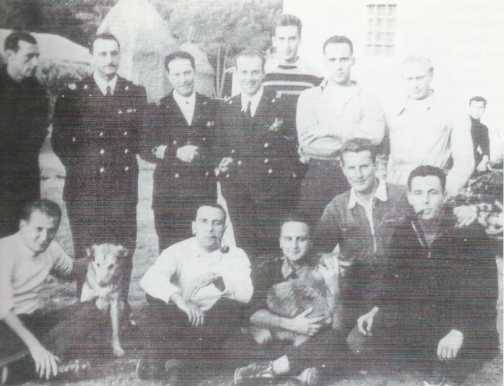 Members of Decima Mas, the team Crabb was up against.
Ironically the Italians surrendered the next year and Crabb was able to not only visit the Olterra to recover various bits of submarines, but he also visited the Italians who had used them. They apparently had a great respect for Crabb and were happy to assist him in his quest to develop these weapons. For all this work and much more, Crabb was awarded the George Medal, and promoted to Lieutenant Commander. Interestingly leading Seaman Bell also got the George Medal and was promoted to Petty officer. This was a bit unusual as it was usually Officers that got the gongs, with the men getting a bit of praise.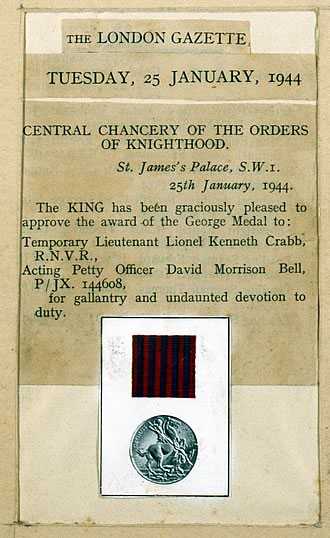 The George Medal.
Crabb was then sent to Venice to clear the harbour of wrecks, and when that was finished he was awarded the O.B.E. In 1945 he was moved to Palestine to head up an underwater bomb disposal team and was demobilised in 1947.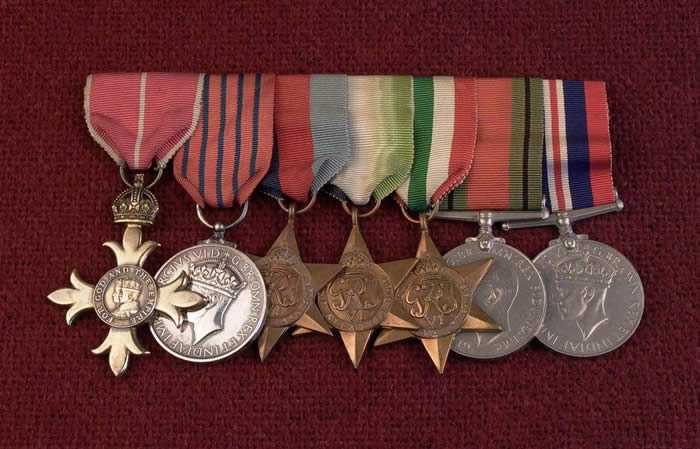 Crabb's other medals.
Some say that he was then recruited into one of the Secret Services. It is a fact that he was recalled to help with the affair of the sunken submarine Truculent that sank with all hands in the Thames Estuary, and in 1956 he was listed in the Navy List as Commander Crabb, Special Branch, based at H.M.S.Vernon in Portsmouth. In 1953 he was supposed to have been in the Suez Canal, and a year later was unsuccessfully engaged to look for the Tobermory Galleon. In October 1955 Crabb was apparently instructed by the Royal Navy to find out why the Russian Cruiser Sverdlov was so manoeuvrable. The ship was in Portsmouth as part of a Spithead Review and since the Americans were also very keen to find out, the mission was overseen by them. Crabb swam to the bottom of the ship where he found a large hole from which a propeller could be lowered to provide more thrust for the bow, which explained the Cruisers superb manoeuvrability. It was the success of this mission that seemed to spur on the idea of inspecting the bottom of the Cruiser Ordzhonikidze which was due in Portsmouth in April 1956 carrying the Russian President Kruschev and his Foreign Minister, Bulganin on a good will visit.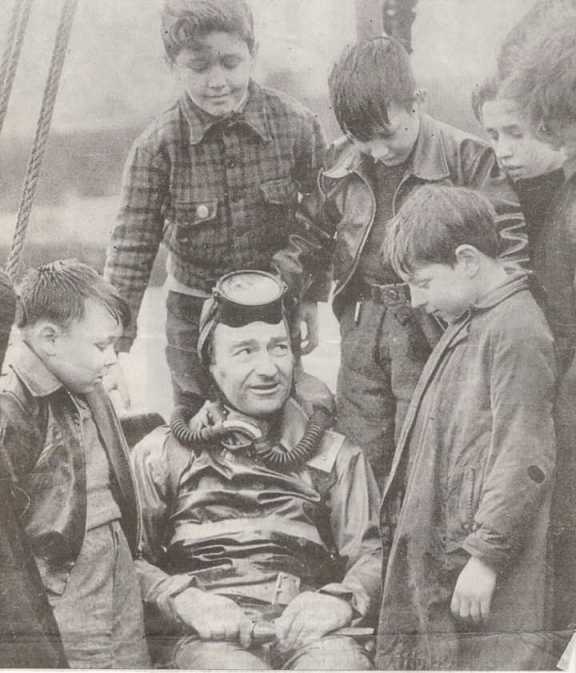 Crabb in 1950 whilst divng to find the Tobermory.
By now Crabb was 46 years old, unfit and a very heavy drinker. On the night of 17th April 1956 he an another un-named man took rooms in the Sally Port Hotel. The next day the Russian ships arrived and tied up at the Suoth Railway Jetty in the Dockyard. That night Crabb was seen in Havant having a drink with some old friends and then he caught the train back to Portsmouth. He was never seen alive again. Less than two months later a body in a diving suit was found floating off Pilsey Island in Chichester Harbour. The body was minus its head and hands thus making identification very difficult. Crabb's ex wife and his current girl friend, Pat Rose could not say with any confidence that the body was Crabbs. However an inquest recorded an open verdict and the Coroner said that he was satisfied that the body was that of Commander Lionel Crabb.
Recent information (March 2010) has led me to believe that I was wrong about the body being recovered two months after the event. At the time, Jim Knight was a member of an R.A.F. Marine Craft Unit stationed at Portsmouth and has given me the following information which casts a different light on subsequent events.

Jim Knight.
Cmdr. Crabb's body was not found 2 months after his disappearance. It was 14 months from the 19 April, 1956 to 9 June, 1957.The Body was not found 'floating around' in Chichester Harbour. It was in fact brought to the surface by 2 net fishermen, from Prinstead or Southbourne, West Sussex. They made some sort of SOS signal that was seen by the lads in the Air traffic control tower at RAF Thorney Island. ATC in turn notified us at the Marine Craft Section in the mid morning. Myself and two other members of 1107 MCU detachment were duty week end crew. We had an old World War Two 40 ft assault landing craft which was used for inshore and harbour rescue, and in this craft we made our way to Pilsey Island which was only about a mile up channel towards the Solent. We found the fishermen with their net tangled up, with what eventually turned out to be Cmdr Crabb's body.Untangling the net, we hitched the body onto the lowered front ramp and got it on board. You are correct in that the head and hands where missing, and in the cavity where the head had been, were hundreds of small crabs, and other such creatures. The odour was abominable.On returning to the MCS (Marine craft Section) we were able to run almost up to West Thorney road, due it being still high tide. Waiting for us on the bitumen, were a mob of RAF Officers, 4 men in long black overcoats, RAF Ambulance, local Police and many unknown onlookers.The body, still clad in a frogman's suit was removed to Chichester Hospital for examination and identification.Later, we members of the Marine Section discussed the incident. None of us could see how the body was indentified. With the advent of DNA, perhaps it could now be proven one way or the other, if the body was that of Cmdr Crabb. Among those on the beach that day was Group Capt. Boxer, Station Commander of RAF Thorney Island. The 4 men in black overcoats must have been MI 6 or such.I have checked the RAF records at RAF Hendon, and they told me that all the records for ALC 1948 had been destroyed. It is a pity that no one has ever given credit for the recovery of the Frogman's body to the RAF Marine Craft Section.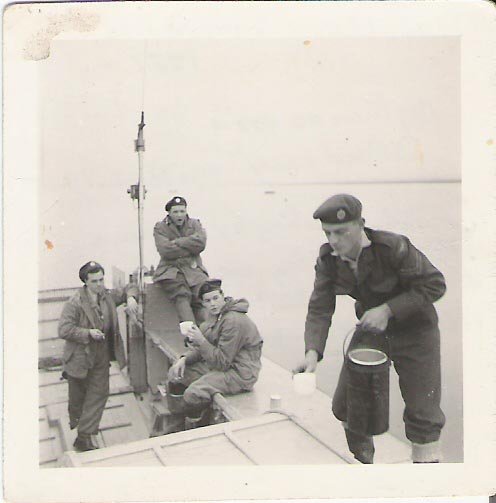 The crew of ALC1948. Photo Jim Knight.
In every report I have read on this incident, there is no mention of our (Marine Craft) involvement in this clandestine affair, much of which is still under wraps. We ourselves, following the dispersal of the official's, were reminded of the 'Official Secrets Act' and told to keep our mouths shut. On my enquiry to the RAF Museums Historical Section for details of the Daily running record (RAF Form 1524) for ALC 1948, for the date of 9/7/57, I was informed the records for many Marine Craft had been destroyed or lost. Was that not convenient. I have contacted some of my ex crew mates some of which have passed on. Only one remembers the incident,but was not involved. I have been trying to get information of this for a number of years now. Just to prove that I did not dream the whole thing.Another coincidence is, that just a few day prior to Crabb's disappearance, myself and a few apprentice mates (Shipwright's in PortsmouthDockyard) went to have a look at the Russian ships, unaware that I would be involved with Cmdr. Crabbe's espionage attempt again in 14 months, but this time as a National serviceman on RAF Marine Craft.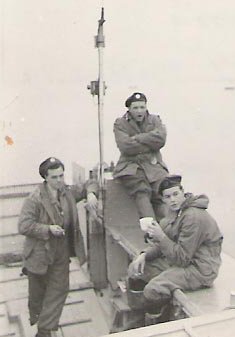 Photo Jim Knight
In the photo above, you can see the front ramp door behind my back. This we dropped to water level to secure the frogman's body, then raised slightly, to prevent sinking ourselves. Only one other member of this crew was involved in the recovery. That is the chap sitting on the side holding his cup of tea. L.A.C Ray Howes. (I believe he lived somewhere near Hornsea, S/E Yorkshire) I am standing next to the cockpit, with my back to the ramp door. The aerial was for the "PYE" phone VHF Radio. It was a short distance radio which we were able to contact Thorney Island Air Traffic Control.

Ray Howes.
MI6 and the Admiralty tried to cover the story up and made a complete hash of it. The day after Crabb disappeared all his belongings also disappeared from the hotel, as well as the relevant page in the hotel's register. The press had a field day, and the incident sparked off a major diplomatic row with the Russians who accused the British of a bungled attempt to spy on their vessel. The then Prime Minister, Anthony Eden was furious when he found out what MI6 and the Admiralty had done, as he had expressly forbidden any such operation. A security blanket was thrown over the whole thing, and even today the major facts of the case have been reclassified so as not to let them into the public domain until at least 2050. Sir John Sinclair head of MI6 was forced to take early retirement and some other senior civil servants were severely censured.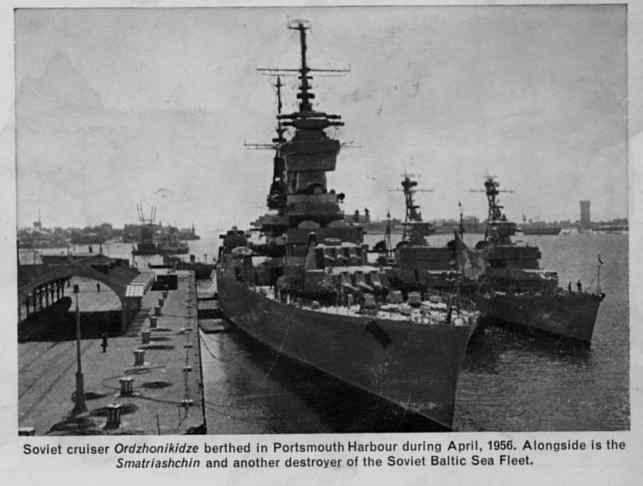 The Ordzhonikidze at Portsmouth.
So what really happened? Well you can take your pick There have been about ten books written on the subject, and acres of newsprint. In some he was captured by the Russians and brainwashed. In others he defected, and of course the Navy said he wasn't there at all. However its fairly certain that Crabb did swim out to the Russian vessel. But what happened next is down to who you believe. The most credible evidence seems to be a Joseph Zwerkin who was an ex member of the Soviet Naval Intelligence. He was interviewed in Israel in 1990 where he had moved after the fall of Communism. He stated that a diver had surfaced near the ship and had been shot in the head by one of the ships crew. Seem's about right to me. All the secrecy surrounding this affair seems to be not so much about Crabb and what he did, but rather about what the various Government Agencies did, why they did it, and why did they cover it all up. It is interesting to find out that the Official Government Documents relating to this affair are not scheduled to be released until 2057.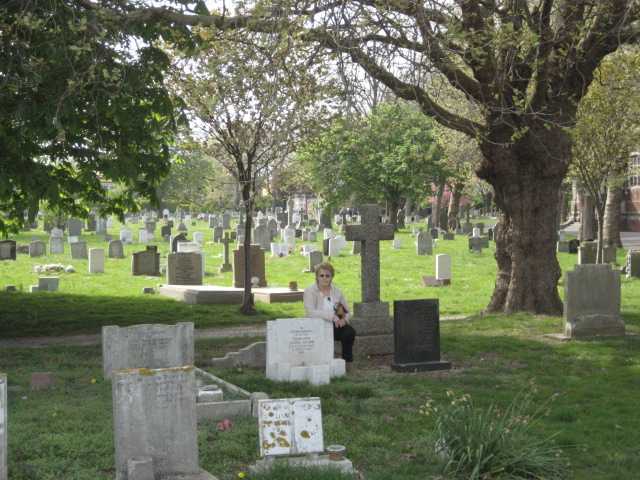 Crabb's grave in Milton Cemetery.
I decided to put this story in the Tombstone section because Crabb was a bit of a hero to me. I come from a generation of divers that remember him as one of the 'greats' In the same way that a Copper would stop you for speeding in the old days before camera's, and say the immortal lines, 'who do you think you are Stirling Moss', we in the Service would be told off for doing something daft in the diving area with the line 'who do you think you are, Buster Crabb'. If you want to get a flavour of the man have a look at the film The Silent Enemy which depicts his time in Gibraltar. Not a bad epitaph.
Busters Grave.
'Busters grave can be visited at Milton Cemetery, Milton Road, Portsmouth.
John Bevan has written a new book that is meticulously researched for the historians, but will also give all those conspiracy theorists, plenty to bite on.