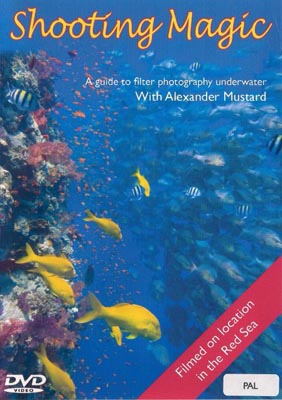 Alex Mustard is a hugely talented and prizewinning, underwater photographer. What makes him special though is the fact that he has invented the Magic Filter, which enables any one to take stunning underwater photographs using only available light instead of a battery of strobes . All you need is a digital camera with a white balance, a magic Filter, and water. The results are truly astonishing. In this 'How to' DVD, beautifully shot on location by Peter Rowlands in the Red Sea, Alex personally guides you through the techniques of filter photography demonstrating both the technical and artistic considerations that go to producing amazing available light photographs. I have to say that I usually drop off when viewing these sorts of instructional DVD's because they tend to drone on about the complexities and make it all seem far too complicated. Alex isn't like that. He has a genuine passion for his craft and is able to communicate it clearly and concisely. Tips on composition, reading the light, and using the white balance are combined with a one to one review of the shots he has taken and a discussion of why some have worked better than others. This chaptered DVD is packed with extra features, such as fitting filters, FAQ's, example compact camera videos and Alex discussing some of his favorite filter images The format is ideal as a refresher before a trip, or, why not take it with you as a handy reference. Running Time 90 mins. This DVD is temporarily unavailable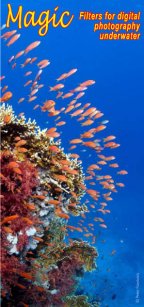 Blue Water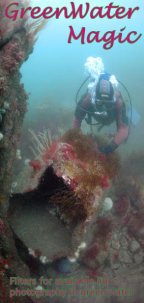 Green Water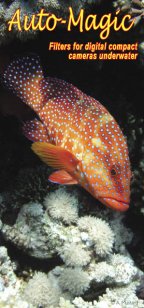 Compact Camera
www.magic-filters.com
Here is a short bio of Alex. Dr Alexander Mustard trained and worked as a marine biologist, but since 2004 has worked full time as a professional underwater photographer and author. His photographs have won many awards including in the BBC Wildlife Photographer of the Year. His most recent book Reefs Revealed (2007) won the International Grand Prize for the best book of underwater photographs at the World Festival of Underwater Photography in Antibes, France.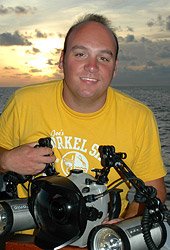 Alex Mustard
Alex is the PhotoPro Columnist for BSAC's DIVE Magazine (UK), a Senior Contributor to Underwater Photography Magazine (UK), a Contributing Editor to Wetpixel Quarterly (USA), and an honorary editor of Ocean Geographic Magazine (Australia). He has written more than 300 published articles about marine life, diving and underwater photography. He is a committee member of the British Society of Underwater Photographers, Associate Editor for Wetpixel.com and a member of the Ocean Artists Society. He has personally presented his work to Her Majesty the Queen Elizabeth and the Duke of Edinburgh.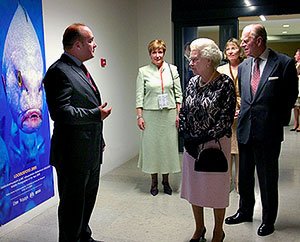 Alex Mustard and Queen Elizabeth.