This memorial was erected in 1872 and records the names of the fifty three boys who died between 1866 and 1899 whilst training to become sailors in the Royal Navy. At the end of the Napoleonic Wars the Navy no longer used impressment to make up its numbers, but instead had improved the terms and conditions of seamen and offered them a pension after a fixed term of service. In order to train enough recruits it was decided to use a number of laid up ships as training establishments and moor them in various harbours around the country.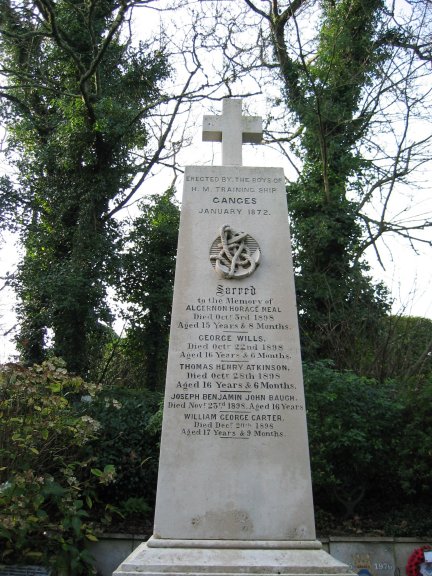 The Memorial.
Boys aged fifteen to seventeen were then asked to volunteer for service in the Royal Navy, serving at least a year on one of these ships. H.M.S. Ganges was one of the ships chosen, and she was moored just down from a small dockyard at Mylor, where the marina is now. She was a second rate three masted ship, 196 feet long carrying 84 guns. She was made of teak and launched from the Bombay Dockyard in November 1821. She had a largely uneventful service, and was the last sailing battleship to round Cape Horn without the aid of steam.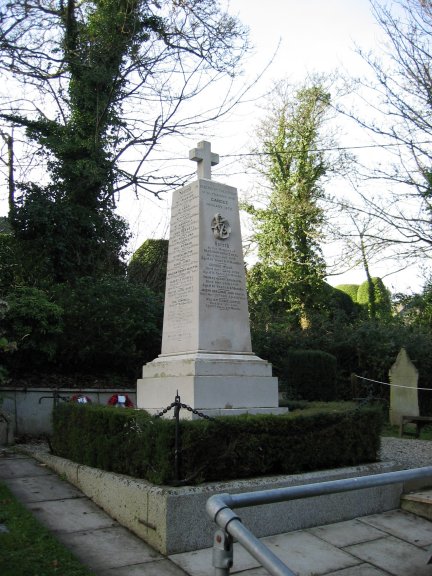 The Memorial.
However it was on the 20th March 1866 that the name of 'Ganges' entered into naval history, for it was then that she was moored here at Mylor and started a tradition of training boy seamen that would last for over a hundred years. The ship itself remained at Mylor for thirty three years and trained nearly fourteen thousand boys. Unfortunately the boys remembered here were to remain forever. Most died of influenza or measles which were fatal in those days, but eight died of accidents, and in the same period sixteen of the crew also died. The ship was removed from Mylor on 27th August 1899 and moved to Harwich where she continued to train boys until a shore establishment was built at Shotley Point in 1905. This tradition carried on untill 1976 when changing times saw its closure.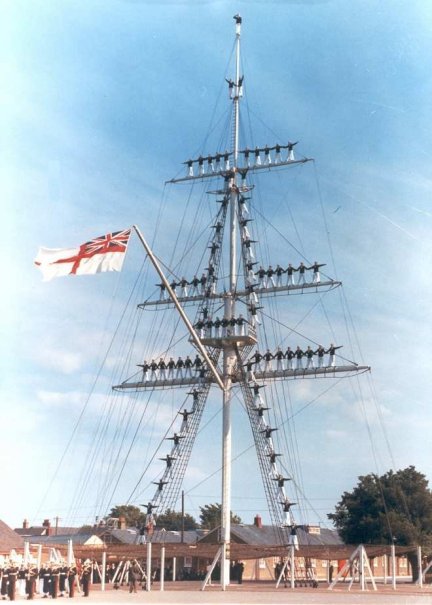 The famous mast. You can just see the boy at the top.
I must confess an interest here. In 1963 I was in the Junior Royal Marines and I competed at Ganges in the inter services swimming and water polo. The big feature of Ganges was its enormous ship's mast, and naturally we were challenged to a race up the top. I got to the top of the mast and thought that was enough, only to be pushed aside by a boy who proceeded to stand on the button on one leg. None of our swimming team dared to do the same. It was the only time as a Royal Marine that I was beaten by another Service. Shame.

This film was made by John Douglas.