On 24th February, 1933, the steam tug Emilia, which had only recently been completed, left Glasgow on her way to the Royal William Yard at Plymouth. There she was to be prepared for a voyage to Malta. On the first night out she encountered heavy weather, and when the dawn came found that her lifeboat had been swept away. Because the Emilia had shipped a lot of water and sustained other minor damage, her Master decided to take shelter at Holyhead. After obtaining a replacement lifeboat, the Emilia continued on towards Plymouth arriving off the Plymouth Breakwater on 6th March. In the teeth of a blinding gale her Master failed to see the Breakwater light, or the frantic signalling of the Pilot cutter Iridescence, until it was too late.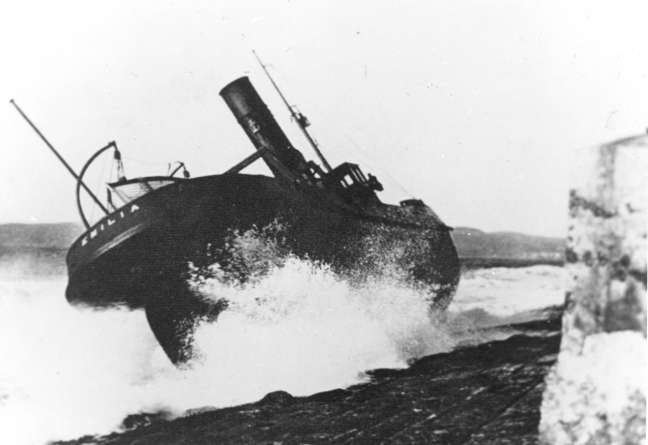 The Emilia on the Breakwater.
The Emilia struck the Breakwater bows first, and was soon swept broadside on. Luckily all four of her crew managed to scramble on to the Breakwater where they were soon picked up by the Iridescence who had waited to give assistance. Meanwhile the Plymouth Lifeboat had been launched, but on arrival was glad to find no need of her services. For the next week, the Emilia lay stranded on the Breakwater defying all attempts to refloat her. Finally on 15th March, with expectant crowds watching from the Hoe and the salvage tug Restorer standing by, the Emilia floated gently off the Breakwater and was towed to a safe anchorage in the Sound.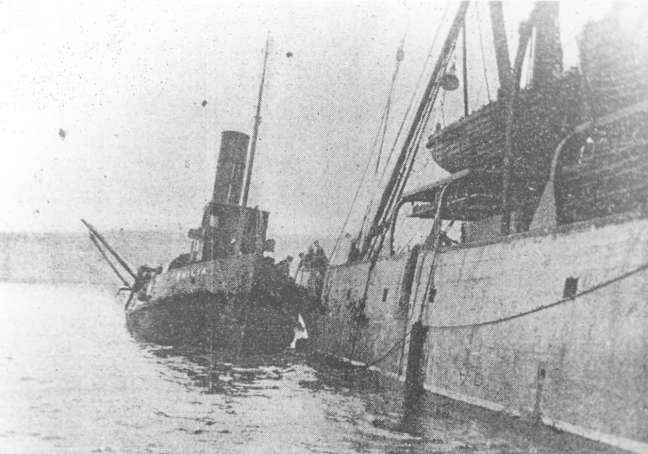 The Emilia with the tug Restorer.