On the 2 Feb 2002 helicopters from RNAS Culdrose took all sixteen Russian crew from the stricken timber carrier Kodima, a Maltese registered vessel of 6395 tons. The Kodima had been on passage from Sweden to Libya when the deck stanchions securing the on deck timber cargo were carried away by severe weather. In her holds and on deck, was a cargo of 10,168 cubic meters of timber. As the cargo began to shift the ship developed an alarming list so the Captain attempted to make his way to Falmouth to seek shelter. By now the storm was blowing force 8 to 9, and the ship started to roll heavily, and as the timber shifted, the rolling became so bad that by the morning of the next day the ship was listing nearly 40 degrees, and the ships main engine and generators had become inoperable.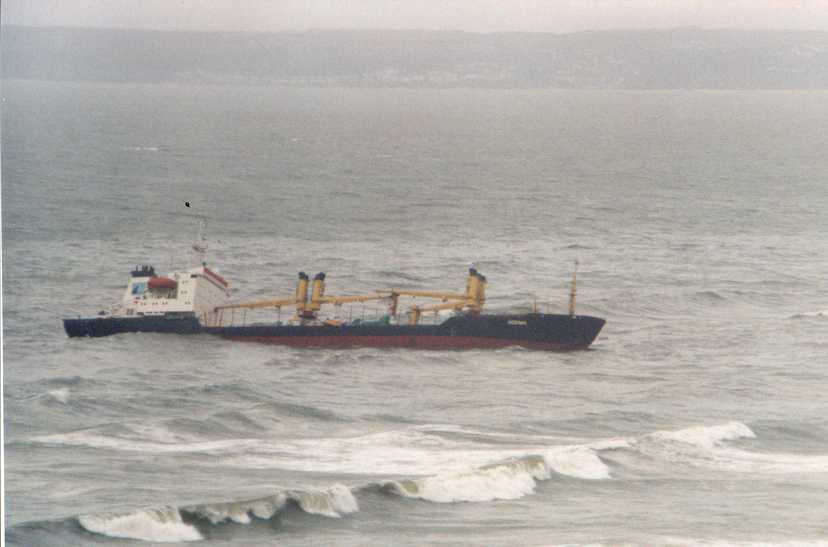 Hard aground in Whitsands Bay.
With the Kodima adrift about 20 miles from Falmouth the decision was made to abandon the ship and all were lifted safely off. A tug had tried to get a towline on board and when that failed the Kodima was left to drift until she hit the sandy beach at Tregantle, Cornwall. The next day the beaches around the wreck as far away as Plymouth were jammed with baulks of timber. Soon just about everybody who could walk was scrambling down cliffs to lug away masses of wood to make sheds out of, or to use as firewood. The Police and Coastguards issued dire threats about what would happen to those that they caught, but it made no difference. On the beaches people even made summer chalets so they could have barbecues in comfort.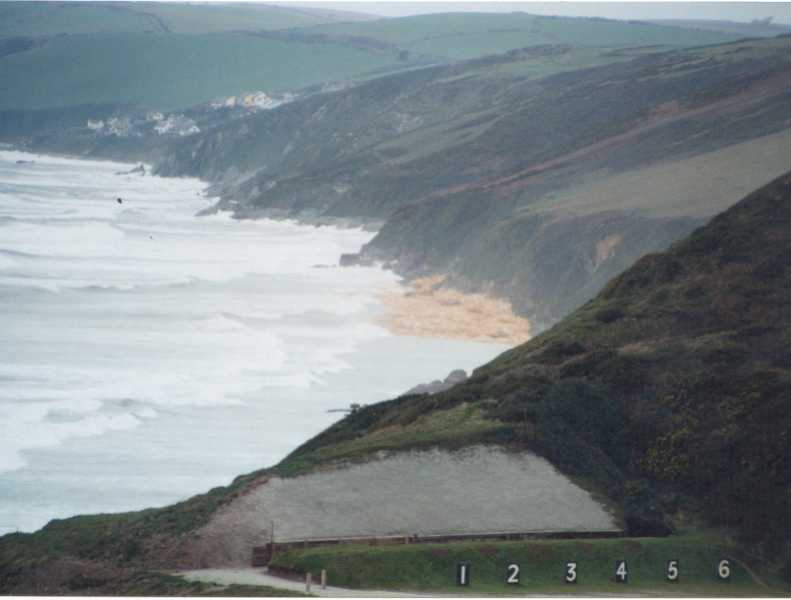 The Beaches were full of timber.
Meanwhile the Kodima was in dire straits. Huge waves were breaking over the stern flooding her engine room, and it was impossible to get any of the salvage crews on board so tugs stood by and waited for better weather. Meanwhile a huge operation to clear Tregantle beach of the discarded timber got under way. At low time bulldozer scooped up the timber and it was taken away to pulp factories in huge lorry's. As the weather calmed down the Tugs managed to pump out most of the fuel oil, patch things up and on the 16 Feb she was towed off on a high tide and towed to Falmouth for repairs.