Mid way during 2000, I was contacted by a journalist from a Danish magazine. His name was Hannu Holvas and he was doing a story about the Hertzogin Cecilie. He had been shown around the area by Malcomb Darch, (who features in the Deventia story)and wanted to know if I had some underwater shots.
These I gladly gave him and when he asked 'how much' I said 'any other information that I did not have'. Straight away he asked if I knew about Per Hjelt, who at just nineteen years of age, had been the man at the wheel when the Hertzogin Cecilie crashed into the Hamstone Rock.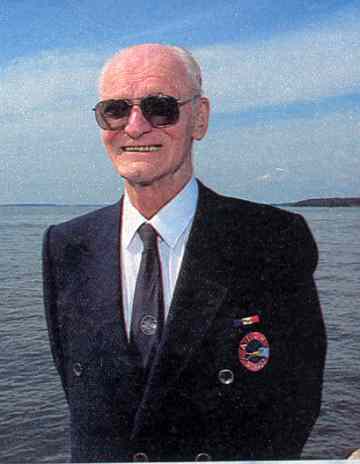 Per Hjelt.
I was astounded. I had presumed that all the crew were long in their graves. But Per, just going into his eighties was still alive, but seriously ill. Hannu gave me his telephone number and I rang his wife to see if he could speak to me. When he realized that I had seen the wreck underwater he wanted to hear all about it. I described it as best I could and promised to send him a video.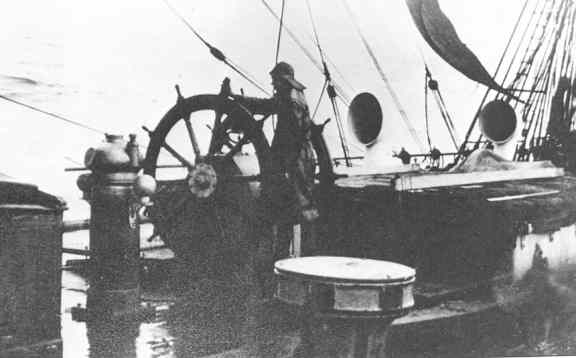 In light winds, one person could steer.
I could hear how tired he was and did not want to intrude but he was very interested in all I could tell him. I then asked him what it was like to be on the Hertzogin Cecilie He said it was very hard. The Captain and the first mate Elis Karlss used to beat and kick the men, and nobody seemed to care for the ship or about its safety or maintenance. The crew apparently hated and feared the Captain and his Mate, but every body liked his wife Pam.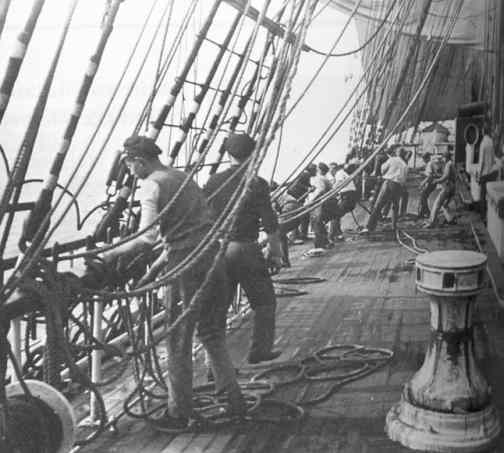 Pulling up the port mainbrace by hand.
I then asked him why the ship hit the Hamstone. He told me that if the Captain told you to do something you did it. He was told to steer the course he did, and when the rock hove into view he shouted out but was told to do as he had been ordered. So he did, and the Hertzogin Cecilie crashed into the rocks.
I arranged to go out to see him the following year, but I was too late as Per lost his battle with his illness and passed away shortly after I spoke to him.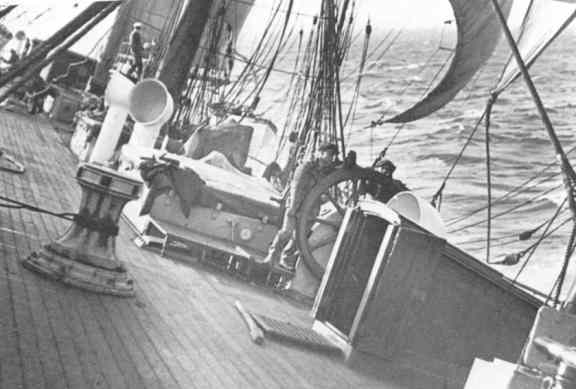 Sailing on the port tack.
Diane Woolner disputes that the Captain was a tyrant, but it is worth noting that attitudes change. The Grain Races were big money ventures, and to attain the speeds needed the ships needed storm force winds. It was not unknown for the ships officers to order their men up the mast at gunpoint as they battled through mountainous seas with hurricane strength winds. You would not get away with it now, but as I say, times change.