This is the Coast Guard Log entry for the time that the J.E.Layne was torpedoed and sank. It was provided by Nigel Bunker of Tamar Coast Guards (see Links) here in Plymouth.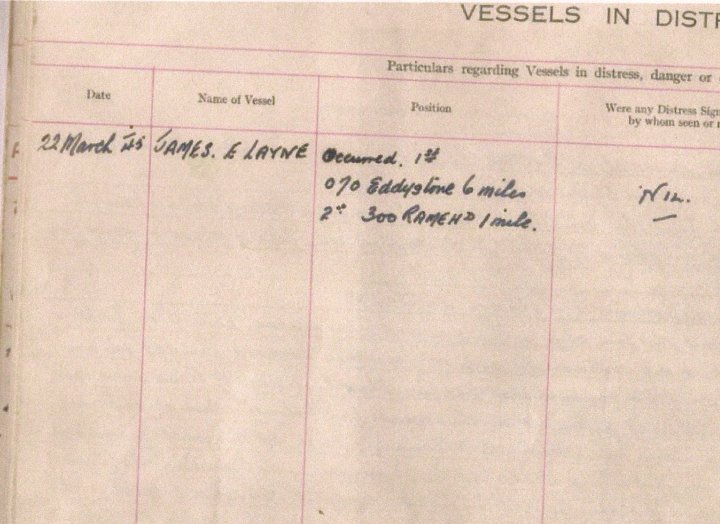 Entry 1
Attention was drawn to S.W. by heavy explosion which was assumed that ship was dropping depth charges. On making enquiries discovered that a ship was torpedoed aprox 070 Eddystone Lighthouse 6 miles and boarding(?) ships were launching. Plot showed me that little was required knowing that naval Authorities & L.B. (lifeboat ? ) was informed and taking action. Station was also aware that a convoy was due about that time and in that position on an ——- course. During the hunting operations by escort vessels several ships from Plymouth proceeded to join in. Up till dusk (?) explosions of depth charges were heard at frequent intervals. Received information that ship was being taken in tow by ships were to proceed to Cawsand Bay.
1700 Received telephone message from ——— that Plymouth L.B. (lifeboat ?) was proceeding to sea on service.
2000 Sig. of Watch at PWSS informed me that ship was proceeding round Rame Head. He thought ship was close in Western Gear.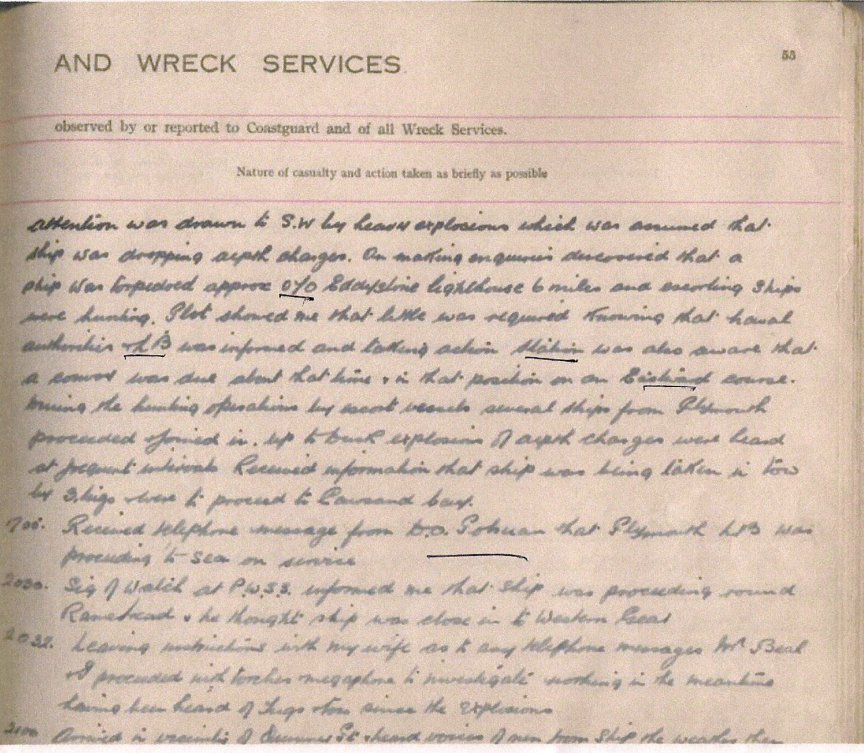 Entry 2
2032 Leaving instructions with my wife as to ant telephone messages Mr. Beal and I proceeded with torches and megaphone to investigate, nothing in the meantime having been heard of ships——– since the explosions.
2100 Arrived in the vicinity of ——- CG (Coastguard ?) heard voices of men from ship the weather being dense fog with thick drizzle. Unable to contact vessel by megaphone or flashing with ———- vessel gradually drifted towards beach off Polhawn and getting further from us. As it would have endangered our lives to follow further we decided to return and inform Polhawn who was already on watch to try and contact vessel. Polhawn rang up to say that vessel had anchored aprox 1 mile from Polhawn Station.
0800/23 Fog lifted, vessel observed anchored, stern underwater bearing 300 Rame Head. Name of vessel U.S. Liberty Ship James. E. Layne with 3 ships —— standing by.
0810 D.O. (duty officer ? ) Polhawn informed of situation, that large quantities of material was washed ashore with more floating in.
0840 Message from D.O.——— instructing Coast Guard staff to proceed, collect and take charge of salvage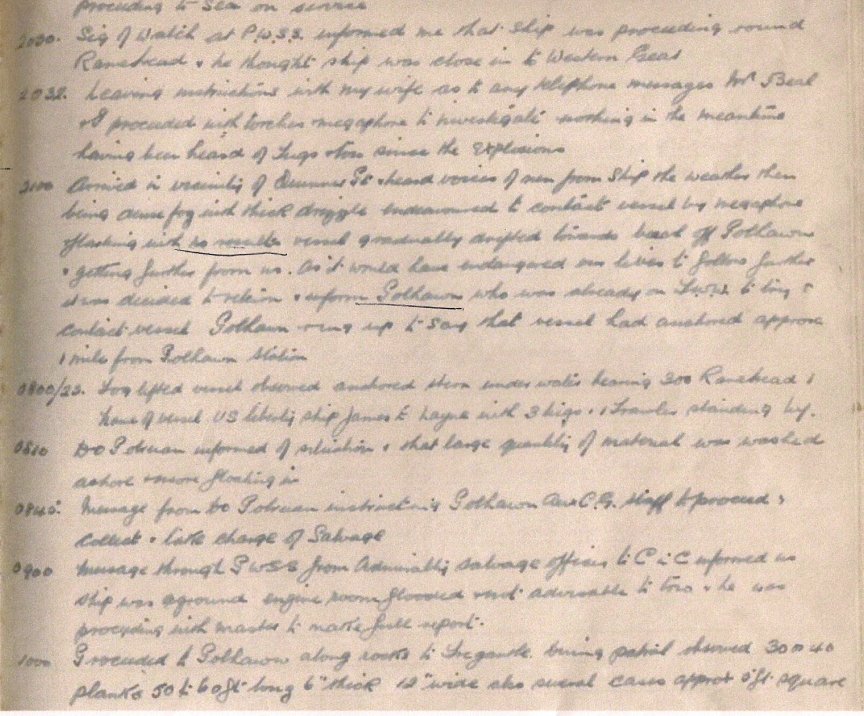 Entry 3
0900 Message from PWSS from Admiralty Salvage officer to CinC informed as ship was aground engine room flooded not advisable to enter he was proceeding with Master to make full report.
1000 Proceeded to Polhawn along rocks to Tregantle—patrol showed 30 or 40 planks 50 to 60 feet long 6" thick and 12" wide also several cases approx 2ft square. also several hatchways spread across on area behind Polhawn, Tregantle Fort. The work of salvaging this material is beyond the powers of aux coastguard to remove in consequence work by CG was withdrawn leaving aux CG in charge to stop any person from—(pilfering?) Informed DO—-ship—who concerned.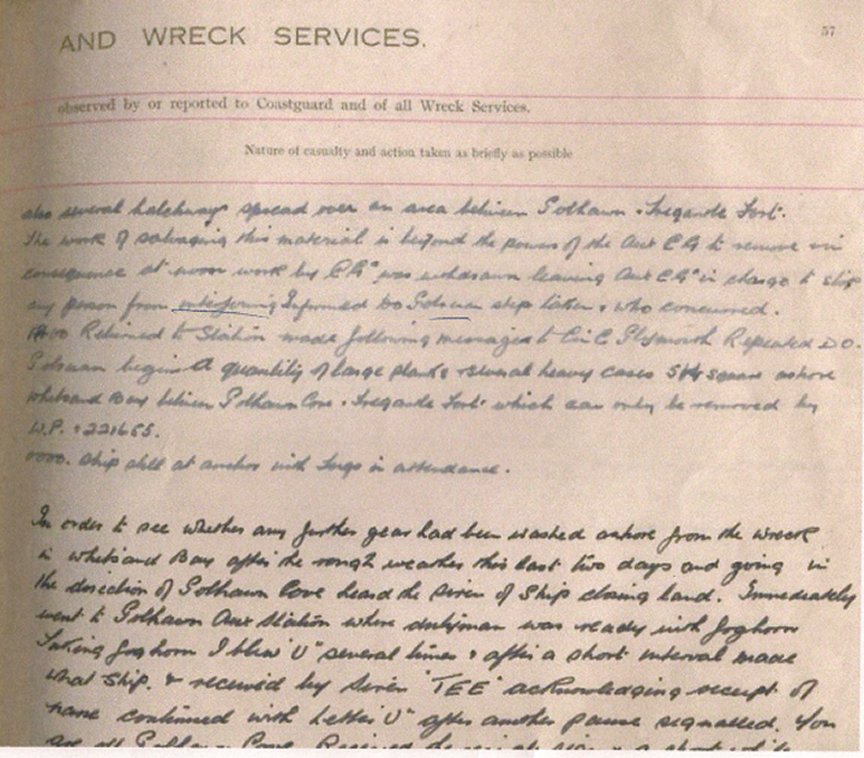 Entry 4
1700 Returned to station made following message to CinC Plymouth repeated DO Polhawn(?) A quantity of large planks several heavy cases 5ft square ashore behind Polhawn Cove Tregantle Fort which can only be removed by WP221655
0000 Ship still at anchor with tugs in attendance.