The Kronprinz Willhelm was one of four Konig class battleships and was 575 ft in length, nearly 97 ft in the beam, and had a draught of just over 30 ft. her top speed was around 24 knots, and when she was involved in the Battle of Jutland she had a complement of nearly 1300 officers and men. Ironically her turbines were powered by fifteen huge boilers made by a partnership of two firms, Schulz-Thornycroft, which just shows that the Arm's industry never missed a trick, even back then.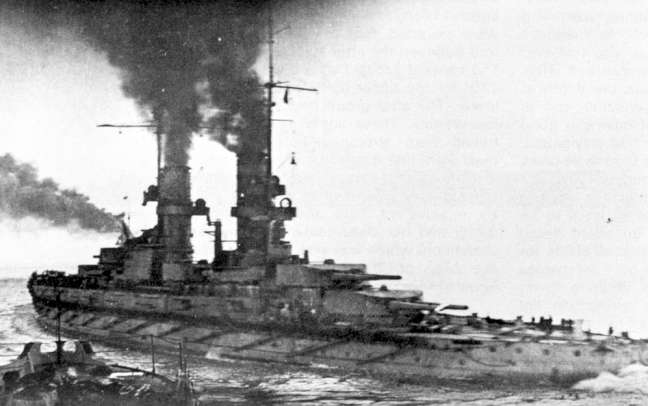 The Kronprinz Willhelm seen here steaming into line.
Her Armament was fearsome, including five twin turrets of 12 inch guns which were all placed on the centre line with super firing pairs fore and aft with the fifth turret stuck in between the funnels but still at the same height as the aft super firing one. Either side of her massive hull was fourteen 5.9 inch guns arranged in Barbettes, with another six 3.45 inch guns and an array of anti aircraft batteries.
The ship was originally launched at Kiel on 21 of February 1914 as just the Kronprinz, but on 27 January 1918 she was renamed the Kronprinz Willhelm. (presumably in honour of Crown Prince William)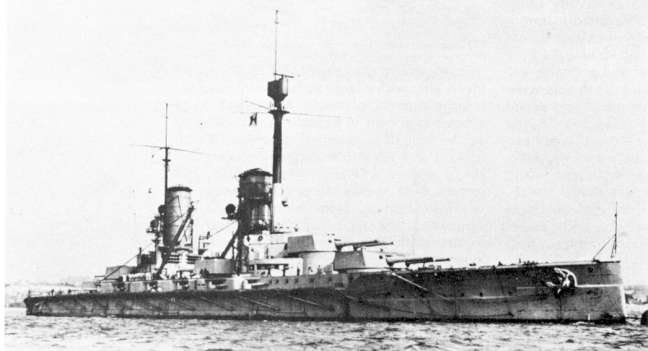 Kronprinz showing her thick foremast.
I dived this wreck in 1985 and these are the notes that I wrote then.
The wreck lies in 110 ft but most of it is accessible in 75 ft. A Battleship that is lying on its side. Such a shame that the Germans could not sink something upright. The shot was at the back of the hull so you had to fin up this huge wall of steel to the side and then suddenly its all downhill 110 ft to the bottom. It's just like a block of flats. Again the scale is so immense that you just can't quite get it. For instance we found two brass deadlights over two feet in diameter. God knows what the whole assemblage of porthole, glass and deadlight weighed. They were well fixed but even so were an amazing sight. After that we found that we were on the wrong part for the main turrets, but we saw a barrel of one of the side guns lying on the sand, the turret being recessed into the huge steel plating. Brass valves, big ones, were sticking out of the sand, and soon we came across a huge twisted amount of metal, then it was time to swim up to the side and along one of the four huge bilge keels. Very very impressive, but not really photographic because there is nothing to give any scale. It's all so bloody huge.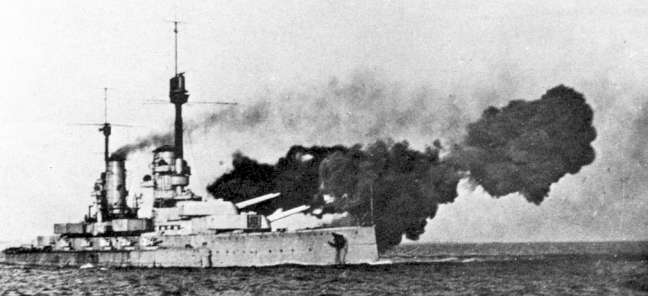 Kronprinz firing a broadside.