From Prawle Point in the East, to the Manacles in the West, with the Eddystone in the middle, make up the triangle of my diving area. Whilst each of these areas is famous for its shipwrecks, only the Manacles are truly notorious, and have virtually no redeeming features. It's sinister and evil reputation is matched only by it's bleak and forbidding appearance, as it stretches out nearly one and a half miles into the sea, where it lies mostly submerged waiting to entrap the careless or just plain unlucky.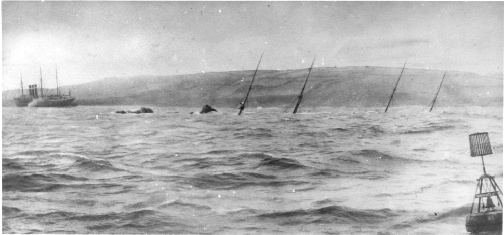 Paris aground with Mohegan's masts in foreground.
Its name derives from the old Cornish words Maen Eglos, meaning church rocks, and a possible reference to the spire of St. Keverne's church, which has served as a landmark for centuries. More likely it refers to the gravestones that fill the local church yards, because over the centuries more than a hundred ships have been wrecked, drowning well over a thousand people on this unforgiving shore. During one terrible night in 1809, one hundred and ten bodies were washed ashore and many more accounted for, when the transport ship Dispatch, and the Brig, H.M.S. Primrose were dashed to pieces on the Manacles. The emigrant barque John sank in 1855 with the loss of over one hundred and twenty people, and everybody knows about the loss of the liner Mohegan that sailed full speed onto Carn Du rock, drowning one hundred and six poor souls.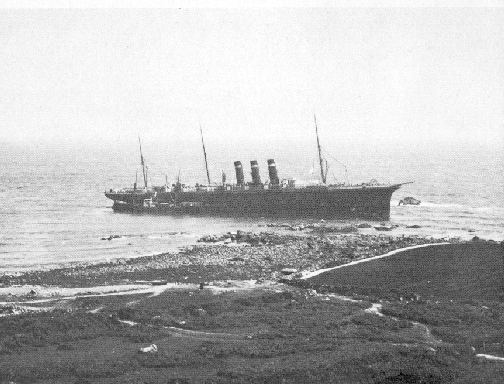 The Paris aground on the Manacles.
Southeast from Manacle Point is a large red buoy securely held in place with a huge anchor and a heavy chain reaching down nearly two hundred feet to the seabed. Even that and the masts of the sunken liner Mohegan, did not deter the French Liner Paris from running aground in 1899. Luckily she was finally refloated with only the loss of her owners pride, the Andola, four years earlier was not to be so lucky. She was caught in a snowstorm, which reduced visibility to just a few feet. A look out heard the Manacle buoy's bell tolling in the gloom and the Captain ordered the topsails furled so that he could stand off. It was all too late. The Andola was swept onto the Sharks Fin rock only yards from the Manacles beach.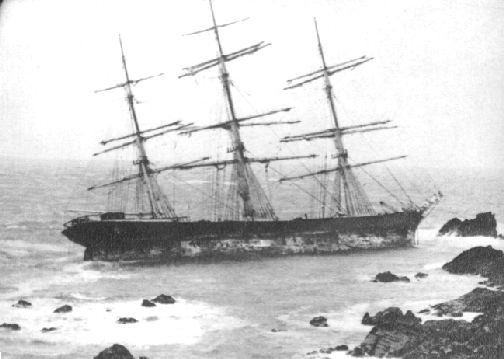 The wreck of the Andola.
z
The list goes on and on. Liners, sailing ships, men of war, coasters and fishing boats, you name it and it has been wrecked on the Manacles. All around, the churchyards have been filled with gravestones, and the lifeboat men from the local villages surrounding this fatal shore have heroically sacrificed their lives to rescue the poor victims.
The Manacles are truly a fatal shore.