Yes, that's right, I found the Mary Rose. Well that is to say me and Able Seaman Swinfield did, and actually we didn't know we had discovered the most famous shipwreck in Britain until months later. Even so, there I was at the start of the greatest marine archaeology project of the 20th Century. So how did I get involved I hear you ask. Well it all started in 1968 with a direct order from our diving officer Lt. Commander Bax (of Bovisand fame) I was then a Royal Marine ships diver on H.M.S.Rhyl then stationed at Portsmouth on Channel Guard duties. Bax had invited this bloke Alexander McKee on board to talk to us about the Mary Rose, and unknown to us had volunteered us to do some diving for him the following weekends.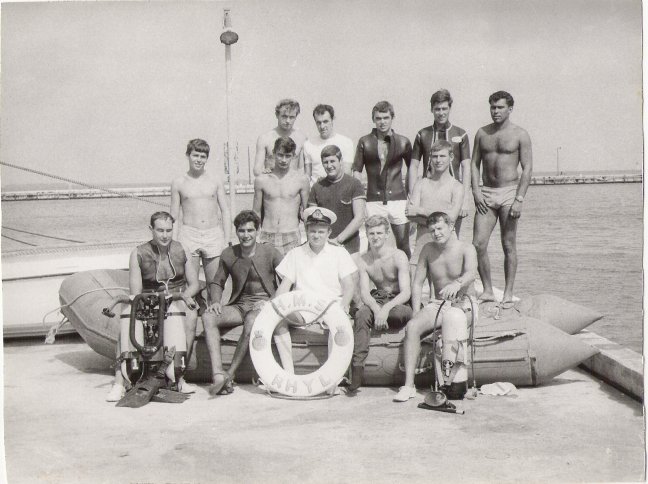 The Dive Team.
Now we had all heard of McKee, and knew about his project. In fact just about everybody on the South Coast did. He had been banging on about discovering the Mary Rose for years and everybody, including us (who had never met him before) were quite happy to write him off as a harmless bore. However to spend a rare free evening listening to him droning on about the Mary Rose was not a very inviting prospect, and we all trooped into the lecture room that evening in low spirits. On came McKee, big hair, big beard, tweed coat, and launched straight in without even a good evening, as if frightened we would scarper if he gave us the slightest chance. It was a revelation. He was supposed to speak for forty minutes but ended up staying most of the evening to answer our questions. He told the story of the Mary Rose as if it had happened yesterday and brought the whole period to life. He was passionate in his belief that he knew where the wreck was (which turned out to be exactly where all those experts told him it could not possibly be) but he didn't rant about the unfairness of it all, just exuded a determination to find and raise the wreck.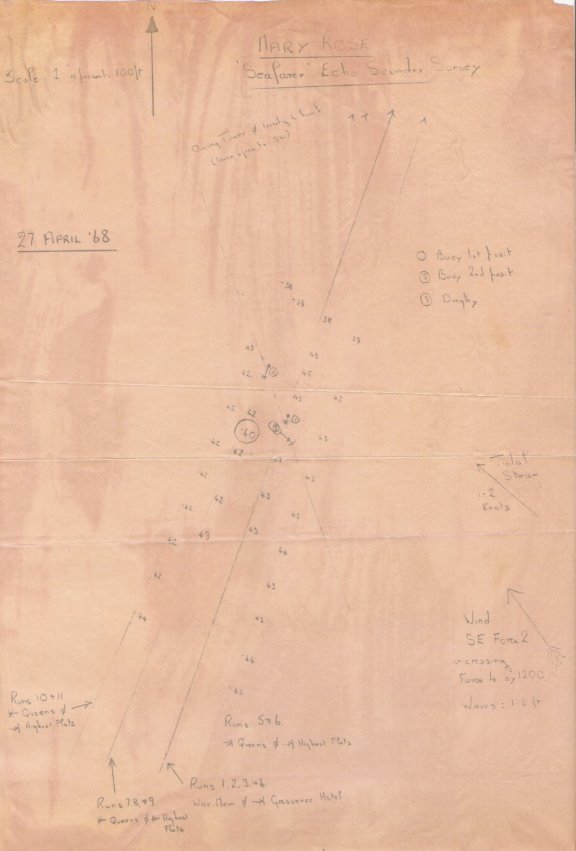 A bit faint, but its there. (somewhere)
Sometimes you hear somebody speaking, and you just know that he understands absolutely what he is talking about. Thats what we all felt that night about McKee, and we all volunteered to help. The next weekend we were out in an open whaler whilst McKee and his mates pored over a sonar chart that Bax had got the Navy to help compile. The weather was dreadful. It rained all the time and there was a sick making swell. The idea was to stick an instrument into some of the mounds that the sonar had found, to see if they contained any wood or were just silt and mud. I carried the fatefull instrument and Winfield stuck it in the mound (under my direction of course) Up top the machine whirred and beeped and bits of paper went round and round. Much later it was found that that mound contained some wooden wreckage.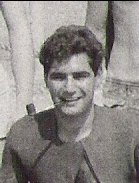 Able Seaman Swinfield (dive storeman) and actual finder of the wreck. (under my supervision)
Yes its true, I can now reveal that it was I (well alright, we) that found the Mary Rose. I did not know of my triumph for some time as by then H.M.S.Rhyl had crossed the Atlantic and was chasing Cuban rebels all the way down the Bahamas chain. But eventually we were told. Of course our part was down played, even forgotten. Fame was not to come calling. But McKee, who was keen on what we had done had kept in touch with Lt.Commander Bax and had given us a copy of the trace, showing the fateful mound.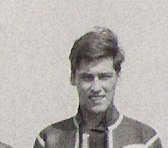 Royal Marine Mitchell.(director of operations)
When the Mary Rose was finally raised all those years later, I was watching it live on the telly with my Mum. As it started to break the surface I turned to her and said, 'I was the first one to find that wreck you know' 'Did you son' she replied absently. 'What would you like for your tea?'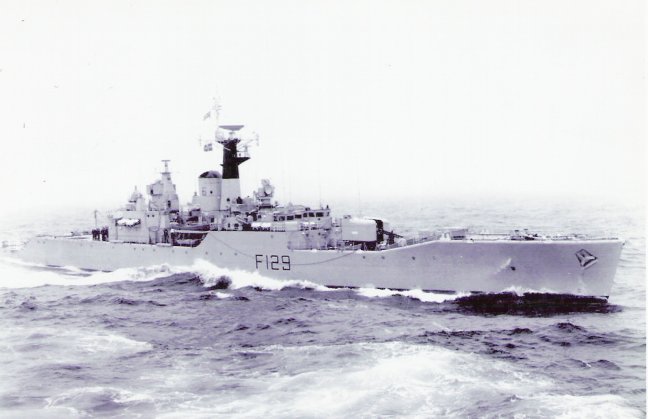 H.M.S.Rhyl
McKee is long gone now, but that chance encounter gave me a lifelong fascination with shipwrecks and their stories, and made me realise, that whilst the glory is nice while it lasts, the stories go on for ever.