HMS Agamemnon was a Royal Navy third-rate ship of the line with an armament of 64 guns.She was 160 feet long,44 feet in the beam and had a crew of 490 officers and men. She was laid down at Bucklers Hard on the Beaulieu River in the New Forest,and was launched on 10 April 1781. She served in the Fleet until 1809, when she was lost after running aground on a shoal in the mouth of the River Plate.
Launched during the American War of Independence, she was immediately put into commission. Initially destined for the East Indies, she sighted a large Franco-Spanish fleet in the Channel and returned home to report the news to the Admiralty.
H.M.S. Agamemnon
In December 1781, she was part of a squadron of 12 of the line under Rear-Admiral Kempenfelt that was sent out to intercept a French fleet and convoy expected to sail from Brest for the West Indies. Early in 1782 she was sent out to join the British fleet in the Leeward Islands, arriving in time to take part in the Battle of the Saintes. After the end of the American War, she was laid up in ordinary (at Chatham?) until the outbreak of the French Revolutionary Wars in 1793.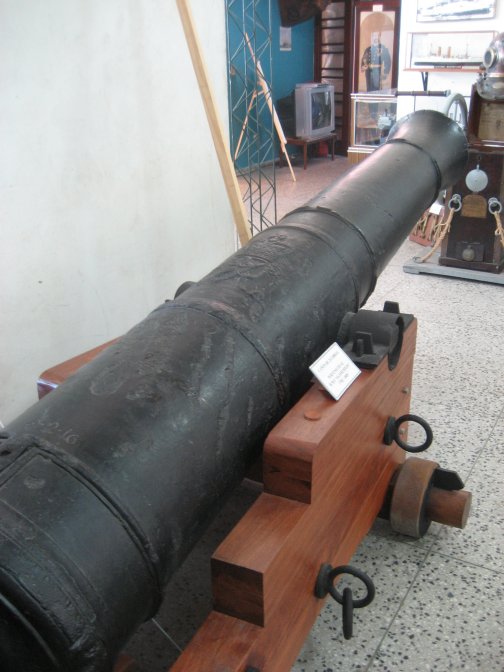 32 pounder.
In 1793, Agamemnon was recommissioned under Captain Horatio Nelson and sent out to join the Mediterranean Fleet under Lord Hood. It was during this command that Nelson lost the sight of his right eye at the siege of Calvi, Corsica, in 1794, and started on his road to glory.By 1796 she was worn out and returned home in the summer.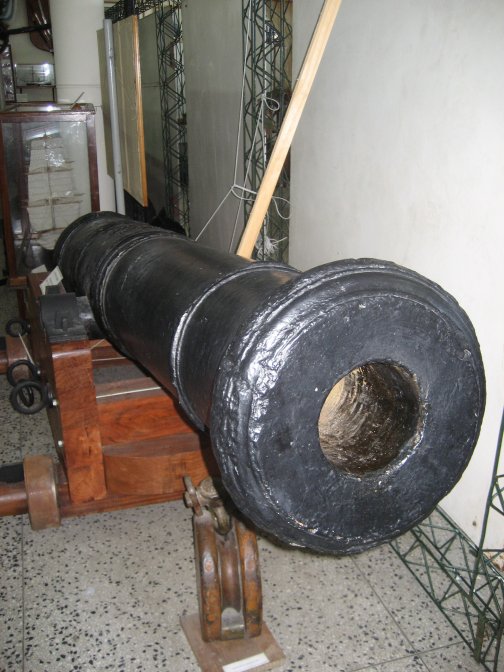 The crest on the top is still quite clear.
On 22 July 1805 Vice-Admiral Robert Calder was cruising off Cape Finisterre with a fleet of 15 of the line including Agamemnon, when the combined Franco-Spanish fleet from the West Indies was sighted to windward. The British ships formed into line with Agamemnon fifth in line and engaged the enemy in a thick fog. During the action Agamemnon, which had three wounded, and Windsor Castle lost a mast. By nightfall, with his fleet scattered across the ocean, Sir Robert made the signal to break off the action.
On 21 October 1805 Agamemnon, by then under the command of Sir Edward Berry, took part in the Battle of Trafalgar. In 1806 she took part in the Battle of San Domingo, and on 20 June 1809, while putting into the River Plate in a storm, she grounded on an unmarked reef and was lost, though without loss of life.
In 1993 the wreck was located north of Gorriti Island in Maldonado Bay. Expeditions led by Mensun Bound have documented the remains and recovered a number of artifacts of which this cannon is one.