As you come up the River Plate to Montevideo you can see the mast of the Highland Chieftain sticking out of the water from miles away. The un-initiated on the ship thought that this was the remains of the Graff Spee. No such luck as she lies broken up underwater some 3 miles away.
The Highland Chieftain was built in 1929 by Harland and Wolf of Belfast, and made her maiden voyage on the London toRiver Plate service, on the 21st of February and later transferred to Royal Mail in 1932. She commenced wartime trooping duties in 1939, but was damaged on the 11th of October, 1940, during a bombing raid on Liverpool.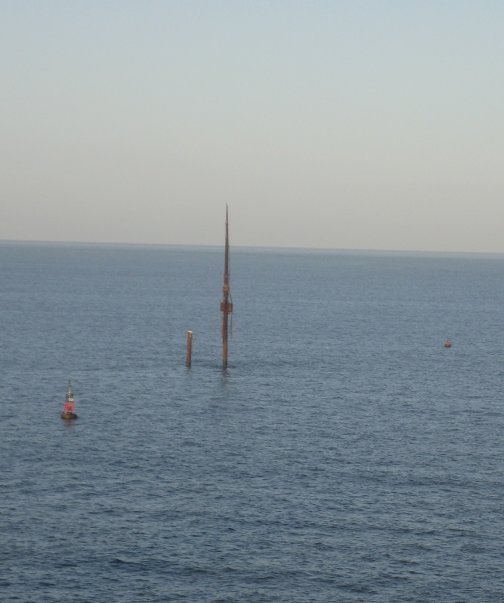 The mast of the Highland Chieftain.
After the war she did not resume her commercial operations until 1948 on the River Plate service, and was sold out of the fleet in January of 1959 to the Calpe Shipping Company of Gibraltar and converted for use in the whaling industry,and renamed Calpean Star.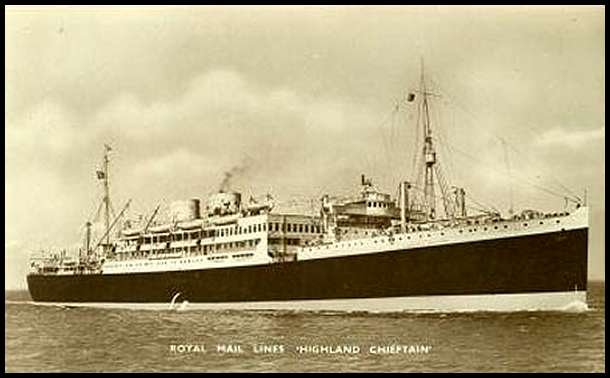 The Highland Chieftain
In March of 1960 she suffered rudder damage when off Montevideo, and after leaving under tow she suffered a boiler room explosion which resulted in her being abandoned.The wreck wasn't cut up for scrap until 1965.
I am very grateful To Andy Jones for the following information and photos. He took the silhouette photo whilst serving on H.M.S.Protector in December 1967
Andy Jones: I believe I photographed the Highland Chieftain (Calpean Star) in 1967. At the time I was serving in the Royal Navy on board HMS Protector the navy's antarctic patrol ship. We were entering Montevideo for the Christmas period. I was on the upper deck with my camera and took a sunlight silhouette photograph which later won a photographic competition. Oddly you say the ship was cut up for scrap in 1965, if the ship I photographed is the same ship then it was far from being cut up by late 1967. The photograph I have shows the two funnels, bridge and one deck below the funnels. Apart from the foremast, two derricks on the foredeck and two on the afterdeck the rest is sunken. I have viewed the photograph you have and cross matched it with my photograph and I am about 90% sure it is the same ship. Other photographs I have seen only show the foremast and the top of the front derricks. I may have the only photograph of the Highland Chieftain as it was in the 1960's.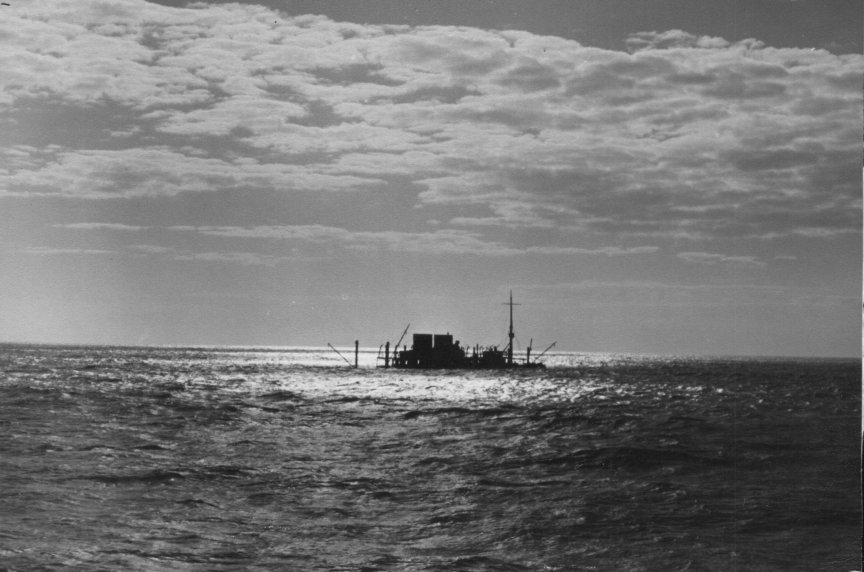 The Highland Chieftain. Photo Andy Jones
Article translated from Spanish. This vessel has known better times, of course. Was launched in 1928, Known as "Highland Chieftain" Part of a fleet of several cruise ships (passenger ships and cargo) identical. After passing the usual tests, entered service in 1929, A maiden voyage between London and Buenos Aires. It continued for years doing transatlantic voyages carrying cargo and passengers between Europe and South America. Displacing 14,000 tons and measured 163 meters long. Accommodate 150 passengers in the luxurious first class, 70 passengers in second class and to 500 in third class (something tells me that the latter were crowded, no?)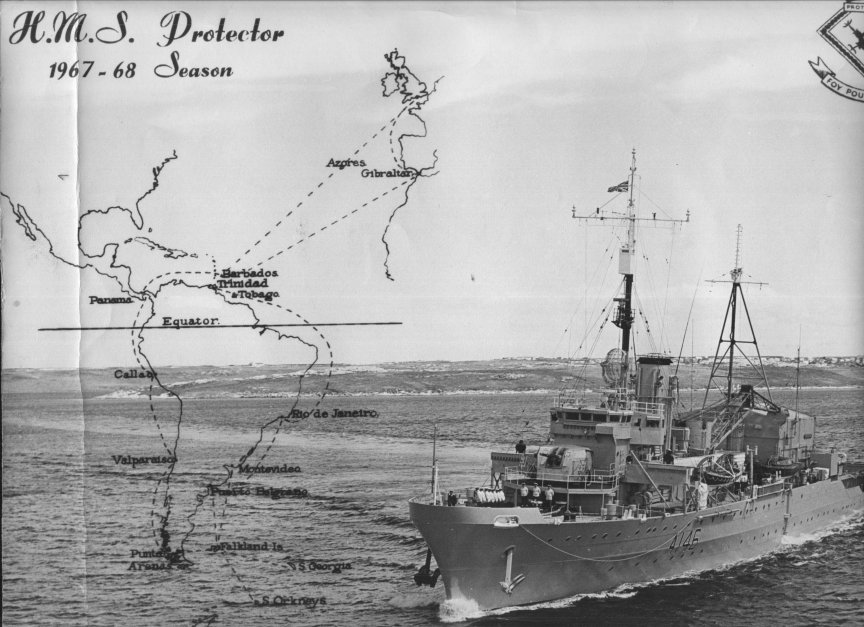 H.M.S.Protector at the Falklands. Photo Andy Jones
At the outbreak of World War II, the British seized it for use as troop transports. In that role the ship suffered bombing that severely damage it and put it out of service until 1948. In 1959 was acquired by the company "Calpe Shipping Co., and entirely refurbished and renamed Calpan Star. In early summer of 1959The ship carrying a cargo of birds and other animals to a zoo in Germany. Among them was an albatross, Large-sized seabird. Prior to arriving in port, one of the sailors gave the albatross improper food and he died. This situation is unfortunate, in the beliefs of the seamen, who identified the bird as a "symbol of friendship" and avoid disturbing them or hurting them. So it was no surprise that on reaching the next port, Liverpool, several of the crew demanded their pay and chose to stay there, knowing that the vessel had been "cursed."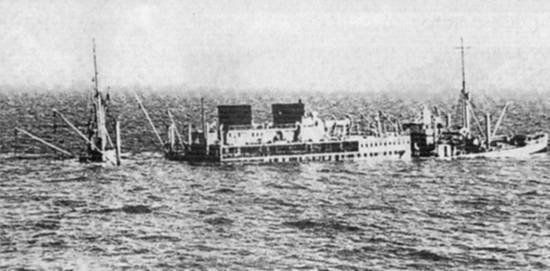 The Calpean – Highland Chieftain
With some replacement crew, Calpean Star completed its journey, being allocated to the Norwegian fleet after the Antarctic. And there the trouble began. The ship suffered first several faults in the generators. Repaired them, then detected a leak of oil into the water supply. Then a break in the main engine compressor would leave it adrift for several days. When the repairs were completed, the rudder of the ship suffered a fracture, such that it had to be towed to Montevideo to solve the problem.
I am grateful to Craig Pearson for sending the photos below of his Uncle and two friends around 1950. If anyone knows who the crew are, please get in touch.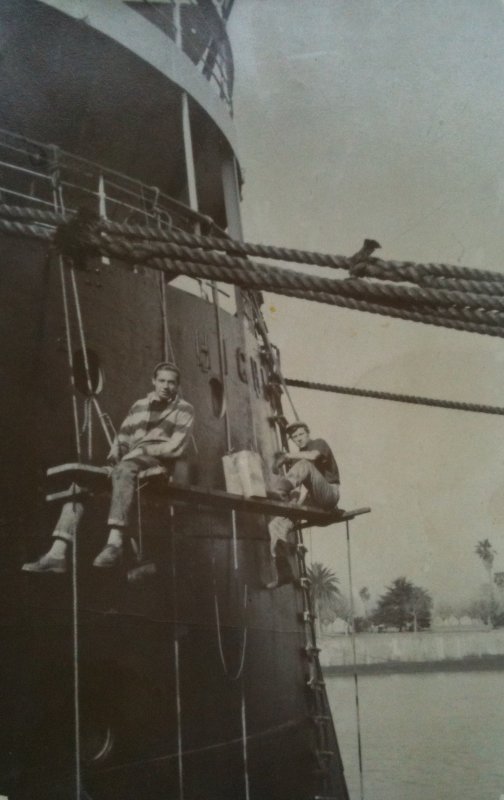 Crew members painting ship. Photo Craig Pearson
This was done and the necessary repairs were completed. But just as "Calpean Star"Left Montevideo, a huge explosion destroyed the engine room and started a fire. Crew members drowned during abandoning ship, which many identify with the sailor who killed the albatross. And the ship would founder hopelessly damned.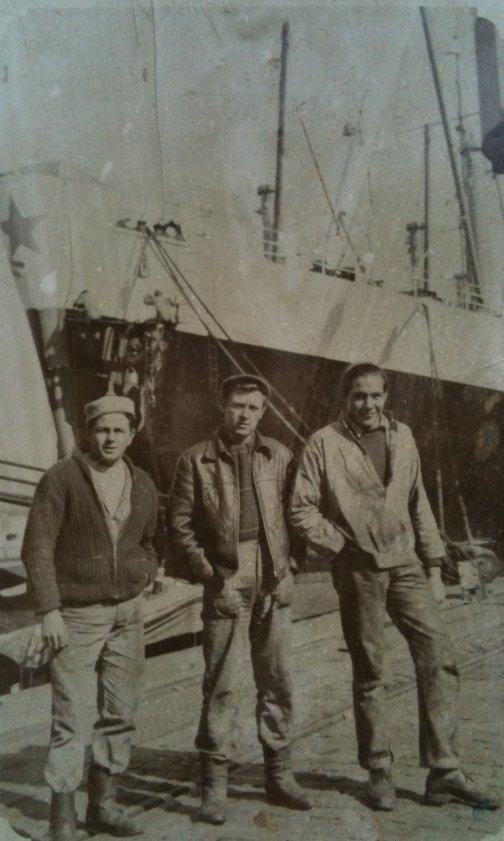 More crew-names unknown. Photo Craig Pearson
The curious fact: the ship's remaining crew were repatriated by air. And in the first leg of the trip had a problem: the landing gear of the plane broke down when it landed in Rio de Janeiro. The seamen declared that only by coming back to their land felt that the curse was over. Believe it or not.
I am grateful to Ian Fordham for this photo of his Great Uncle, Alfred Roy Murley, and the information below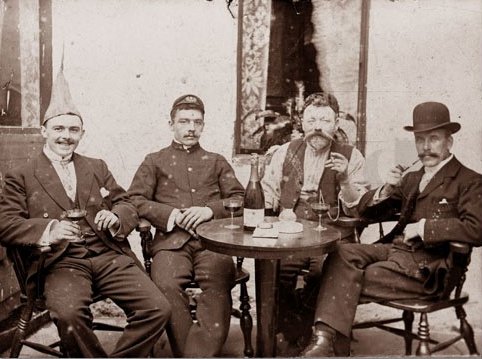 Family Photo.
I attach a family photo taken in Swansea where the family lived about 1910 at some celebration, maybe Xmas? Alfred Roy Murley is on the left and his stepfather John Rowlands second right. Alfred was born Swansea in 1881, gained his masters certificate in 1902 and won the DSC at Gallipoli in May 1915 whilst Chief Officer on the Cardiganshire.He acted as a ship's master with Royal Mail lines for many years both pre and between the wars. He served mostly on the S America run or to the west coast of the USA and Canada. At the start of WW2, I gather that the RM packets continued in service for a while before being assigned as troopships and operating with the convoys.His stepfather, John Rowlands was originally from Anglesey and also a master mariner. His boat was torpedoed by a U-boat in April 1915 off the Falklands and he went down with it. I was in a contingent of RAF trainee aircrew posted to South Africa for flying training and I boarded the Highland Chieftain in the centre of Glasgow on Sunday morning 18th July 1943. In the afternoon we sailed slowly down the Clyde and anchored in the vicinity of Gourock where a number of other ships were already assembling.The next morning we set off as part of convoy WS32 joining with convoy KMF20 the next day. We were escorted by three frigates and two sloops and joined by the cruiser Charybdis from the 22nd to 25th when we were joined by another four frigate and two destroyers until we reached Freetown on 28th.
I am grateful to Ted Gunn for the following information and photo.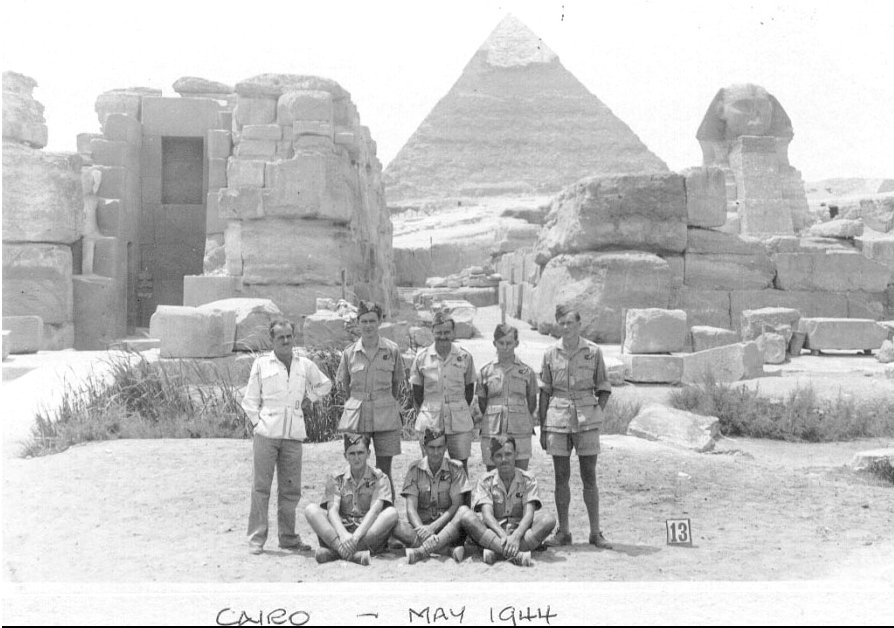 Family Ted in Egypt on his return from South Africa; he is second from the right, standing.
We sailed from Freetown on 5th August and before arriving at Capetown on 18th and we were escorted in all by eight destroyers and two frigates. We sailed from Capetown on 19th arriving at Durban on 22nd. Living conditions throughout were atrocious, fresh water was available for two half hour periods a day which, from my point of view as non tea drinker, gave rise to some dehydration especially through the tropics. In spite of poor quality food, the galley staff managed on a number of afternoons to produce some excellent corned beef bread rolls which they sold to those lucky enough to get to them before they sold out.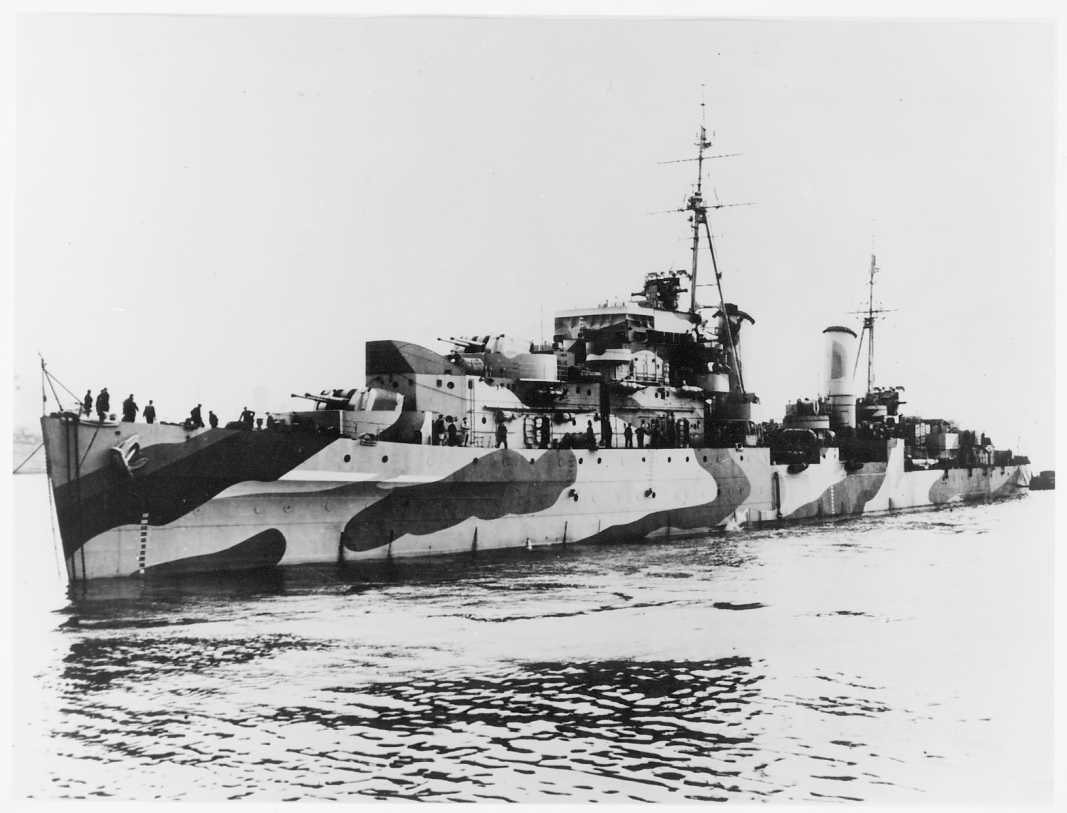 The cruiser Charbydis
We were accommodated in the holds of this cargo ship which had been fitted out for the refrigerated transportation of meat and those who could not find a space to sling their hammocks from the cooling pipes near the ceiling slept on the floor. We were not allowed below between meals and with around 1300 service men on board finding a space to sit on deck was a problem (there were no seats) – sitting on our lifejackets provided a little comfort. This was not a cruise that would appeal to holidaymakers.
I am grateful, again, to Ian Fordham for this information about the part the Highland Chieftan in the sinking of the battleship Graff Spee.
On 8th December, 1939, the Highland Chieftan acted as 'bait' to draw the Graf Spee into an attack by making an announced departure from Rio de Janeiro bound for the River Plate – but secretly shadowed by a Royal Navy force commanded by Commodore Harwood and assembled to hunt for the Graf Spee. (In fact the Graf Spee was, unknown to the RN, already bound for the River Plate looking for the sister ship of the Highland Chieftan – the Highland Princess). After the Graf Spee was sighted and attacked and damaged by Harwood's force, it took shelter in the neutral waters of the River Plate close by the anchorage of the Highland Chieftan which had by then made port. It was being held at anchor under RN orders as it was thought the Graf Spee might sail again but was not allowed, under international law, to leave port within 24 hours of a combatant merchant ship. So, the RN was allowing one British ship a day to leave and thus blocking any departure of the warship whilst it awaited reinforcements.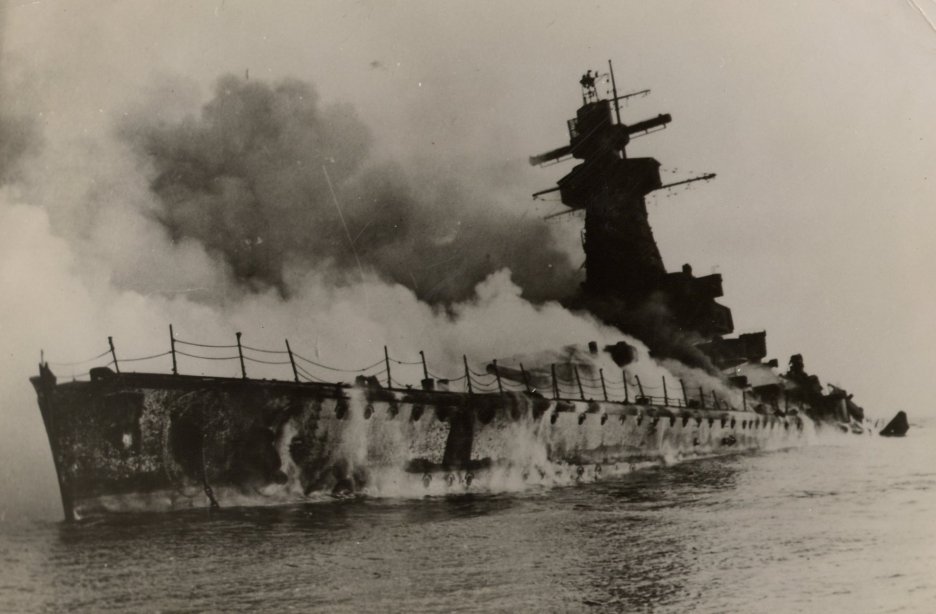 Graff Spee burning – courtesy Simon Shaw
The Germans were under the impression that the RN force assembled to hunt it and standing offshore was much more powerful than it really was and sought approval from Berlin to inter the ship or to scuttle rather than to venture out to sea and engage. Berlin ordered the scuttling as it did not want to risk the boat falling under British control at some point. The Highland Chieftan took on board 60 merchant seamen prisoners released by the Graf Spee when at anchor and was still close by on the night of the 18th December when the Graf Spee was scuttled. These events are recorded in the diary of the Master, T Purcel-Buret, held at Greenwich. The British Naval Attache in Buenos Aires, Capt (later Admiral) Henry McCall sent a message to London on 21st December, that the Highland Chieftan was ready to sail to the UK with the released seamen.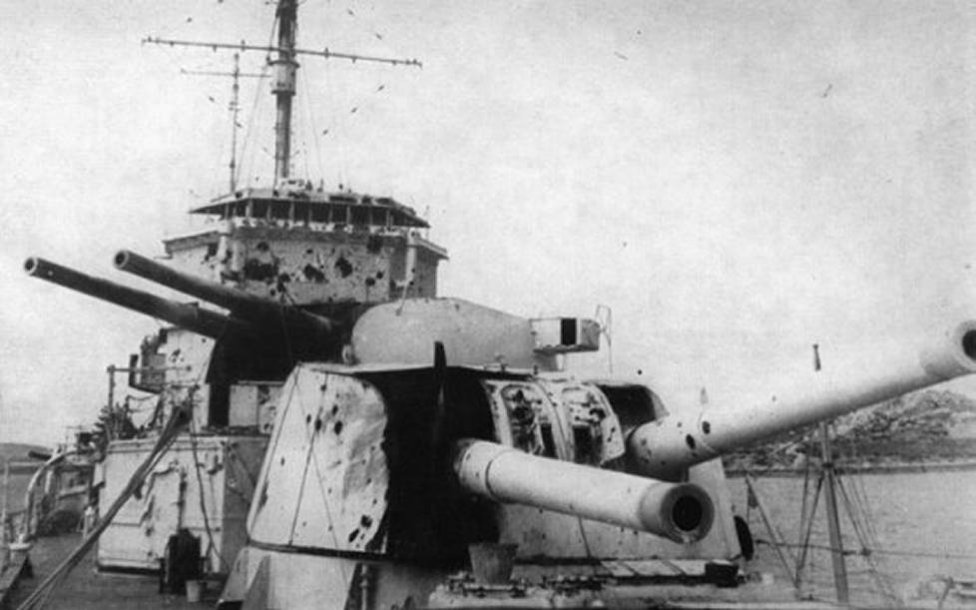 HMS Exeter showing her damage after action with the Graff Spee. Photo courtesy navy photos and Ian Morte
Highland Chieftan made at least 3 more voyages from the UK to the River Plate during 1940 and was damaged by German bombs when docked in Liverpool on 11th October, 1940. It then sailed twice to South Africa during 1941 following conversion as a troopship – as part of convoys WS5A and WS8B. It was thern involved in a heavy collision with the much larger troopship, Dominion Monarch during 1941 when part of convoy WS8A and, as a result, spent several months under repair in dry dock in Durban.
I am grateful to Michael Richardson for the photo of his Father, and an extract from his diary.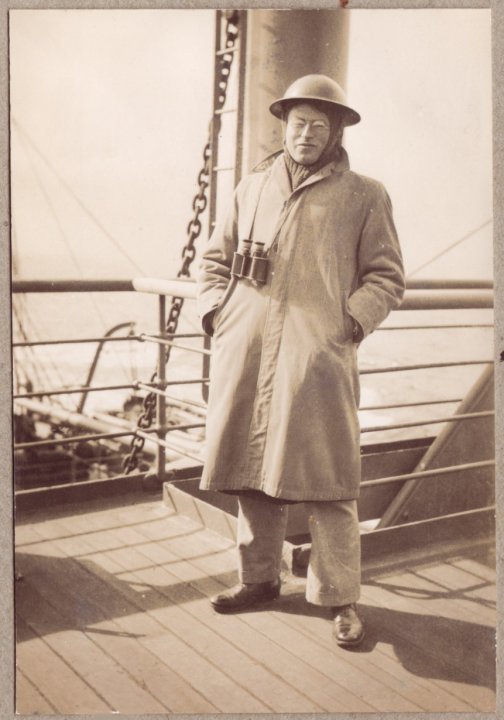 Michael Richardsons Father.
Diary extract: Diary of my father's voyage from Buenos Aires to Liverpool on Highland Chieftain. Mar-Apl 1941
Sun Feb 23rd. H. Chieftain noted in Prensa. (Latin America News Agency) During the following week he was busy with a round of social engagements and completing his work in B.A. for the Gourock Ropeworks Company. Tues 4th Mar. A day on which I felt neither here not there. Furlongs came for my things about 9 o'c. …. Roberts drove me to the boat .. many on quayside seeing off volunteers (for the British forces ) .. mothers, fathers, sisters and sweethearts, I suppose. Layout of ship very familiar. Met several acquaintances in crew. At table with two ship-wrecked ships' officers (Captain Caird and Chief Engineer from Eurylochus). Still at quayside at 10 p.m.
Wed 5th Mar. Woke up just in the same place & spent a nice sunny day by the dockside. Water too low to move. Av. Star just beside us with Mennonite settlers for Paraguay. Men with beards, women with head kerchiefs and long skirts and aprons & many children.
Th 6th Mar. We left about midnight and arrived Monte about noon. After lunch went ashore with Thomas .. back on board for dinner. Saloon practically empty. Talking to ship-wrecked Chief Engineer Creech afterwards.
Fri 7th Mar. At sea. Little to report, spent lazy day.
Sat 8th Mar. Pleasant day but not very sunny or warm. Up for P.T. with Volunteers at 7.30 and at 'spotting' class. Walked, talked and drank with the two ships officers etc.
Sun 9th Mar. P.T. at 7.30, quite strenuous. Service at 10.30 well attended and liked by all with the hymns all know. Played bridge after dinner with 3 Volunteers – Harding, Fitzpatrick and another.
Mon 10th Mar. Much warmer. P.T. in morning but couldn't face second dose in evening. At classes on H.A. and Hotchkiss. Had a swim – pool filled for first time. After dinner liqueurs at Chief's expense – he won the sweep !
Tue 11th Mar. Warm and gloriously sunny. Had a swim after morning P.T., another before lunch. H.A. and First Aid classes. Won 11/- in sweep – it all went on drinks. Dozed in deckchair till 1 a.m. Many sleeping on deck. Wed 12th Mar. Fine sunny day – got quite burned. At gun drill and Hotchkiss; 8 likely lads chosen. Up for P.T. at 7.30 & swim after it.
Th 13th Mar. Steward off sick – got no morning tea ! Swimming pool empty – to save water. P.T. at 7.30 also at H.A. gun drill and spotting talk. Sun almost overhead.
Fri 14th Mar. P.T. at 7.30 & swim in refilled pool. Military drill at 9.30. Got quite burned sunbathing & had another swim etc etc. Volunteer watches to start on Sunday.
Sat 15th Mar. Took things a bit easier. Very warm. P.T. & swim before breakfast. Boat drill in afternoon. Some excitement when we sighted another ship.
Sun 16th Mar. Cut P.T. and pool too empty for morning swim – had one before lunch. Divine Service at 10.30, siesta in afternoon. Watches begin today. I'm to start at 1 a.m.
Mon 17th Mar. St. Patrick. Did spells of duty at 1 a.m. and 3 a.m. and again in afternoon. 'Irish' cocktail party before dinner & I wined the table. More drinks after dinner but Caird, Creech and I quit when drunken Irish electrician arrived.
Tues 18th Mar. Up at 6.30 feeling quite fit. Had a swim, definitely cooler. On watch at 8 a.m. Sunbathed in afternoon. Had sleep after dinner and prepared for 12 o'c watch. Wed
19th Mar. Duly kept watches. Capt. C pretty bottled for his. Up 7 o'c; original cabin steward back. In sight of land (C Verde) from breakfast time and all forenoon. Siesta after lunch and slept on so kept watch 5 – 6 and 7 – 8. Dark and rather cloudy night.
Th 20th Mar. On watch 8 – 9 and 10 – 11. On first period reported 'object' which was shark's dorsal fin cutting the water. We were issued with civilian respirators. After dinner we had boat drill in darkness.
Fri 21st Mar. On watch again at 1 a.m. Rising crescent of dying moon looked red and ugly. I hailed gun deck, after persuasion by partner. No 4 also reported it. Took afternoon watch. Scharnhorst and Gneisenau reported at large.
Sat 22nd Mar. Morning watch. Voyage drags. Captain Robinson hints another week.
Sun 23rd Mar. Rather cloudy. Church at 10.30. Mon 24th Mar. Wind, choppy sea and squalls of rain in forenoon. Issued with oilskins and sou'wester for morning watch. Night watch suspended.
Tue 25th Mar. Cold, windy and squally with the ship riding bravely through heavy seas. I kept morning watch. First Aid lecture by Dr Dean in afternoon.
Wed 26th Mar. Took watch from 5 a.m. Very cold and rough. Creech stayed in bed most of day. I spent afternoon in bed. Heavy seas striking the side came into cabin by the ventilator.
Th 27th Mar. Wind and sea moderated & a sunny day, though cold. On watch from 4 – 5 only.
Fri 28th Mar. Nice day, cold but sunny. Captain not having meals in saloon after today. Took watch in afternoon. On deck several times to see wonderful display of Northern Lights. North star very high – 60 ° ?
Sat 29th Mar. Nice sunny day. On watch 8 – 12 a.m. and 8 – 12 p.m. About 11.15 a short blast on the siren caused considerable excitement but it was an accident !
Sun 30th Mar. A crisp sunny day. No service as all too busy. Some light snow showers during the day. At 12.30 when I was on watch the alarm was sounded but thank God it was a Lockheed Hudson, which flew around us all afternoon. Saw some distant ships and at night lighthouses on shore. Northern Lights on view again. Mon 31st Mar. On watch from 5 a.m. to 8 a.m. The sun was red over the snow-covered hills. We came amongst the rocks and islands of the Hebrides. Saw destroyer flotilla, aircraft etc. Damn cold on watch, we had snow showers later. Siesta after lunch. Night watch postponed. Tue 1st Apl. In Irish Sea; packed in morning. Got into Mersey about 1 o'c. Played bridge till the tenders took us ashore about 5 o'c.
(He then travelled to Manchester to his in-laws house and met my mother again for the first time in eight months; they slept in the cellar that night).
Transcribed by Michael Richardson. February 2013.
Michael Richardson also sent in the drawing his dad made of his cabin with a neat description.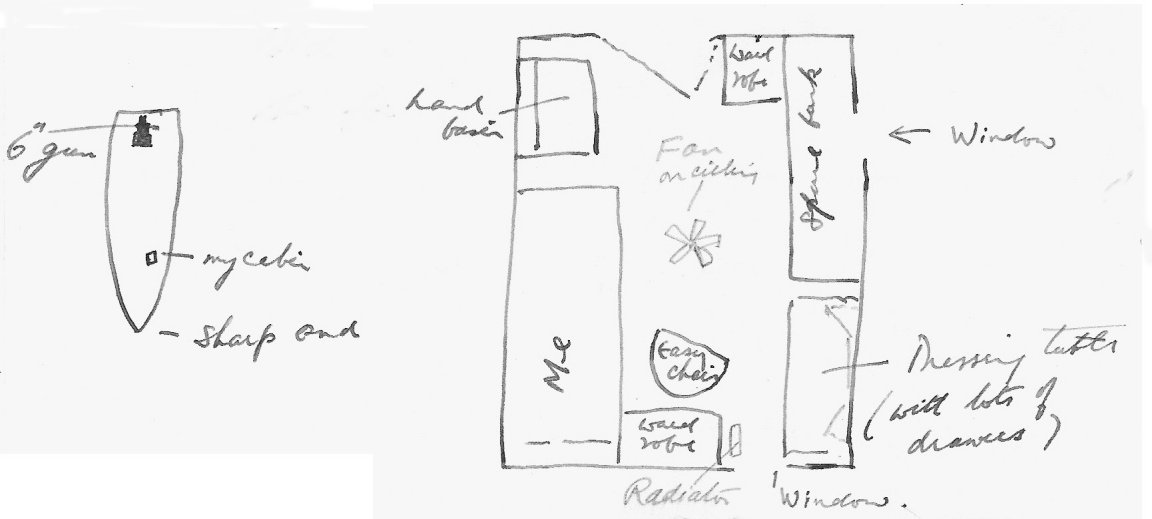 Drawing
That is a very bad drawing, but actually it is a very nice cabin, and of course I have lots of room in it, as it is really meant for two persons. I've got clothes hangers galore, and hooks on the walls besides. We 'black out' at 6.30 (ships time), and the sun goes down very suddenly about 7o'c. There is little twilight. The officers are now dressed in whites. I'm running round in short (sic); the Daks are very neat, but I'm not keen on the blue. A khaki drill or linen pair would have been useful.
Michael comments: I see that there continue to be a few new comments on the website, but what would be really great would be to hear from any descendants of the two shipwrecked officers that my father mentioned.
I am grateful to William McKay for the photos and information below.
Bill McKay's dad is on the left, the other chap is called'Paddy'
y father joined the Highland Chieftain in 1939 after training at Gravesend Sea School to be a steward. At some time he left the Highland Chieftain and ended up at Portsmouth in the Lasher which supplied the troopships with goods
Bill McKay's dad is fifth from left.
After the war he went back to his native Scotland to Cruden Bay in Aberdeenshire where he did various jobs.Fish buyer,bus depot superintendent. In 1953 he went to work at Stewarts and Lloyds the steel manufacturer in Corby doing welding and oxygen pipefitting.The rest of his life was spent in Corby.
Card
Bill McKay's Dad is 1st from left.
William has also provided this photo, which he is sure is the Captain of the Highland Chieftain with his family.
I am grateful to Brian Nash for providing the information and photo, below, of his Grandad, William (Bill) Rogan
Most people will be familiar with the poem of the Ancient Mariner, by Samuel Taylor Coleridge, in which disaster follows the death of an Albatross. This is the first time I have ever come across a modern counterpart. After a ten year absence, Bill Rogan, aged sixty one, went back to sea in 1959, in order to fulfil a promise to send money back each week, to his old shipmate 'Spud', who had lost a leg due to an illness. Unfortunately he chose a ship, the 'Calpean Star' that had a reputation as a 'hoodoo' ship.
This photo of Bill Rogan was taken on board the Calpean Star
The Calpean Star had arrived back in Liverpool from the Antartic with a baby albatross on board. Two days later it was dead. and that's when the troubles started. First the ships generator broke down and had to be replaced, then there was a fight and some of the crew walked off the boat to be replaced with Norwegians. A bomb hoax and a fire alongside the ship swiftly followed, and nearly a year later, Lloyds of London reported an explosion aboard the ship, which flooded the engine room, drowning Bill Rogan. He left behind seven daughters and a son.
Clipping
One of his daughters, Mrs. Eileen Sage, said that all his friends tried to stop Bill from joining the ship, but he yearned to go back to the sea.