The Romanby was originally an English ship built at Harlepool in 1927. On the 10th April she was lying peacefully in Narvik harbour with other merchant ships and some German Destroyers, when the British Destroyers Hardy, Hunter, and Havelock swept into the harbour and tried to sink everything in sight. They completely surprised the Germans, sinking two of their destroyers and severely crippling others. They also shot up and sunk a number of merchant ships, and put a torpedo into the Romanby. The ship sank quite quickly, and now rests upright, with her keel in around 30 meters.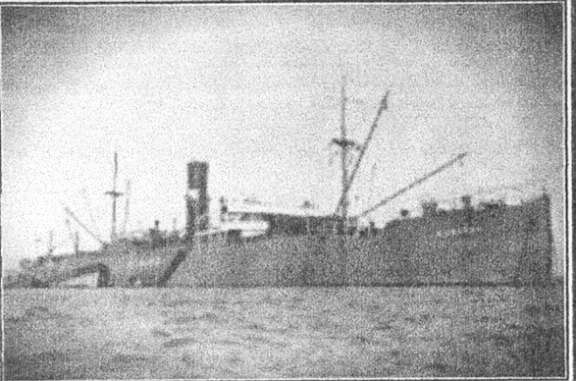 The Steamship Romanby.
This was a great dive. At first we went inside the engine room which was like a huge cavern and chock full of great big valves. Many of the engine room gangways were still intact which helped to give some scale to the area, because for me, what made this dive was the sheer size of the engine room. As we went towards the bow, we came up to the compartments on the deck. In here were loads of portholes. They were opaque looking and had a lovely green glass that you could still look out through.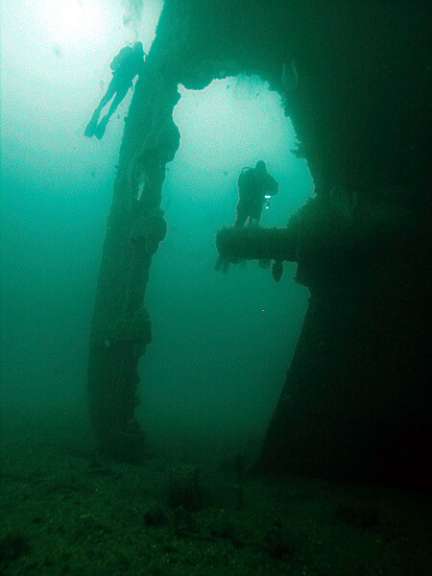 The Rudder and prop shaft. (Photo F. Bang)
In the area where we dropped, were winches, and a huge mass of broken metal and other debris. Back in some other compartments, what was really great were the amount of cables hanging down from the deck heads. It made the whole area spooky and atmospheric, as you slowly swam through, brushing past the cables like the cobwebs that you would brush away in an old forgotten house. The whole wreck had shoals of small fish, and large horse mussels encrusted the metal plates. This was a feature seen on most of the other wrecks. There were also some very large anemones and huge starfish. In one great bit of the engine room near the prop shaft, which was huge, was a rope hanging down with a mass of tube fans hanging off it. Brilliant. Viz 25 ft.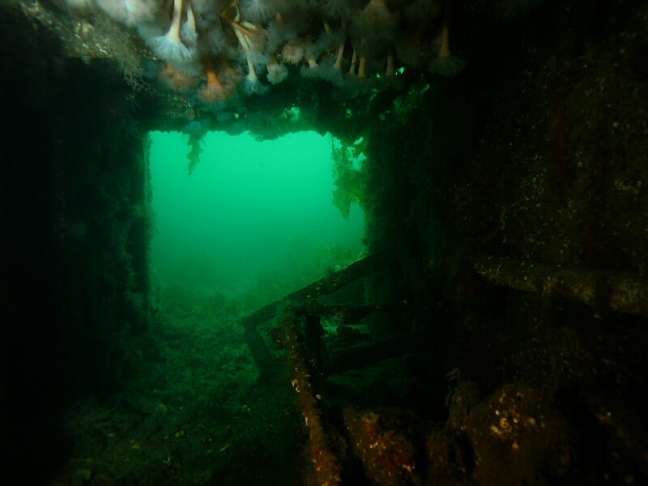 In the Corridor. (Photo F. Bang)
Second Dive. Wind howling, can't do the 3 destroyers, so back to the Romanby. Completely different dive to last time. Saw the rudder and then stayed at about 60 ft going through all the cabins and passages. Really nice. Lots of portholes, found a bit of a square one. We also went into another part of the engine room. Big holds and long passages to swim down. Nice.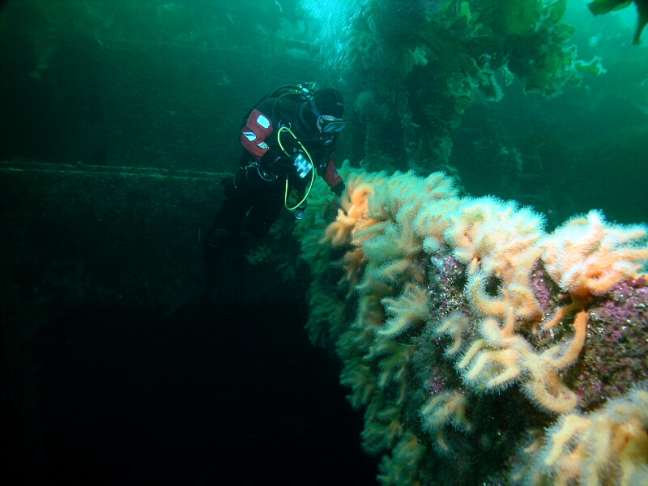 Dead mens fingers. (Photo F. Bang)