The Strasser was an ore carrier built in Stockholm in 1921. On Arpil 6th 1940, the Strassa left Narvik harbour bound for Baltimore in the U.S.A. with a cargo of iron ore and a crew of thirty four men. When she reached the Lofoten Islands the Strassa started to have problems with her cooling system and since repairs could not be carried out at sea the Captain decided to return to Narvik. Here she laid at anchor in Tjeldsundet until April 9th, when she was ordered by the German Destroyer Dieter Von Roeder to proceed into Narvik harbour and await further orders.

The Swedish Ore Carrier Strassa.
She was still waiting for those orders the next day when the British Destroyers swept into the harbour sinking everything in sight. At the height of the battle the Strassa was hit, and the crew wisely abandoned her and got safely to the shore, leaving the Strassa to sink when she now lies in the harbour today.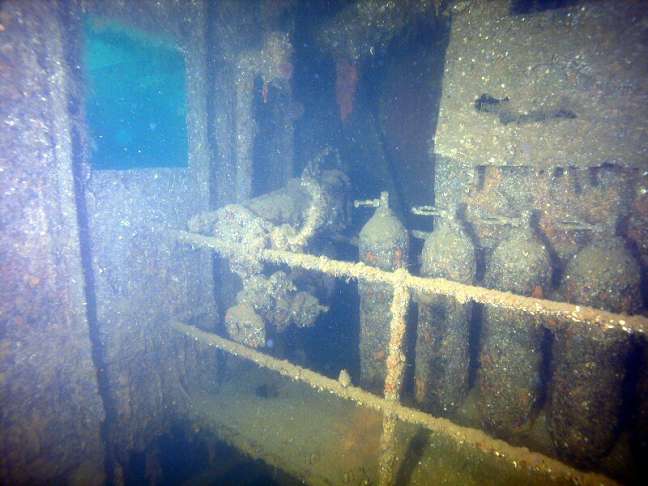 The wreck of the Strassa.
This is a big wreck, on the same scale as the J.E.Layne. We swam down to the bow, saw the anchor, then swam down the starboard side along a terrific companion way, and then into a hold with lots of portholes, one of which still had its glass in. Back on deck there were loads of winches and many other bits and pieces of defunct machinery.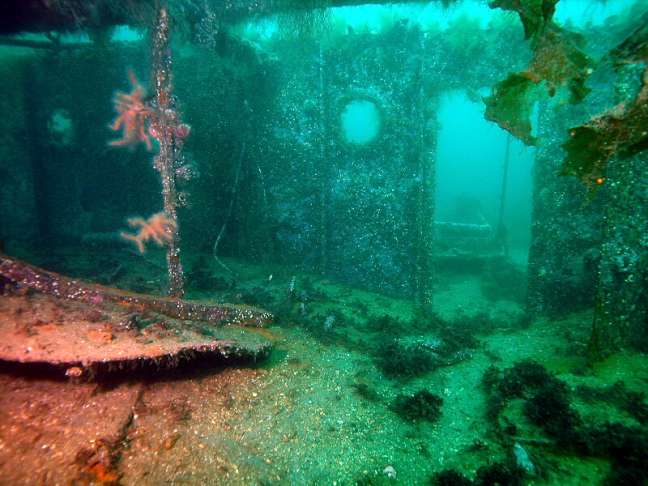 Part of the deck superstructure. (Photo F. Bang)
In the crew quarters we found a bath half full of silt. there were many other big, dark holes to go into, but our torches packed up so we had to forgo that pleasure.This wreck is attached by a thin line to another wreck (Martha Heinrick Fisher) which we will do later. Viz 25 ft but overcast.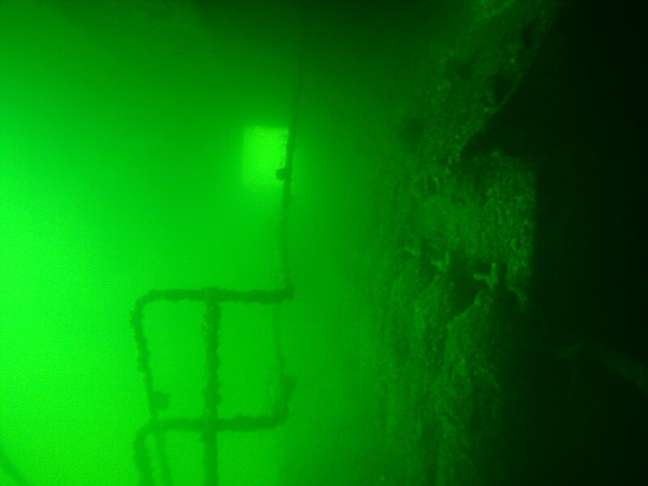 A ghostly light inside. (Photo F. Bang)
Good wreck this, and on the second dive, to do the Martha Heinrick Fisher,(you have to swim along the Strassa) we all commented that we all enjoyed it far more than the first time. I think we were all wanting to do a destroyer for our first dive, and so were a bit disapointed to be doing an ore carrier.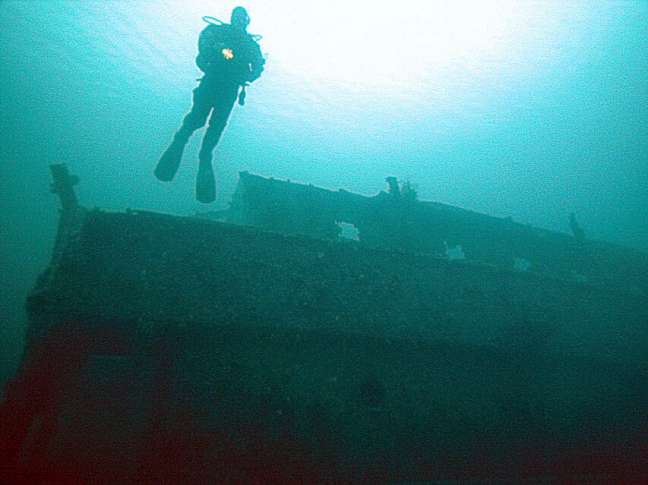 Aproaching the Strassa. (Photo F. Bang)