I am extremely grateful to Brian Briggs who sent in this story. He was a mate on the Tug Sun 27, of London Tugs, which towed the Glen Strathallan to her final resting place. He has been in the business for 42 years, on the Thames, all over Europe and the Baltic, and is still involved in training the new generation of Tug boat men. What was ironic,was that the Channel guard ship tasked with overseeing the scuttling was H.M.S.Scylla. She would be scuttled in her turn in Whitsand Bay thirty four years later, in 2004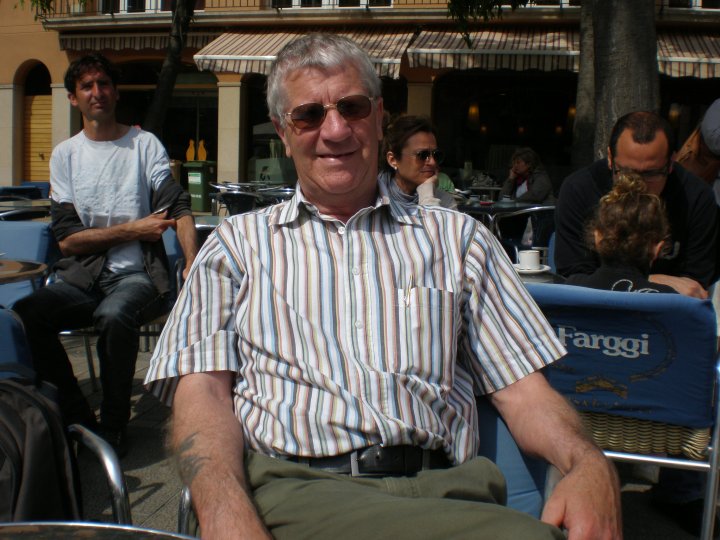 Brian Biggs. Photo B.Biggs
The Last Voyage of the "Glen Strathallan 0600 hours 20th April 1970 Orders received to tow the Glen Strathallan from Gravesend to Plymouth for scuttling at a Latitude & Longitude which was given to us from the Admiralty 0600 to 1000 inspect and make ready the tow. The Engine was removed and taken to the Science Museum previously. The casing was only tack welded in places, so any water going onboard would flood into the engine space or accommodation so a Force 4 restriction was placed on the towing contract. Forcast at 0600 was NW 3 / 4. 2 Chain Bridles x 10 meters each were made fast into a large towing shackle. then 80metre wire, 100m nylon spring. 120 m wire, so we could tow at different length's. All this preparation, food, stores, fresh water and fuel were taken onboard. 1300 sailed 1400 streamed tow of Southend. 1740 NE Spit by abeam 1800 N Foreland abeam. 2100 South Foreland abeam Forecast SW 8 imminent. Shorten tow & enter Dover Harbour for shelter. wind increased to SW 8 anchor at 2200 watches kept for the night. 0600 21st April. SW 6 – 8 all day & night. Spent at anchor with either the vessel alongside or astern of the Sun 27 at high water times because of the swell & the seas breaking over the sea wall. One of the Chain Bridles parted during the day & had to be replaced. Anchor watches kept & radio messages received.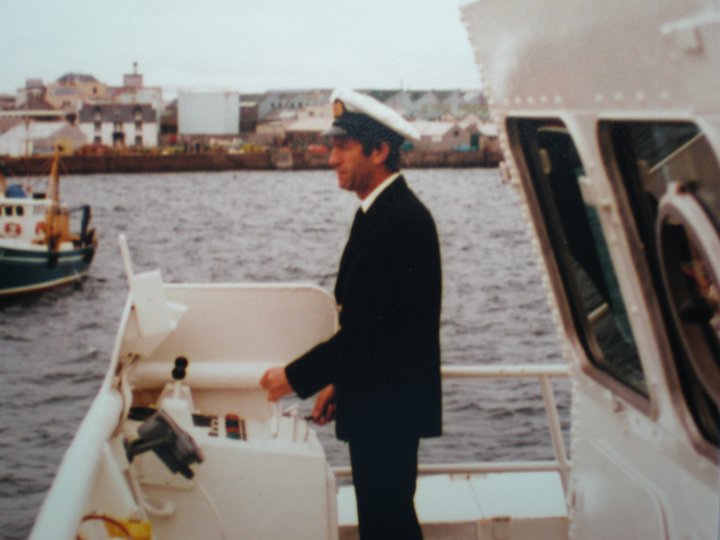 Brian in earlier times. Photo B.Bbiggs
0600 22nd April, SW 6 -8 all day & night same routine as day before 1 head line parted in the swell when we tried to keep the vessel alongside but swell causing problems. 0600 23rd April SW 6 – 8 Decreasing later. all day the same routine as before but this time the Tugs anchor cable caused us some problems as at one time it look as if it would part under the strain but we managed to replace the joining shackle. 0200 24th April W 5 decreasing 2 – 3 0230 aweigh anchor & proceed on passage Streamed tow when clear of entrance. 0600 Beachy Head abeam 1400 Owers Light vessel abeam. 1500 Nab Tower abeam Forecast NW 8 imminent 1600 shorten tow, proceed to anchor Cowes Roads Inspect tow and no ingress of water found. We then received permission to moor to a buoy of Cowes Roads, so tow was moored and it made it easier for us. Watches kept during night and many phone calls taken or send as you can well imagine (no mobiles in those days). 0600 25th NW 8 Normal watches kept all day because of stress of weather many phone calls. 0600 26th NW 5- 6 decreasing later 1400 forecast NW 3-4 Proceed on passage, short tow until clear of Needles Channel. 1530 streamed tow to full length of 300m. Weather fine but a long swell running. 2345 Start Point abeam.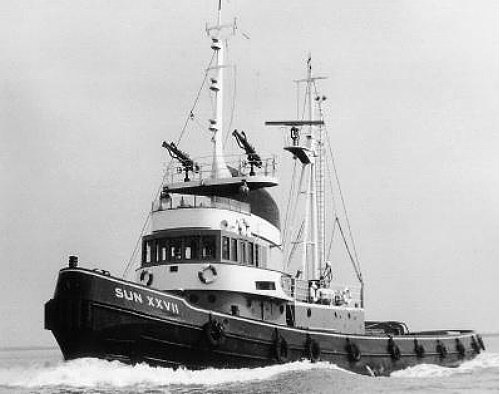 Tug Sun 27
Photo from Rays collection courtesy of Thames Tugs.This is a great site with lots of photos and stories.
0400 27th April Off Bigbury Bay slow down and anchor await orders from Admiralty. 1100 received orders to proceed to Co ordinates Lat & Long from Admiralty. 1300 in position & dropped Glen Strathallan's anchor. I then commented to our Master that we were in the fairway. The guard ship HMS Scylla sent a fast boat to us to confirm that we were in the wrong position. After about 2 hours we received a message from The Long Room Plymouth that we were to proceed to position 180 degrees from Shagstone Rock. We then had to get the anchor up using man power which actually went very easy. 1600 the anchor was dropped in the correct position Ian Clucas & I went on board the Glen Strathallan, Ian opened the sea valve in the Engine Room and I was asked if I would open the Sea Valve in the Forward accomodation which I felt quite privileged to do.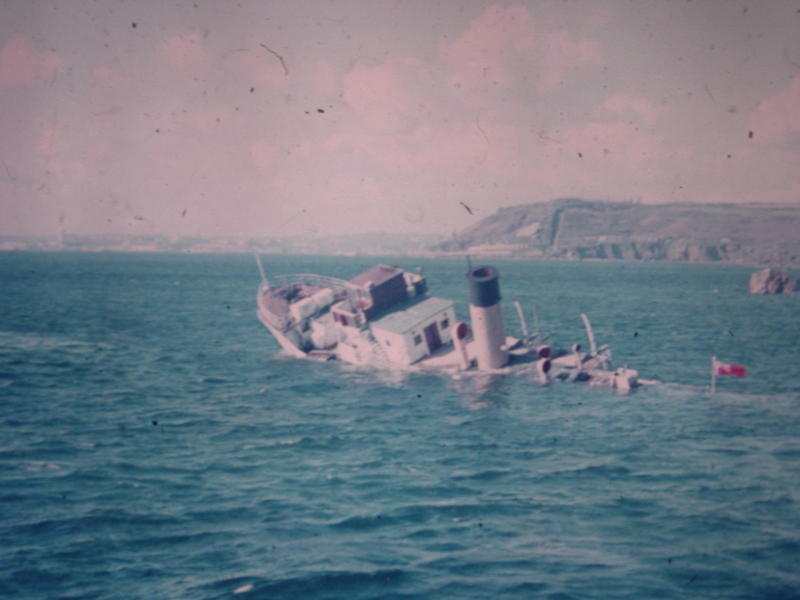 A sad site. Photo B.Biggs.
1715 The Glen Strathallan sank. We then proceeded to Mill Dock for a well earned night in. 0700 28th Sun 27 proceed to Southampton to tow a barge to Gravesend. Again after some bad weather we eventually arrived at Gravesend on the 30th April. End of a very eventful and enjoyable voyage. The Sun 27 also had the following persons on board. Crew Master G Pridmore. Mate B A Biggs. Deckhands J Shelton & R Dyer. Cook C Tuffield plus 1 extra Mate. Ch Engineer D MacCarthy 2nd Engineer P Mahoney plus 1 extra 2nd Enginner. Also on board were Ian Clucas who was Master of Glen Strathallen and R Fuller who was Mate. There also 2 extra men from the London Polytecnic as observers, All this personnel was a huge problem for our young Cook who was excellent during this very difficult trip.