Tucked away in the middle of the Teign valley near Doddiscomeleigh is a collection of large sheds that house one of the best collections of marine Antiques and associated artefacts in the country. You can buy anything from a torpedo to a figurehead, and the list is so large that I am not going to try and catalogue it, and anyway it constantly changes as new stock comes in. If you want a hard hat divers helmet, silver and crockery from say the Liner Winsor Castle, or just a ships bell or a brass porthole, this is the pace to go.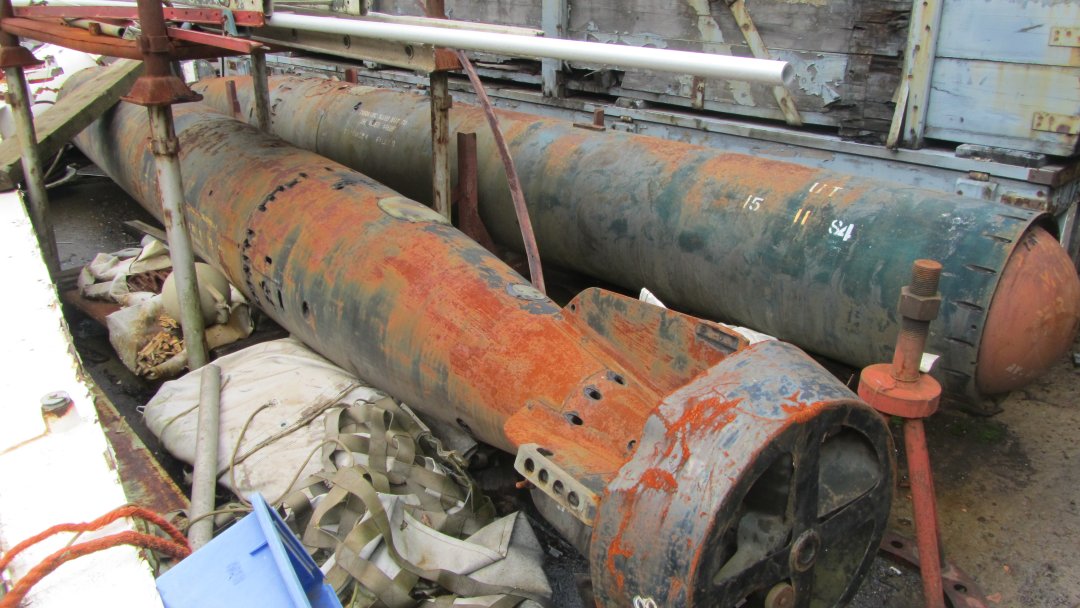 Torpedoes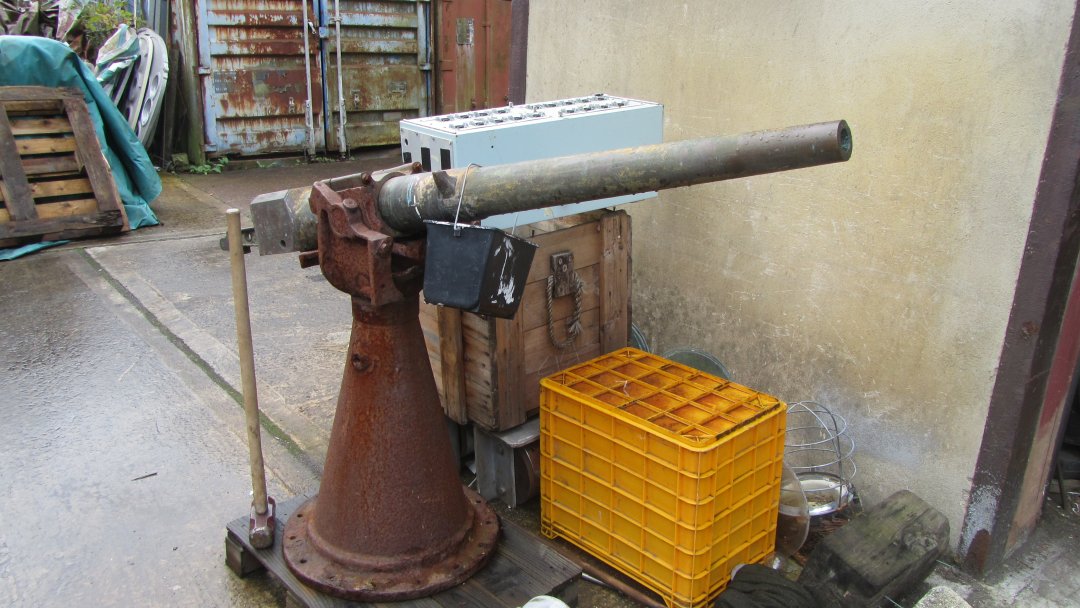 Harpoon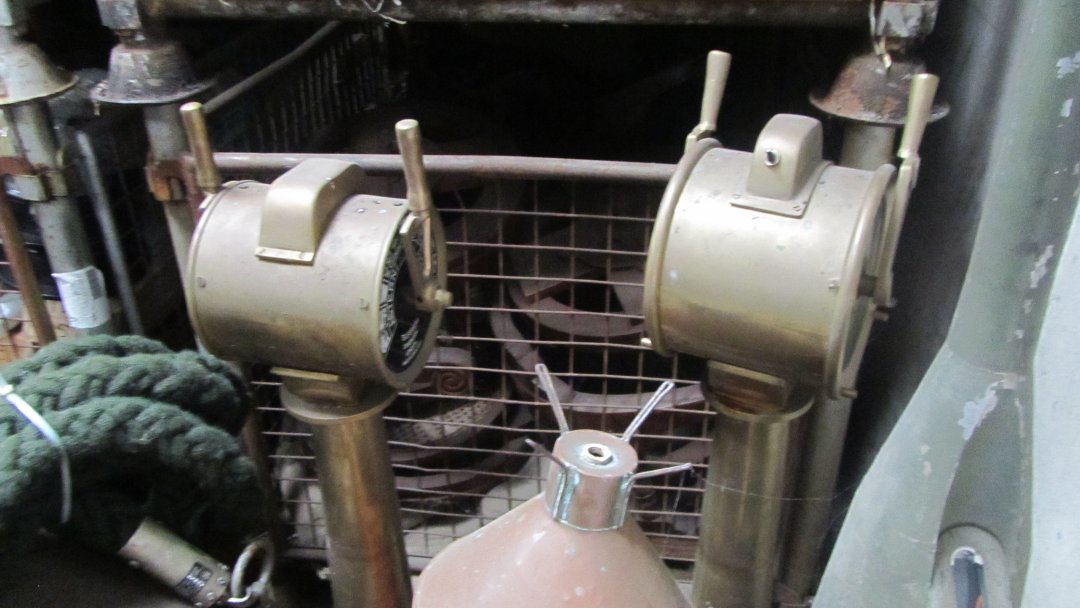 Telegraph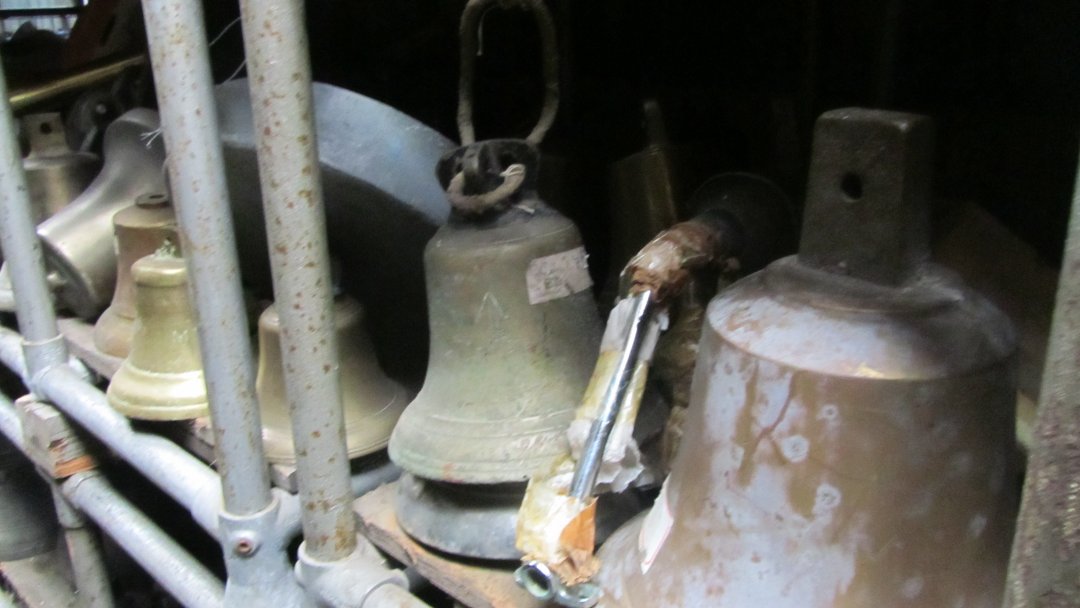 Bells
Outside in the yard merchandise for sale or refurbishment is stacked up in cages including torpedo's, ships lanterns, gun mountings, small yellow submersibles and just about anything else that you can think off. They also have two showrooms where you can view an amazing collection of binnacles, ships plaques, furniture ships telegraphs, telescopes, sextants, ships wheels and searchlights. The list just goes on and on and around every corner is a new treasure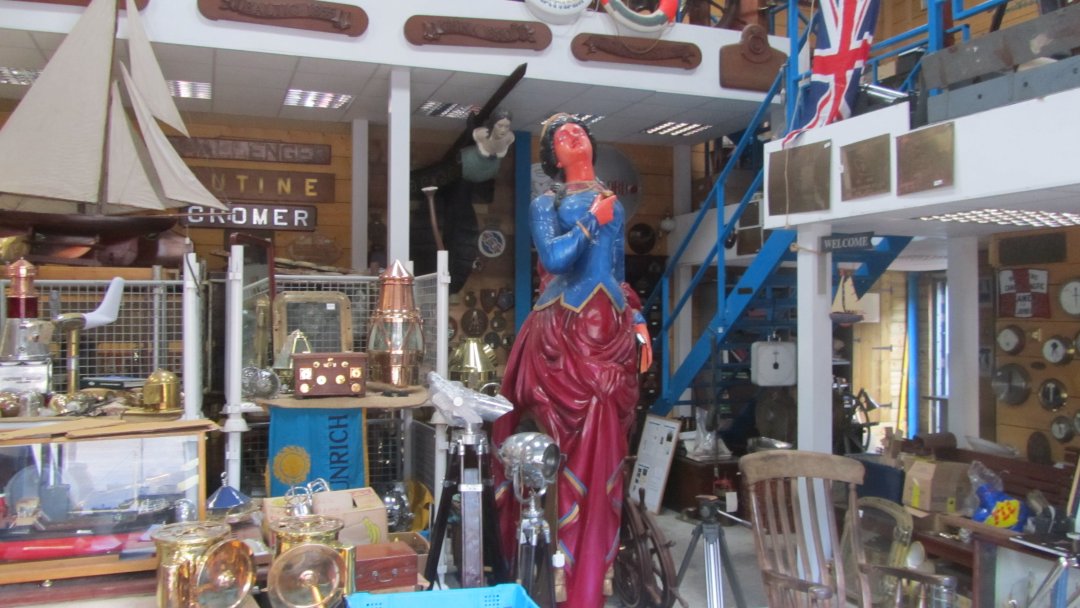 Showroom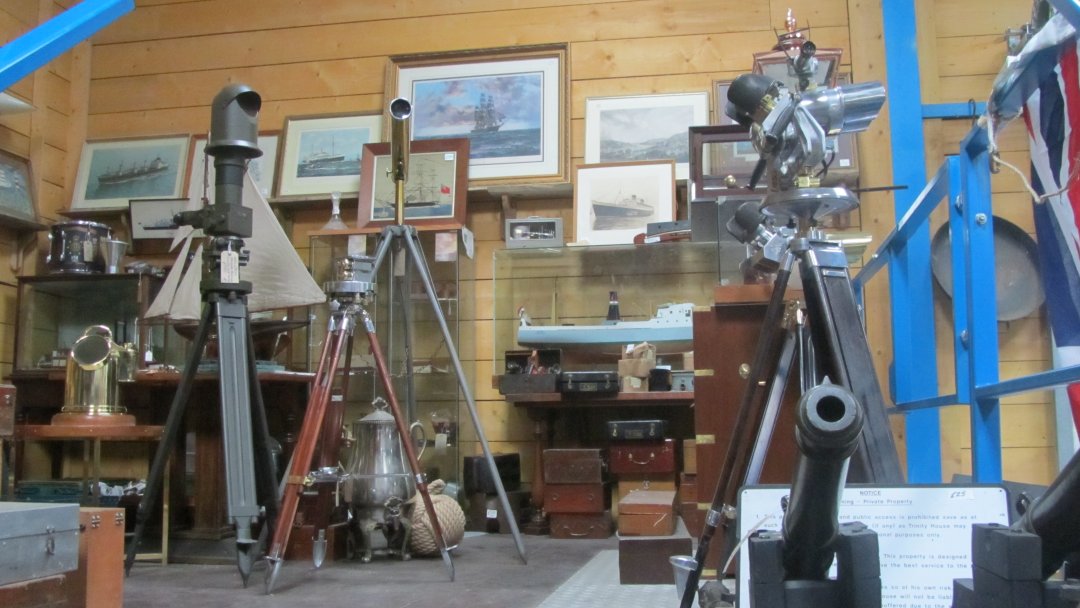 Showroom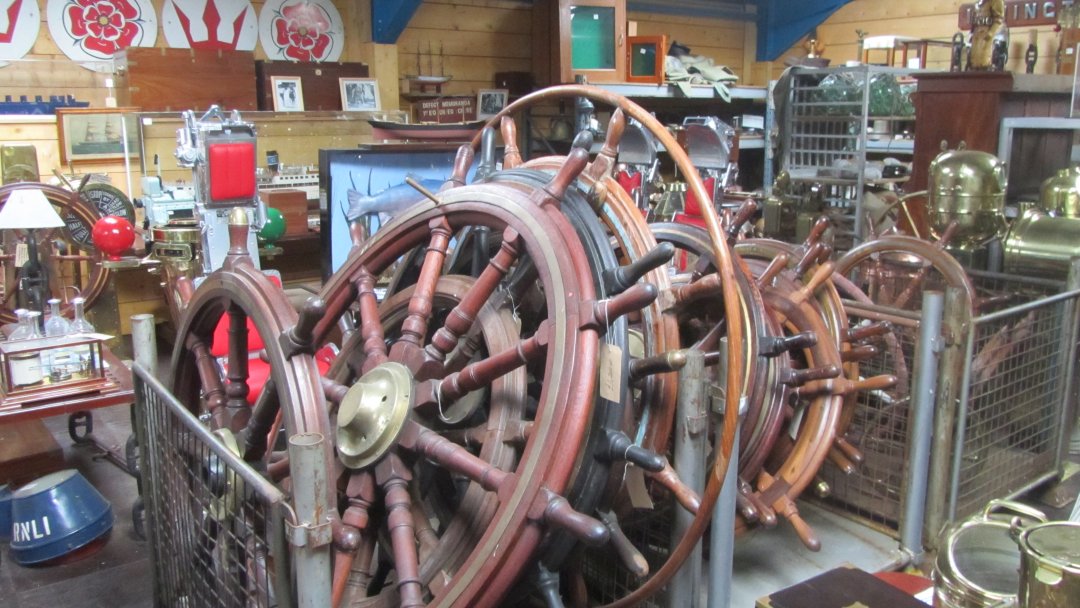 Showroom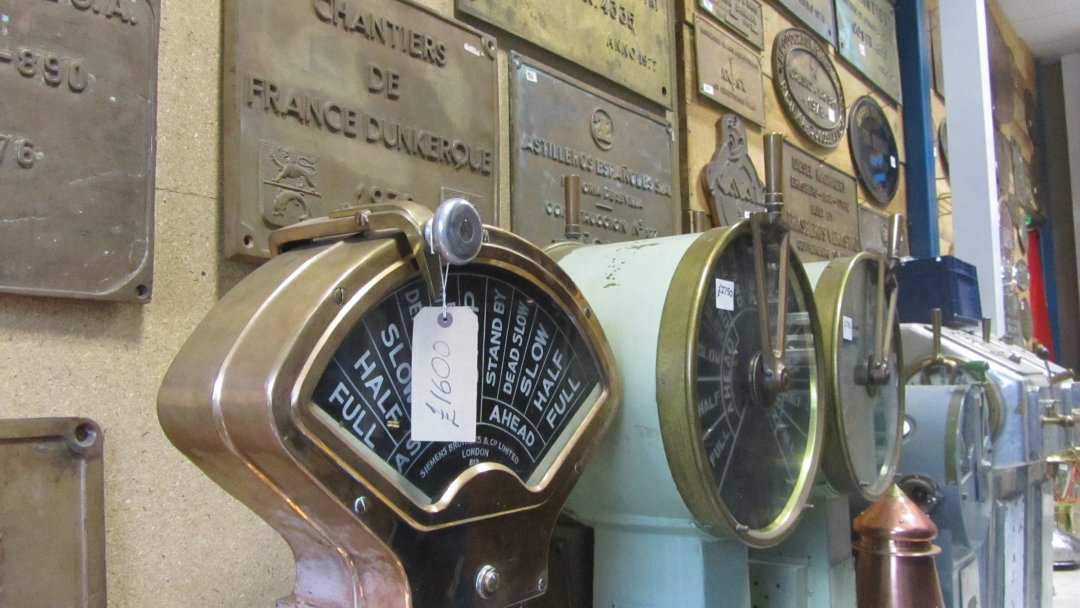 Showroom
The Company was founded about fifty years ago as general dealers, and then morphed into Marine memorabilia due to the passion and enthusiasm of the family that runs it. The man you are most likely to meet is the ever helpful Mark Jameson, who's knowledge is quite encyclopaedic.
Mark Jameson – My old helmets.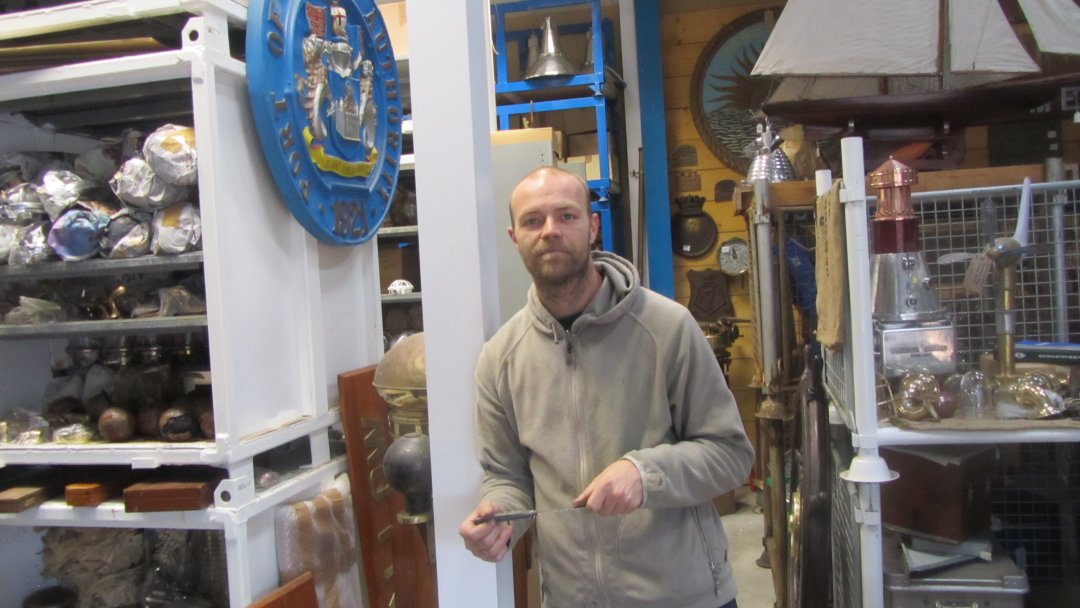 Mark Jameson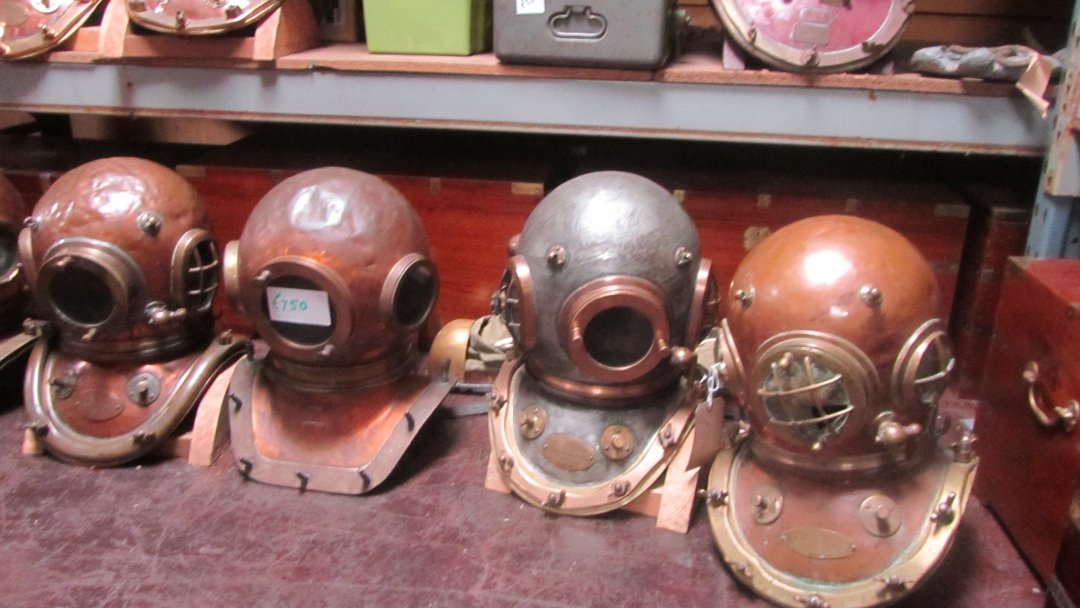 My old helmets.
So where do they get all this stuff? Some comes from auctions all over the world and some comes from the shipbreaking yards at Alang in India, where Trinity Marine have an outpost.
The shipyards at Alang recycle approximately half of all ships salvaged around the world. The yards are located on the Gulf of Khambat, 50 kilometres southeast of Bhavnagar. Environmentalists note that before shipbreaking began there in June 1983 the beach at Alang was pristine and unspoiled. However, locals say that the work provides a reasonably paid job by local standards, with a steady income to support their families.
Large super tankers, car ferries, container ships, and a dwindling number of ocean liners are beached during high tide, and as the tide recedes, hundreds of manual labourers dismantle each ship, salvaging what they can and reducing the rest into scrap. Tens of thousands of jobs are supported by this activity and millions of tons of steel are recovered. There are loads of video's on Y-tube, so I have put up three to give you an idea of what goes on.
This piece of furniture, pictured below, gives you an idea of the history that is involved with some of these pieces. This sideboard was once the property of Admiral Sir 'Jackie' Fisher on board H.M.S. Renown. Renown was taking King George and Queen Mary, then the Prince and Princess of Wales to India. It can be yours for a little over £2000. Not bad for a bit of history.Contact their website for the latest items.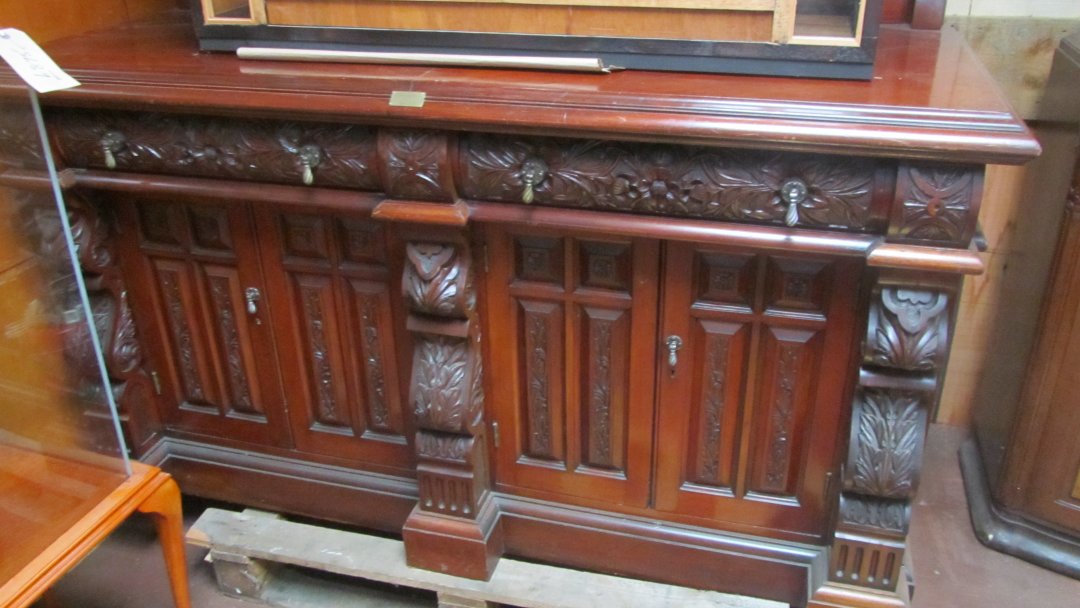 Jacky Fisher's Sideboard