Commissioned in Hamburg in late 1942, the U 534 is a Type IX C 40 long-range ocean going submarine. She was mainly used as a weapons testing platform, and until the late summer of 1944 was also used as a weather ship in the North Atlantic. During the autumn of that year she left the massive U. boat pens at Bordeaux and sailed back to Germany where she was laid up in Kiel. So far nothing out of the ordinary, just another U. boat. But during May 1945 things changed.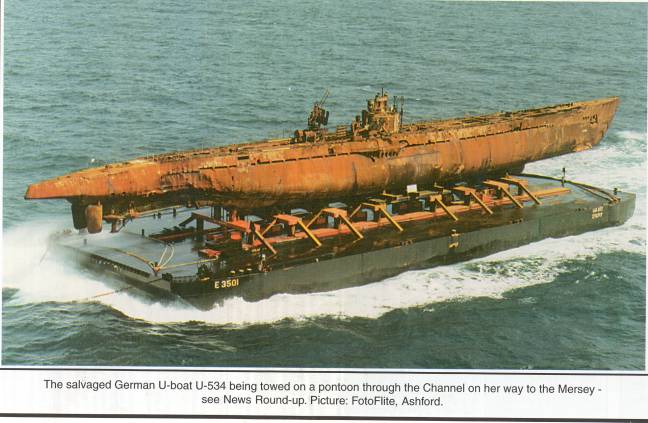 U534 on the Barge.
Germany unconditionally surrendered, and the War was over. However just before the surrender, on May 2nd, U. 534 became the last submarine to leave Germany. Apparently she had been specially provisioned and armed in the bombproof pens at Kiel weeks before, and at the appointed hour she slid silently out of the submarine pens and made her way towards Kristiansand in Norway. Two days later on May 4th, Admiral Doenitz had ordered all submarines still at sea to surrender, but by then U 534 was lying submerged off Elsinore in Denmark. Weather her Commander, Captain Nollau failed to receive the order or chose to ignore it is uncertain, but either way the outcome was to be catastrophic.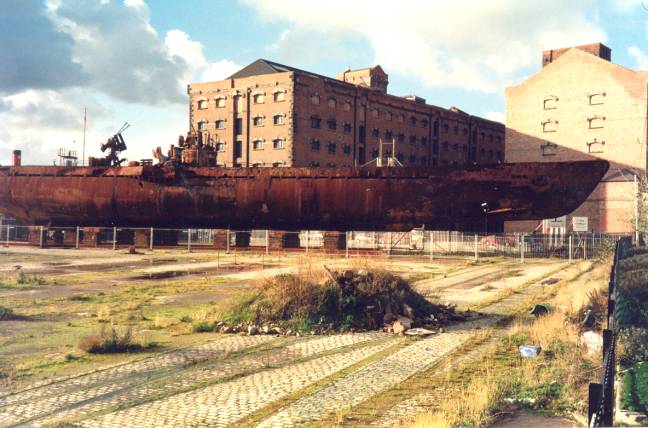 Still Rusty.
On May 5th, the day after all German forces in Northern Europe surrendered, a R.A.F. Liberator from Coastal Command sank U 534 off the Danish Island of Anholt. Most of the crew managed to abandon the boat and were soon rescued, but five were trapped inside the U-boat and were dragged down by it. Miraculously they managed to escape their iron tomb, but one died in the ascent, and two others drowned on the surface before the rescue ships could get to them. So where was the submarine going and what was its mission?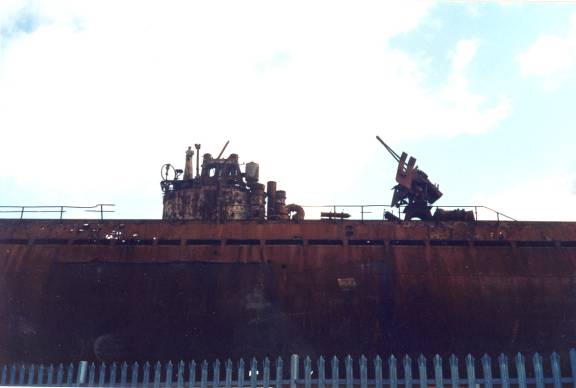 Anti Aircraft guns still intact.
U 534 had a range of over eleven hundred miles, so could have easily reached South America. Was she going to carry a leading Nazi to South America via Norway? Or was she carrying treasure looted from the occupied countries to help those Nazi who had already escaped to South America by other routes? One of the crew that died shortly after the U534 sank was an Argentine wireless operator, which suggests that she was indeed en route to South America. The only person who definitely knew was Captain Nollau and he never told, taking the secret to his grave.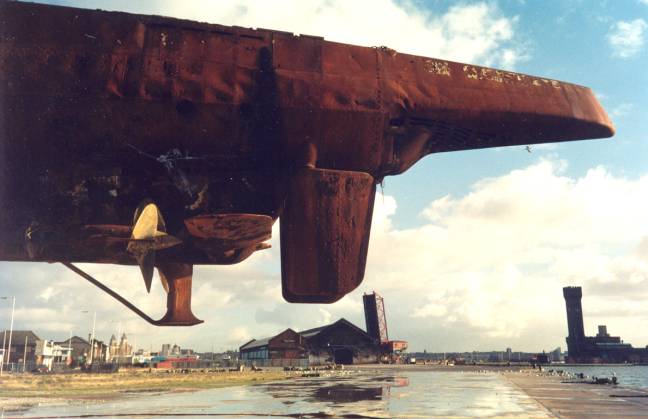 At least the Props are Shiny.
As the years rolled on, the rumours became more persistent and the accounts of the treasures supposed to be on board ever more extravagant. More than forty years after she sank a Danish diver, called Age Jensen found U 534 and once again the rumours started to fly. In 1992 a Danish publisher, Karsten Ree became interested in the submarine and decided to mount a salvage operation to find out once and for all what the Mystery of the U 534 was all about. The expensive lifting operation lasted over four weeks with the close co-operation of the Dutch Navy. After five tons of explosives were removed the submarine was moved to Grenaa where she was loaded onto a huge barge and towed to Birkenhead. Besides the explosives there was about two tons of documents. No gold. No paintings and no jewels.
So what was going on? Watch this space.
The Tour.
When I first visited the U 534 she was still in a very poor condition. The Warship Trust had only just got her and took only a limited number of very small groups around personally as the inside of the sub was pitch black and quite dangerous underfoot. I thought this was a great way to see her, almost just out of the sea. Inside the submarine still dripped with water from rain penetration and oozed a film of condensation that shone eerily in the powerful torch light. The menacing dark shadows that lurked at the perimeter of the light gave our small party just a glimpse of what it must have been like in those last few hours.
How to get There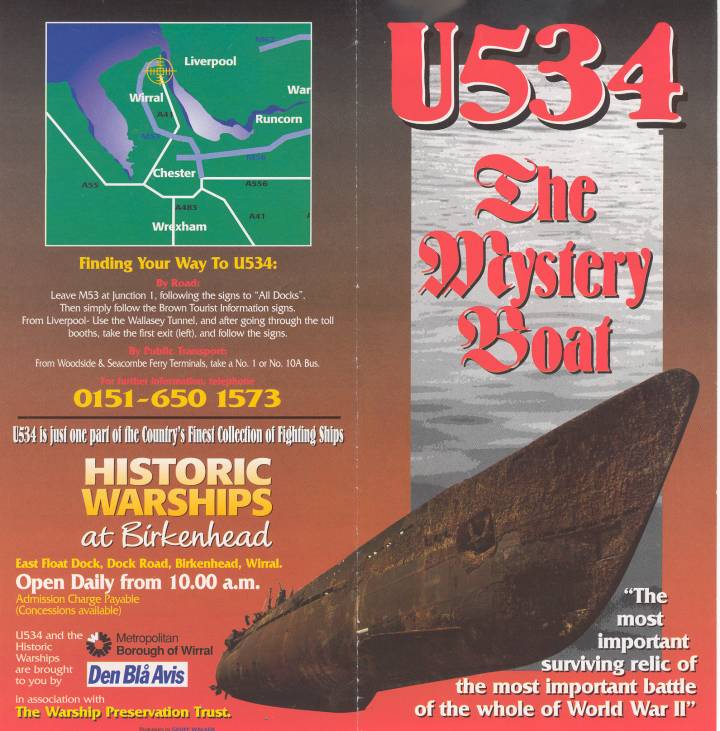 How to get There
Stuck all over the boat wedged into the pipe spaces were old tins of food, bits of newspaper, and the odd bit of clothing. The guides were very knowledgeable, but all the technical guff washed over me because the sheer experience of being in that dark, dank submarine was so evocative. How the crews on both sides hid their fears and endured the dreadful conditions inside the boat must be incomprehensible to people today. No wonder these old submarines still exert such powerful emotions.
When I went to see the sub, no photographs were allowed to be taken inside, but this great website did, and the inside is just as I saw it. Well worth a look.
In 2006 the Warships Preservation Society went bankrupt and sold of all the land for development and dispersed the ships. The U534 however was cut into sections and moved to a new purpose built museum at the Woodside Ferry Terminal. Below is a link to their website showing times, prices, and how to get there.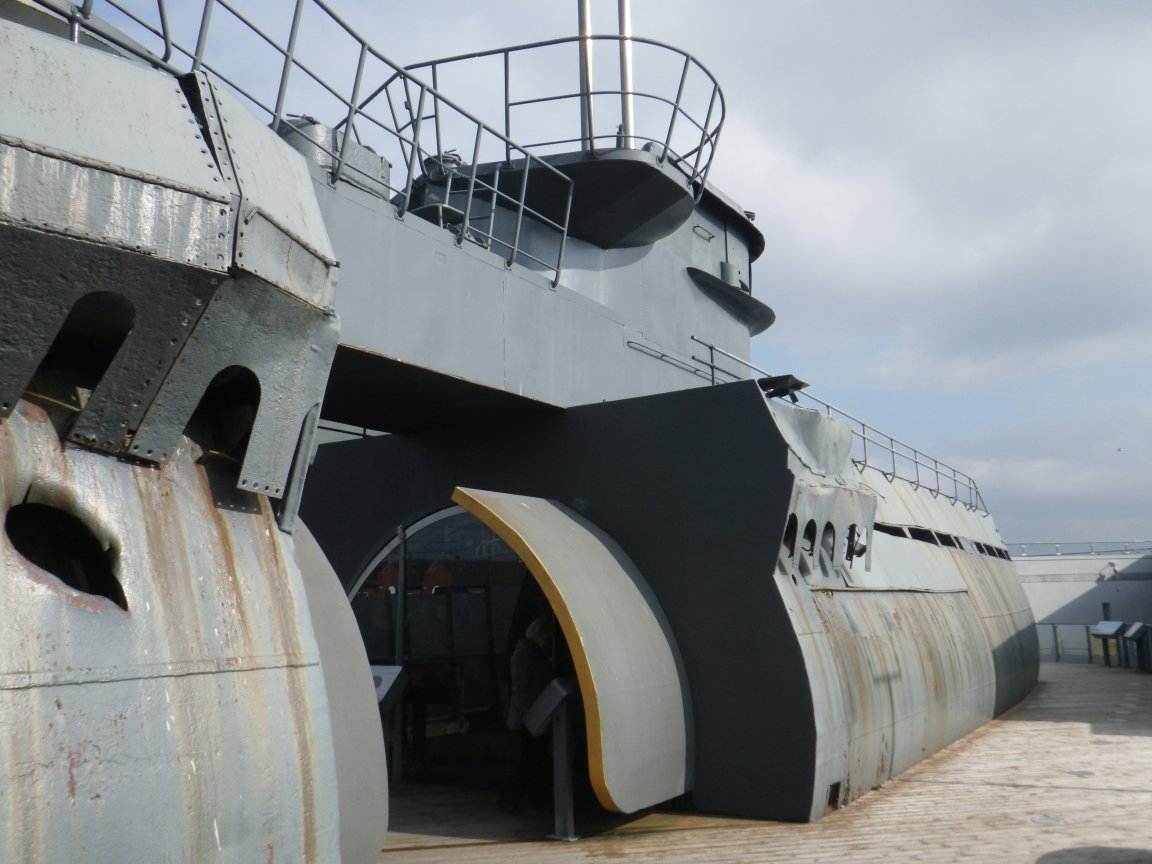 Cut into Three Pieces.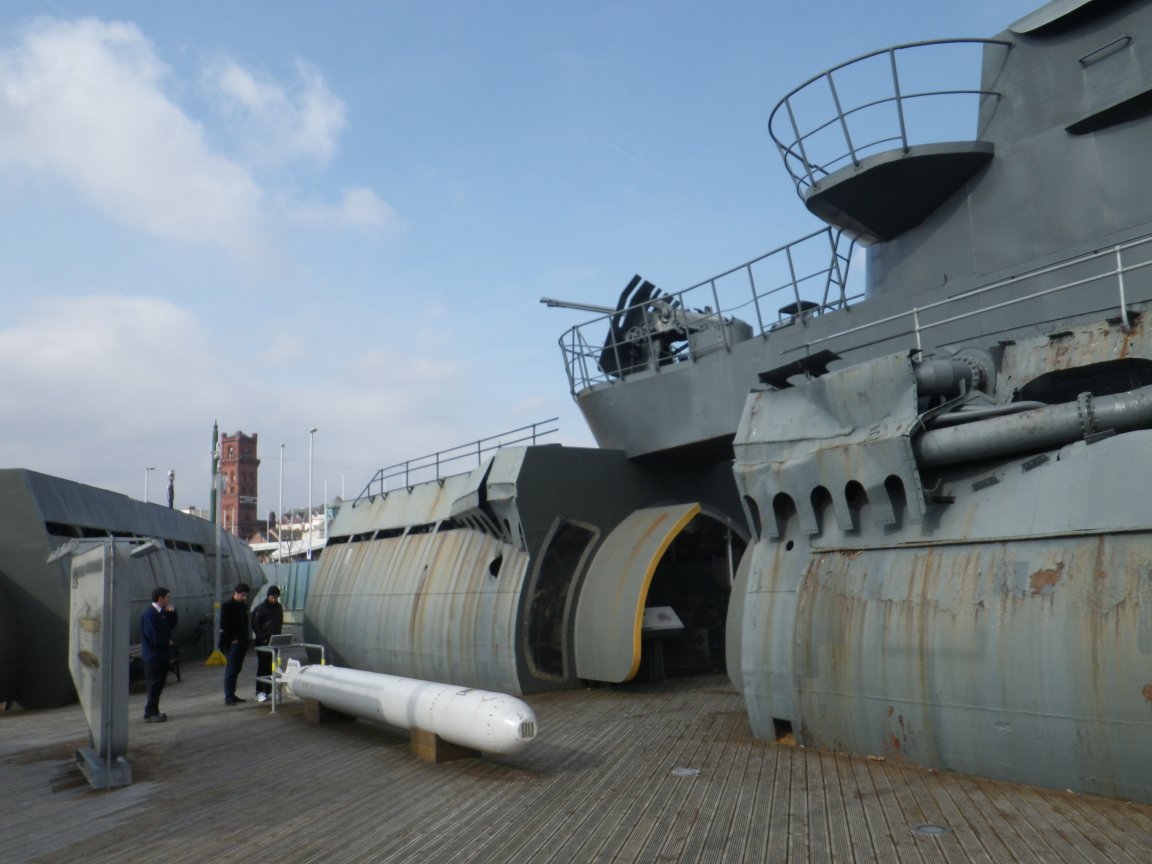 Cut into Three Pieces.
A few years after I saw the sub, the whole area was cleared to make way for apartments and houses. The U534 was by now in a parlous state, literally rusting away. There was no way that it could be stabalized to make it into an exibit. Even moving it was cause for great concern as it could just have disintegrated. A very bold move was made to cut it into three pieces and cocoon parts of it so that you could look inside. Some artifacts were removed and put on permanent display at its new home at the side of where the Birkenhead Ferry comes in.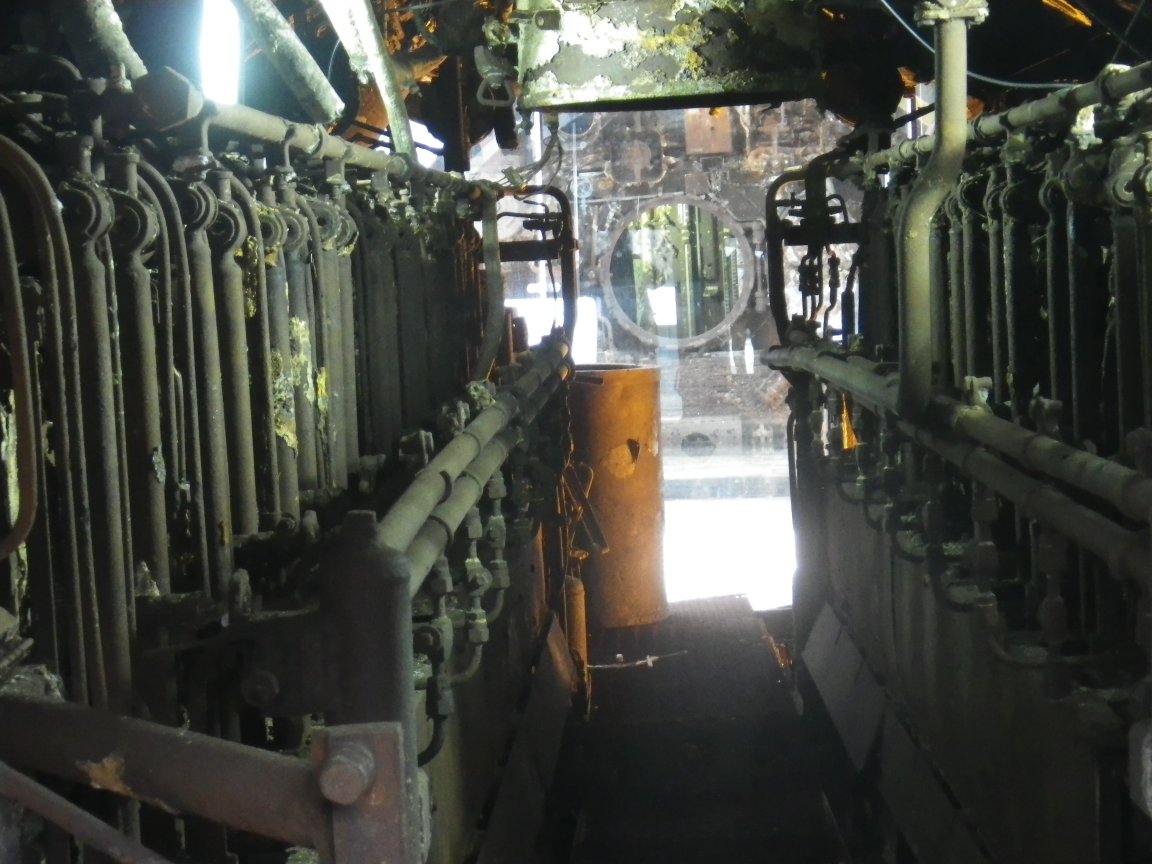 See inside.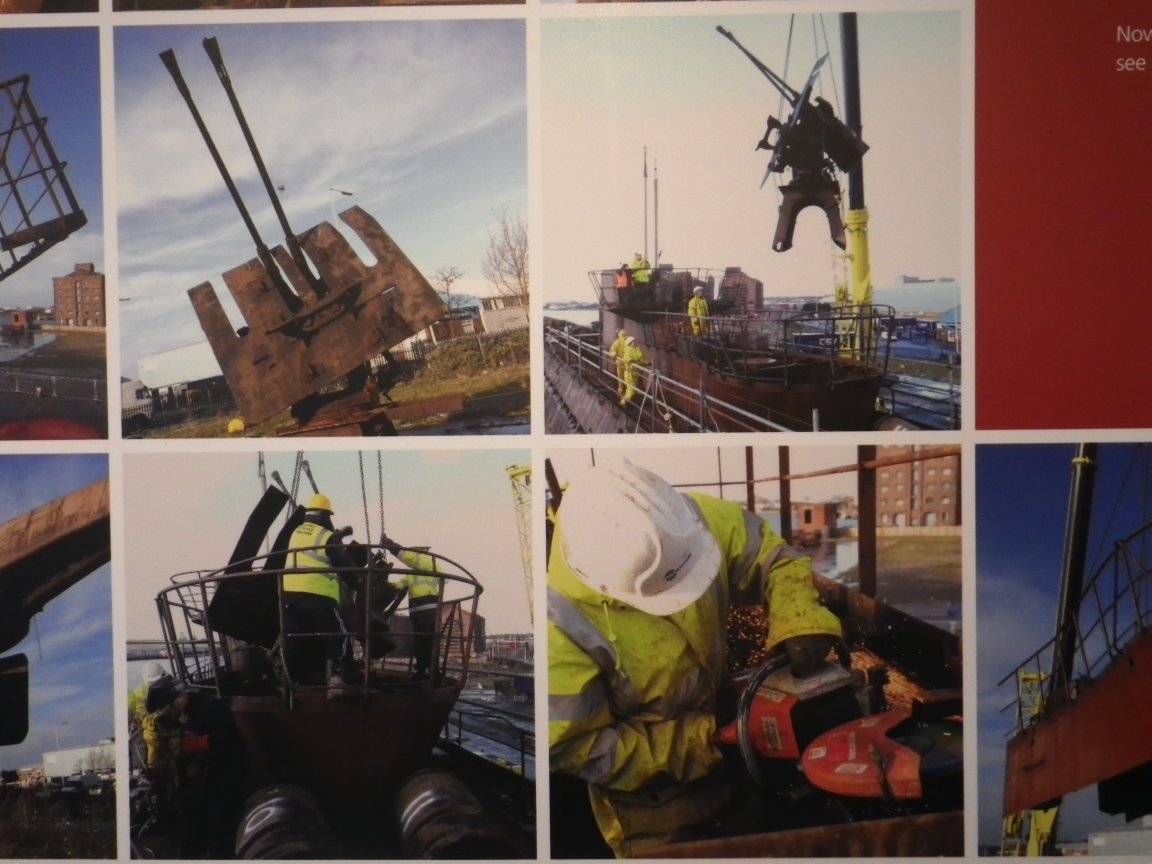 Conservation.
When I heard about this I was appalled, but I went to see it in 2013, I found that the Company responsible, had made a very good job of it. The museum is full of interesting small bits and pieces and there is a lot of information about the sub and how they got it up and conserved it. Considering that the sub could have been lost forever, its a job well done.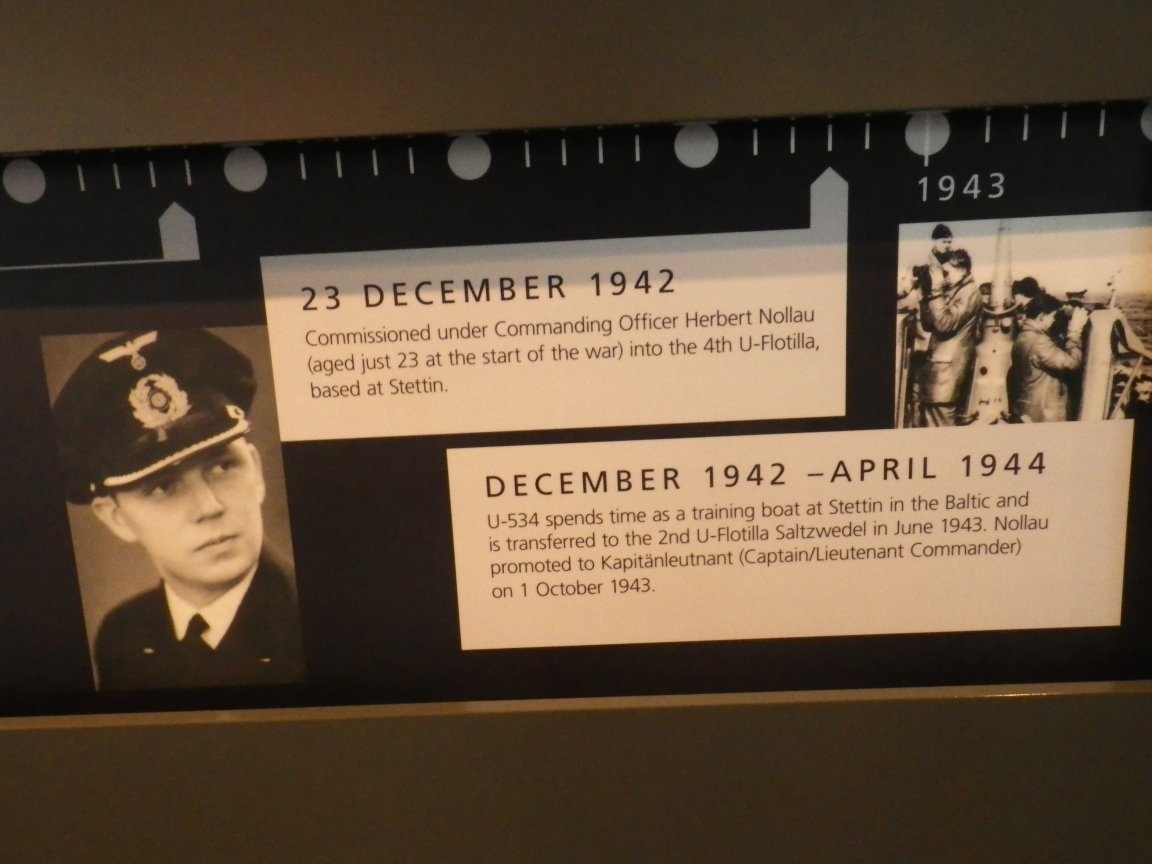 A very informative museum.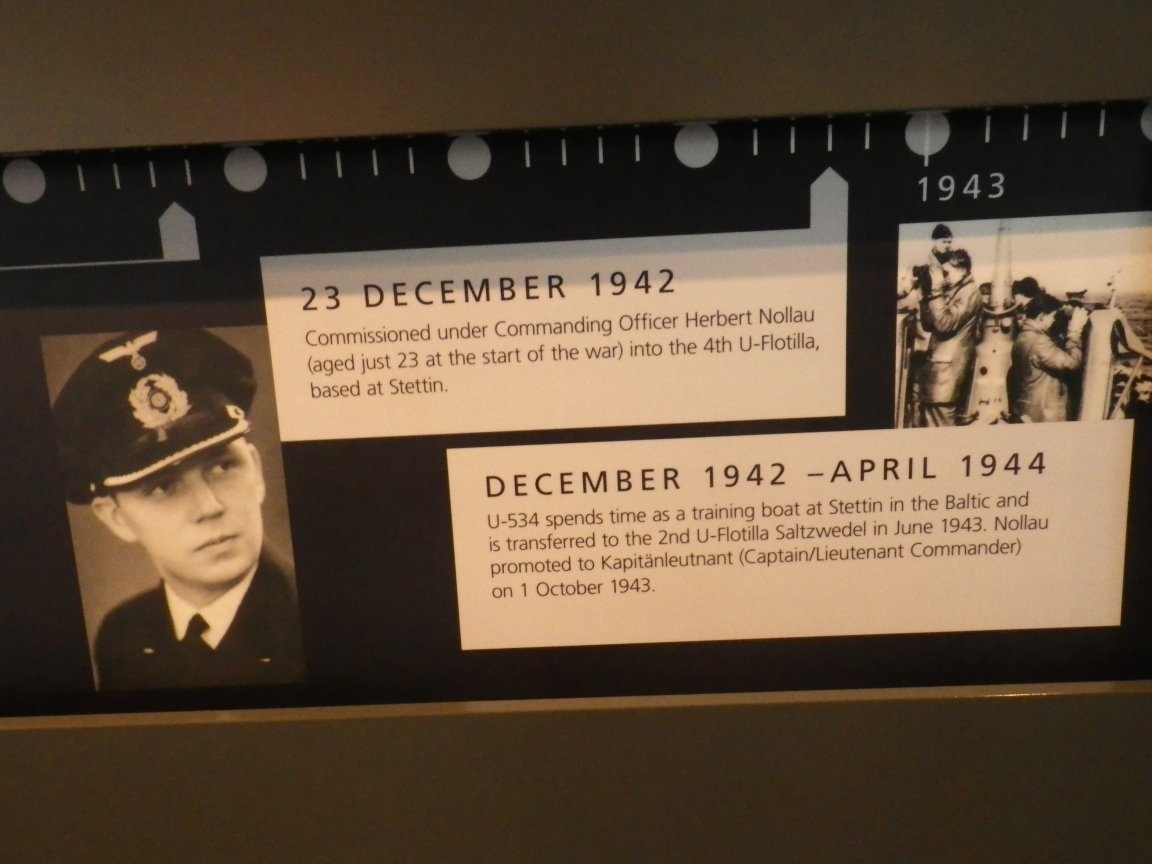 A very informative museum.