The V83 belonged to the V67 class of destroyers (told you it was confusing). She was 269 ft long, 27 ft in the beam, had a top speed of 34 knots and a complement of 85 officers and men. The V83 was launched on 10th June 1916 and scuttled with the rest of the fleet on June 21 1919. However she was beached before she completely sunk, and was finally broken up in 1928. Her armament includes three 3.45 in guns six anti aircraft guns and she also carried 24 mines.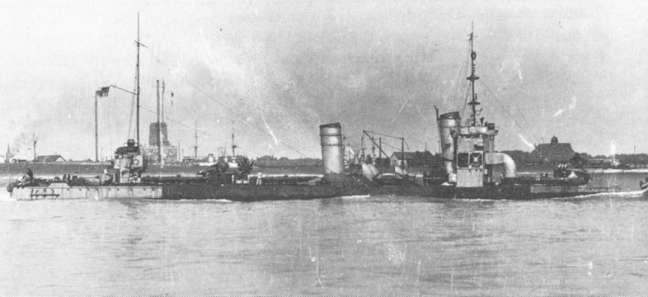 This is the V67, a dead ringer for V83.
I dived this wreck in 1985 and this is what I wrote in my notes.
Vis 25ft. depth 50 ft to 6 ft. the wreck has its stern intact, with rudder still affixed. On top of the stern is a gun with brass all over it, and that is just the start. This wreck is very smashed up and points uphill towards the shore. It lays on a sandy bottom, but as it goes closer to the shore the kelp starts to take over. However all around lays the wreck with masses of brass and lead. Brass fittings are everywhere and most are very difficult to remove, but that didn't really matter as there were lots just lying around waiting to be picked up. Halfway along you come up against another gun. Fantastic. After that its just wreckage. Boilers, brass, davits, brass, lead, copper heat exchangers, wreckage, wreckage wreckage. This is a great wreck for mooching about on. There is so much to see and poke at, and if you get bored you can go back and have a look at the guns. The other bits of the wreck are quite large and provide lots of holes and overhangs to crawl around in. I really liked this one.