The James Egan Layne got its name from a U.S. sailor killed during the war. He was serving as a merchant seaman on the Liberty Ship Baton Rouge, and died when his boat was sunk on active service. At the time it was a tradition in the U.S. to name new ships after men who had lost their lives at sea. Wally Layne was only 20 months old when his dad was killed, and had assumed that the ship had been broken up and sold for scrap. It was a chance encounter through the internet that enabled him to visit the ship that his dad had perished on. Two university students here at Plymouth were researching the Egan Layne, but couldn't find any info on the family of James Egan Layne.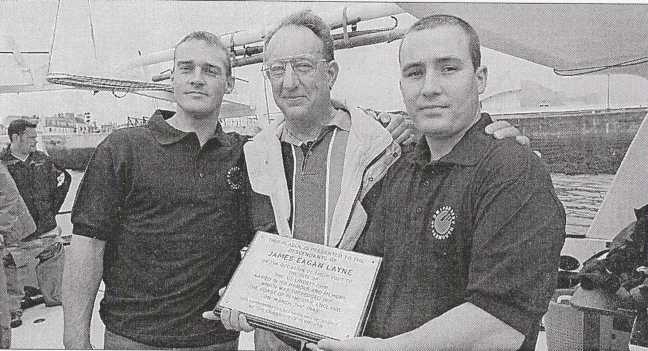 Jon,Wally and Stephen.
In desperation they posted a message on an internet diving page which was seen in Chicago by a colleague of Wally Layne. He contacted the two students, Jon Owen and Stephen Keedwell, and eventually they all met up in Plymouth in 1998. The idea was for Wally to dive down on the wreck, but as always the weather had the final say. In quite big seas the group sailed to the wreck, and fighting back the tears Wally was finally able to see a sonar trace of the vessel that his dad had died in. His daughter and two stepchildren accompanied him as did his sister Beverly, who had seen the ship launched in New Orleans in 1944. Jon and Stephen later presented Wally with a video of the wreck and a plaque commemorating his visit.