The near hurricane storms of December 1992 caused yet another ship to be wrecked on the infamous ship trap Prawle Point, near Salcombe. The vessel was the cargo ship Demetrios, and she was being towed from Dunkirk to a breakers yard in the Mediterranean, so ironically she was already on her final voyage.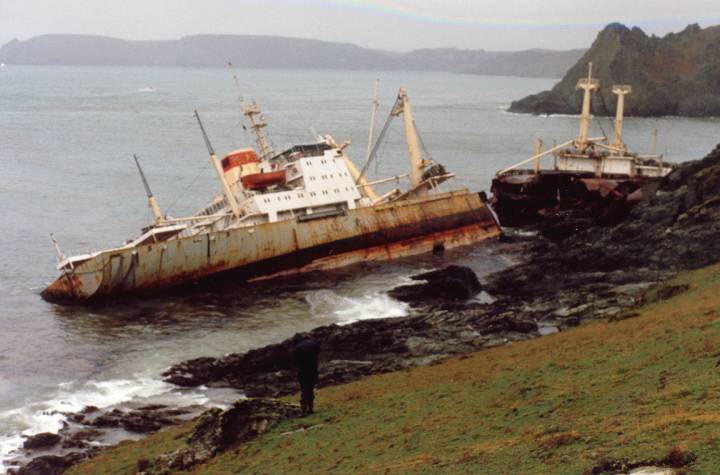 The Demetrios breaking up.
In the terrible gales that lashed the Channel that night, her tow parted and the Demetrios drifted helplessly until she smashed into the vicious rocks of Prawle Point on the 18th of December. There was no point in trying to refloat her. She was no risk to shipping and she carried no pollutants, so she was left to the mercy of the sea. Over the next few weeks' crowds flocked to the cliff tops to watch her hull twisting and breaking up in the heavy waves. In the end a local salvage firm cut up what was left of her, and towed it all away on a barge to Plymouth, where it was sold for scrap.You would think that there was nothing left to dive on, but you would be wrong.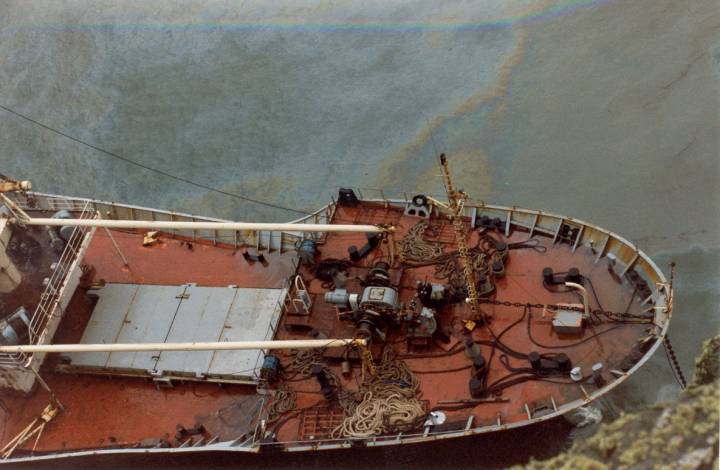 The Bow is stuck fast.
Today it is easy to find the Demetrios because there are still two large pieces of her left stuck on the rocks. What you have to do is go in as near as you dare, anchor, and let the boat drift in a bit closer. You should be in about 30 feet of water, but bits of the wreck stick up quite high so be a bit cautious. The wreckage lies in two main areas. To the left (looking at the shore) large pieces of plate are artistically strewn along a sandy gully, making little caves that are full of fish. Along one side of the gully is what looks like rock but is in fact all iron plate twisted and buckled. A hawser drapes itself across the gully, and if you follow it into the shore you will come across more and more pieces of plate and other debris, again all teeming with small fish, mostly wrasse, but also the odd small Pollock. If you like photography this is the place for you.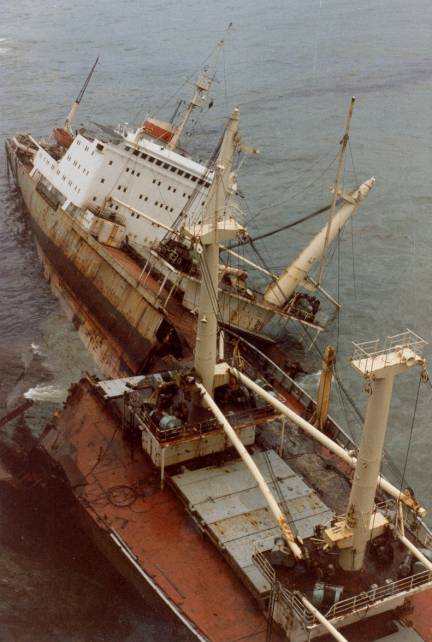 Cut right in half.
If you like scrapping then go right towards Prawle Point. Here you will see an absolute jumble of twisted plate, some almost reaching to the surface, smashed boilers and loads of brass pipes and elbows all mixed together. It is a great place to pick through. Taps, brass insides of gauges, little valves and joint fittings, great big brass elbows, steel hatch covers and condenser pipes all in one great glorious mix.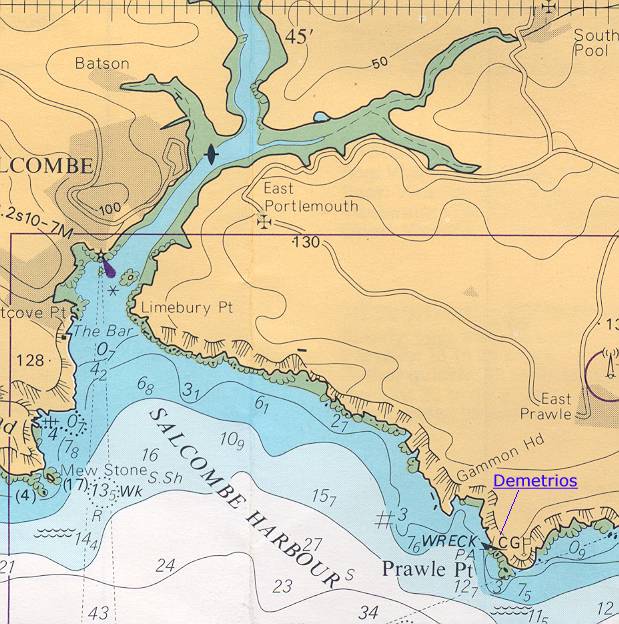 Location of the Demetrios.
Further down the wreck is the star of the show, a great big engine block, and its pistons pointing at the surface. At extreme low tide it sticks up out of the water, but normally it lies balanced on top of a reef so that it forms a sort of iron cave that you can swim right into and count the cog wheels, or whatever they are that are fixed underneath the huge block. Underneath is a great mess of broken ladders, pipe work and more smashed iron plate. It is a great sight but there is a snag, and that's the surge. It is best to dive this wreck when there are off shore winds and the tide is almost at its peak. Other wise the surge can fling you all over the place and with all that jagged metal it can be a touch worrying. Still it's a rare treat to have such a good 'grot' dive, even if it is at the edge of our normal diving area.