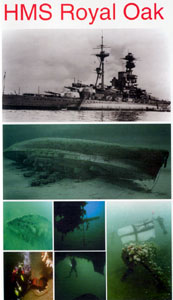 Front Cover
This video was made by Peter Rowlands, who is the only civilian diver that has been allowed to film on this tragic war grave.
On the night of Friday 13th Oct 1939 the German U boat Commander Gunter Prien penetrated the British Navy's main anchorage at Scapa Flow and sank H.M.S. Royal Oak. 833 men lost their lives in one of the worst tragedies in British Naval History.
The wreck of the Royal Oak is a designated war grave and all diving is prohibited. But a special permission was granted by the Ministry of Defence and the Royal Navy for the wreck to be filmed as a moving tribute to all those who lost their lives.
The video includes underwater images of the wreck which have never been seen before and there are interviews with survivors, and Orcadian Sandy Robertson, who was the first diver to go on the wreck the day after she sank.
Also included is coverage of another unique event when the ashes of Dorothy Golding ,wife of Bandsman Arthur Golding, who went down with the ship, were taken by her grandson and placed in the wreck to at last reunite the couple.
The finale is the unfurling of a battle ensign by a Royal navy diver on the upturned hull on the anniversary of her sinking.
You can buy this DVD online at the official HMS Royal Oak website

This is an extract from The Silent Menace DVD