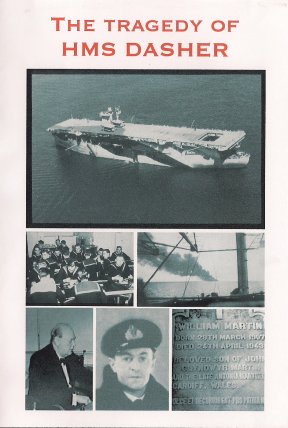 Front Cover
On March 27th 1943 HMS Dasher, a hastily converted aircraft carrier, mysteriously exploded and sank within eight minutes in the Clyde. Of the 528 men on board, only 149 survived. 379 lives were lost. Of the 379 who perished, only 23 were given an official burial. However many more bodies – either brought ashore or washed up on local beaches and possibly burned beyond recognition, lie in unmarked plots. To this day, no acknowledgement has been made of the number or the whereabouts of these unmarked graves. The lasting and callous secrecy has left hundreds of families not knowing what happened to their sons, brothers, relatives or loved ones and most went to their graves still not knowing.
An official Board of Enquiry was hastily convened and within just two days they concluded that the Dasher had sunk due to an internal petrol explosion. However, several key witnesses were not called to give evidence. The official cause of her sinking is still doubtful. It could have been a mine or even possibly sabotage but it could also have been one of the first cases of friendly fire. The findings of the Board of Enquiry were never released until 1972 and even now information is being witheld. This is just part of a veil of secrecy which has surrounded HMS Dasher ever since. Rescuers, survivors and witnesses – everyone with any knowledge of what befell the Dasher in these waters – all were sworn to secrecy.
An important new piece of information may explain the Governments reticence to release all of their records. There is a strong possibility that one of the bodies from the Dasher was used in Operation Mincemeat to dupe the Germans about a possible invasion of Greece at a crucial time of the war in 1943. The loss of HMS Dasher and 379 young lives is still not fully understood by those affected. Mystery still surrounds the sinking, the burial graves and the true identity of the Operation Mincemeat body. Perhaps when all the facts have been revealed, they can be finally laid to rest.
Running time 54 minutes Narrated by Sean Barrett Produced by PR Productions Directed by Peter Rowlands '
This DVD is temporarily unavailable