Two miles out from Portwrinkle lies one of the hardest wrecks to locate along this part of the coast. She is the armed merchantship Rosehill. Built in 1911 by S.P. Austin and Son of Sunderland, she was first launched as the Minster by her owners Stephen Clarke and Company. 314 feet long with a gross tonnage of 2733 tons; the Minster was fitted with a triple expansion engine made by the Sunderland firm of NorthEastern Marine Engineering. In 1914 she was sold to a Welsh Steamship Company called W.J. Tillet and was renamed the Rosehill. At the outbreak of the First World War she was requisitioned by the Admiralty as a collier and armed with a small gun, probably a four pounder.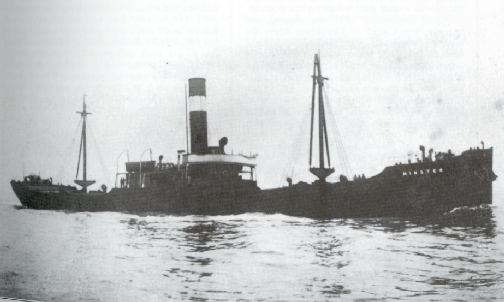 Looks like a small ammo box.
During September 1917 the Rosehill was enroute from Cardiff to Devonport when the German submarine U 40 torpedoed her and she sank in about 100 feet of water at the edge of a reef, surrounded by large outcrops of rock. This fact conspires to fool many a person with an echo sounder, and the only effective way to find her is to use the marks, which will put you right on the boilers. However the marks can be most elusive and I will come back to them in a moment.
Because the Rosehill lies so far along the coast from Plymouth, and because of its difficult marks, the Rosehill is not extensively dived. Often the visibility is not much more than ten feet, and sometimes a lot less, so most of the charter skippers prefer the Egan Layne because it is nearer and has much better visibility. Whilst the marks are easy enough to spot on the land, the telegraph poles in the first mark tend to vanish on a clear sunny day. Even binoculars cannot bring them back, but sometimes a good set of Polaroid sunglasses can. So ideally you want a calm clear day with a touch of cloud.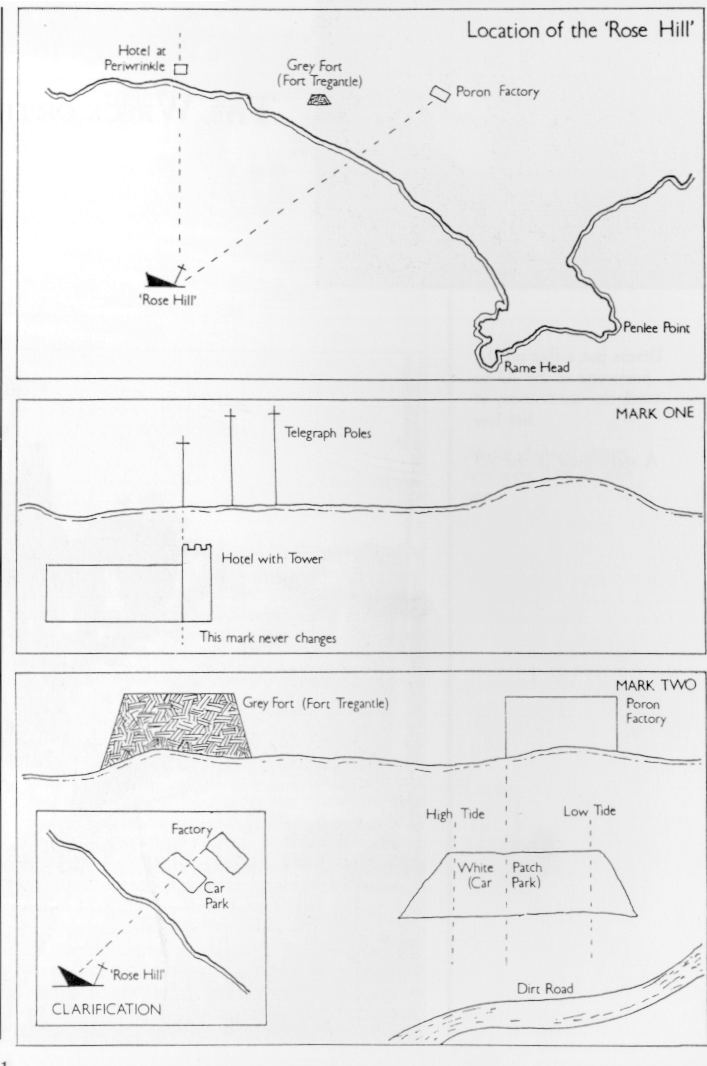 I know you can use GPS, but try these, go on.
The first mark is the one to use for the main approach, and the 'stopper' is the second mark. Now this mark is a real pain because you have to adjust its position for the state of the tide. (Yes really). It took me two years to realise this, because we always had dived it before at the low range of the tide. No special reason, just coincidence, but the marks always worked perfectly. One day we went out to the wreck on a spring high and I just could not find it. After nearly two hours of looking the crew were about ready to lynch me, when a local fisherman came up and told me that his buoy (a fairy liquid bottle) was right on it. It looked right out to me but by now I was desperate. A diver went down to check it out, and there she was, correctly positioned on the first mark but much further along the 'stopper' mark. I have never come across this sort of mark before, and I can't say I care very much for it, but I have tried all sorts of other marks and they just do not work, so I guess I am stuck with it.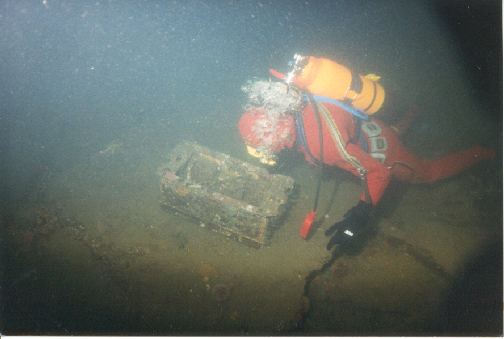 Looks like a small ammo box.
Still after all the hassle the Rosehill is well worth it. This was the first wreck I ever dived with a gun on it, and that is only one of its many attractions. The ship is lying almost upside down in parts and it takes some time to get your bearings, especially as the visibility is usually not very good. Still there is plenty of brass on this wreck, but you will need to come well prepared for most of it is well bolted on. On my first dive on the Rosehill there was no entrance into her engine room except for a small crack in the hull. Over the years however, this crack has turned into quite a gaping hole, and although not quite big enough to get into properly, you can certainly see enough to hope that the hole gets a lot wider. Around the boiler is a huge jumble of metal, parts of the hull and pieces of the deck all lumped onto one another. In amongst all this are some brass valves bolted to the plating, and some fairly large bearing blocks. At the bows is an anchor and chain and part of a mast complete with the pulleys that must have helped support the derricks that loaded and unloaded the ship.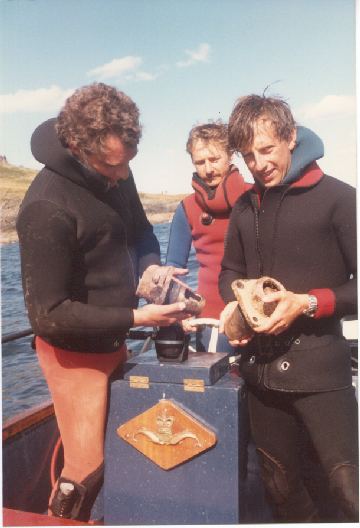 Two brass valves. The trick was to find them on each dive.
Somewhere amongst all this is the gun. I must confess that I never can quite put my finger straight on this, and usually have to be led to it by one of my partners. Still I do like looking at it, even though I am not too sure what type it is. Nice big barrel, elevating and training wheels, mounting with calibration ring, the lot almost ready to fire. Great.
Besides the brass and the gun, there are also an awful lot of fish as well. Pouting and Pollack you would expect, and they are here in huge numbers. The exception is Bass. I was surprised to see them here on one dive and maybe they were only visiting. A few years ago there were sensational stories in the press about a giant conger eel attacking divers thighs, (I always wondered about that) and although there are congers on the wreck I can't say that I noticed any of them attacking divers. But then, as I have already said, the visibility is not all that good.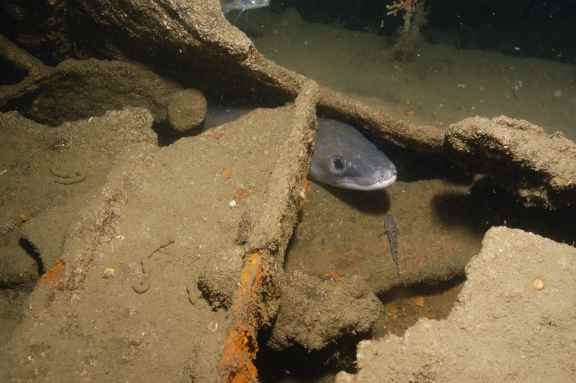 Check out the conger's mate.( courtesy of Sally Sharrock).
Once you have dived the Rosehill a few times you begin to make some order out of the jumble, and you begin to notice that things are missing, and that is what makes this wreck really interesting. Forinstance, where is the bridge? Is it underneath the upturned part of the hull, or has it been torn off and is now lying some way away from the wreck? If I find out be sure I will let you know. Better still, you find it and let me know.