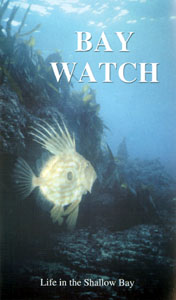 Cover photo supplied by Dave Peake
The scenery along the West Country coast can be stunning, but its real beauty lies concealed beneath the waters of its shallow sparkling bays.
Come with us underwater and visit a facinating variety of sea creatures as they go about their busy and sometimes bizarre lives.The cuttle fish for instance is 400 million years old. See them stalk and capture their prey whilst rapidly changing colour. Then marvel at the blonde ray as it flies over the sand and rock inches from the seabed like a low flying cruise missile.
Shot entirely on location in the waters around the Westcountry, this DVD will give you an introduction to the vast array of intriguing and colourful marine animals that live just out of site, a few feet underwater in the shallow bays around our coast.
This DVD is temporarily unavailable

Extract from BayWatch-life in the shallow bay DVD