The trouble with wreck research is that most of it is carried out in libraries, and after a while, instead of seeing the facts you just start seeing lots of dots. Much more interesting is galloping around the cliff tops trying to climb down to suspected wreck sites, or gently creeping about in old churchyards, peering at the gravestones in order to get an idea of all the local tragedies that have happened on the cruel sea.
I much prefer being out in the open air to browsing in libraries, but you have to go where the information is, and if you are really lucky you will find a personal angle that will really make the wreck come alive. 'Eyewitness' accounts are by far the best kind of information, and if you have ever seen those programmes where survivors from the Titanic or some other famous wreck tell their stories, you cannot help but become interested in them and the fate of their ships. It really is compelling stuff, and I find it most surprising that many of them seem to remember events that happened seventy odd years ago like it happened almost yesterday.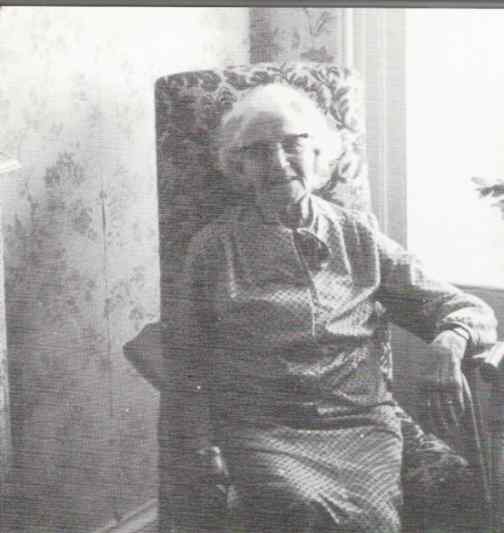 Mrs. Pillage aged 82.
Part of my job used to be helping to run an Old People's Home, and it took me a while to realize what an untapped fund of knowledge I had right on my own doorstep. Old people, far from being disinterested spectators on life still retain for the most part an avid interest in the world that immediately surrounds them, and when they find out that you do something, that to them, is downright dangerous, then their curiosity knows no bounds, especially when it comes to identifying everyday objects that have been brought up from the sea. Glass 'alley' bottles hold no mysteries for them, they are familiar objects from childhood. In one case a stone ginger bottle caused one old lady to shout in glee because the make 'Biscombes' was a firm that her great grandfather once owned. She was so delighted I had to give her the bottle so she could have it in her room.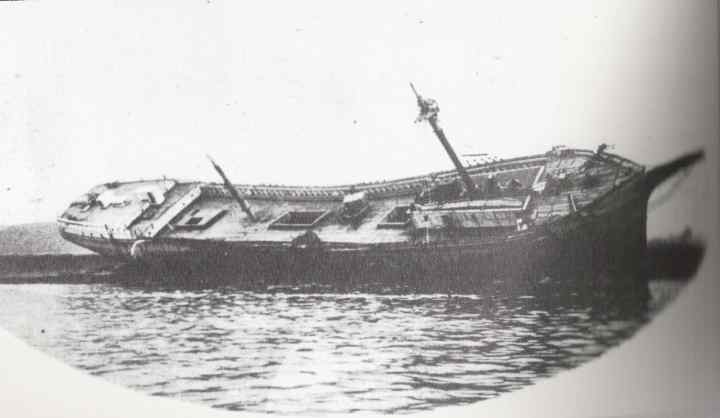 The Yvonne on the Breakwater.
Now although useful this was all pretty low key information, until one day one of my ladies, a Mrs. Pillage by name, came up to me shyly and asked if I knew anything about the wreck of a Barquentine that had happened on the Plymouth Breakwater when she was a young girl. After a bit of questioning I realised that she meant the 'Yvonne' a steel barquentine of about a thousand tonnes that had hit the Breakwater and sunk in August 1920. Now I did actually know this wreck and had dived on its remains quite a few times. Mrs Pillage was fascinated by this and asked me plenty of questions about how the wreck lay, and what it now looked like. She displayed such a good grasp of the situation, that puzzled she should know so much, I asked her where she had got her information from.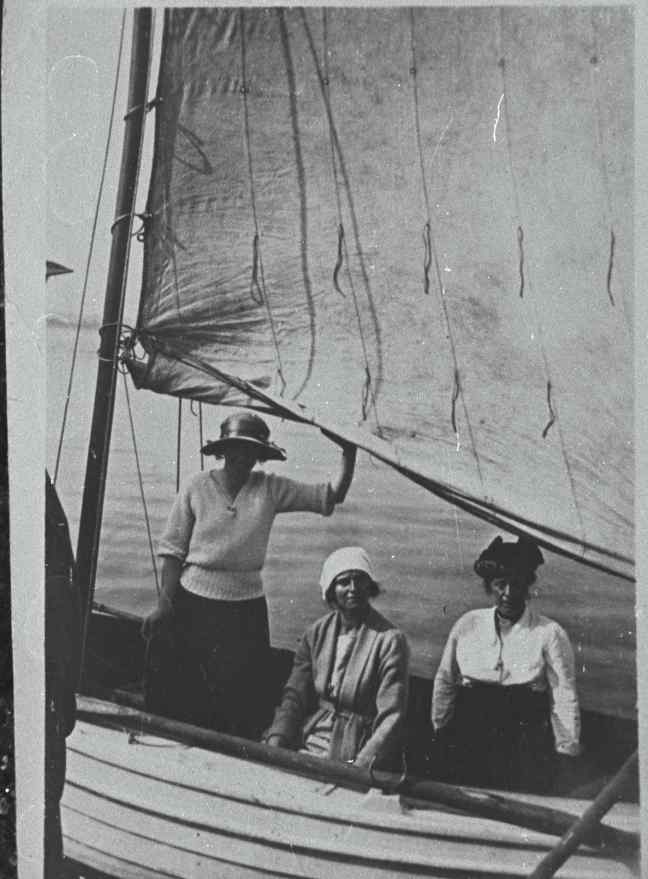 Mrs. Pillage is in the middle.
It transpired that her grandfather had been a Pilot and Tug Skipper, and as a young girl the great love of her live had been a small sail boat. When the Yvonne smacked into the Breakwater she was determined to sail out there and have a look. As she retold the story of that day her eyes sparkled with the memory, and at the end of her tale she suddenly asked me if I would like to see some photographs. There in an old envelope were three small photo's taken with an old Box Brownie. One showed her as a young girl in her little boat, and the other two showed the bows and stern of the Yvonne lying with her back broken in two on the Breakwater. You knew it was the right wreck because the little girl had taken great care to frame the stern right in the middle of the view finder. There in large letters was her name 'Yvonne'.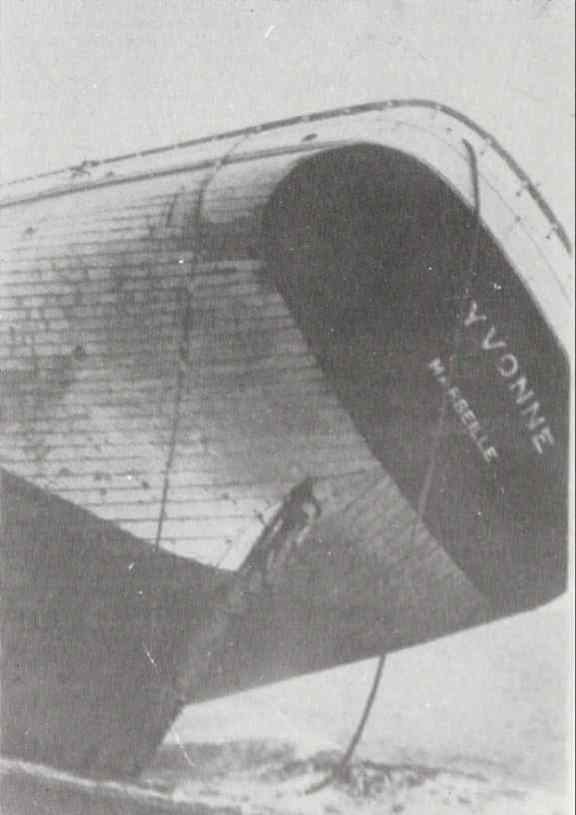 The Stern.
Well I was amazed. To actually meet somebody who saw this wreck nearly seventy years ago ( this article was written in 1987 ) was remarkable enough, but somebody with clear memories certainly bought this wreck story to life in a way that the newspaper reports certainly did not. However, not content with the photographs, Mrs. Pillage, by now the centre of attraction, rounded of her tale of the Yvonne with a good old fashioned ghost story.
It seems that the night watchmen at the wreck site had been complaining about blood curling howls and the rattling of ghostly bones. Naturally their employers dismissed these claims as the moaning of a bunch of skyvers. However, one night things turned serious when the watchmen, although frightened out of their wits by the unearthly sounds determined to investigate. As they climbed onto the wreck a steel marlin spike hurtled down from the rigging and struck quivering in the wooden deck just in front of them.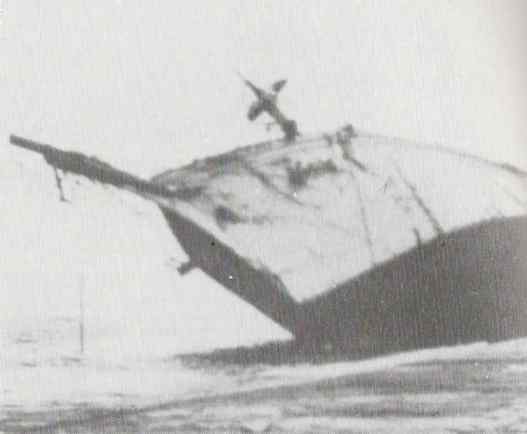 The Bow.
Completely un-nerved, they fled in terror and were never seen again. Two days later Mr. Turner, a sail rigger by profession, arrived at the Breakwater to collect some tools that he had recently left behind. Apparently he had been aloft to take some gear from the topmasts, and had left two marlin spikes in a bucket attached to the mast by a length of rope. As he climbed up a gust of wind blew the bucket against the rigging making a howling sound where it twanged against the ropes, whilst the marlin spike rattled from side to side in the iron bucket. Later, on his way back to Plymouth, Mr. Turner was heard to complain loudly about the loss of one of his marlin spikes.
Isaac Pillage, 1870-1925
I don't know about you, but I think that's a great story. You just can't get that kind of insight from files, and even if you could ( I later found an account of the workmen fleeing in a local newspaper of the time ) its just not the same. I have often said that wrecks are more than just undersea scrap, they are almost living history, and it is people and their memories that allows these wrecks to 'live' again.
Sadly Mrs. Pillage died a few years after telling me this story, and because of her age she was probably the last person that saw the Yvonne lying battered and broken on the Breakwater all those years ago. But she told me, and now I have told you. If you dive on this wreck you will become part of that link, and through you the Yvonne and her story will 'live' again. I don't know about you, but it makes me look at wreck sites just a little bit differently.