The Type V11-C was the workhorse of the German submarine fleet during World War Two. There were several versions, but all were about 220 feet long and had a surfaced weight of around 769 tons.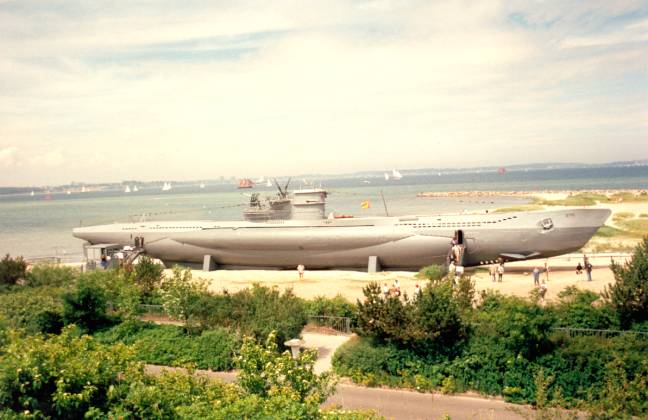 U995 at LaBoe.
Built to fight in the Atlantic, far away from their bases, the Type V11-C submarines had a range of 9700 miles on the surface steaming at about ten knots. Underwater their range was severely curtailed, being only 130 miles at a miserly two knots, but they could dive to a maximum depth of 120 metres.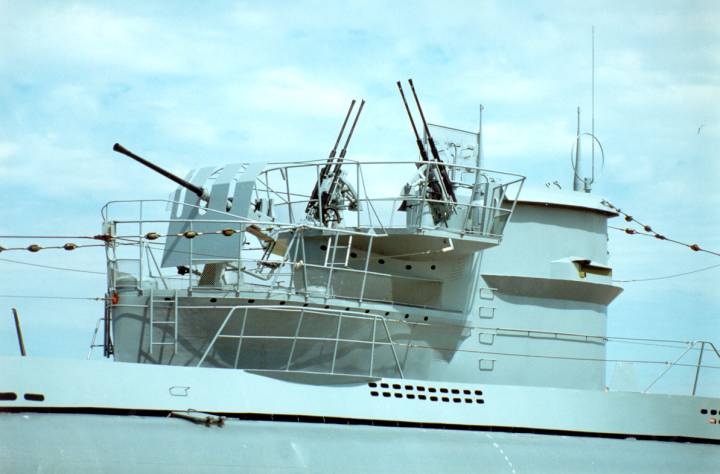 Gun Armament.
All versions were armed with five torpedo tubes, four in the bow and one in the stern. Gun armament varied, but by the end of the War most had a 88mm gun and four 20mm flak guns in a quad mounting.
The U995 is probably the best example of this class of submarine (there is one other in Chicago) and its location in the pretty seaside town of LaBoe close to the stunning edifice of the Marine-Ehrenmal, and the moving U-Boat memorial, make the visit a delight even if you are not particularly interested in submarines.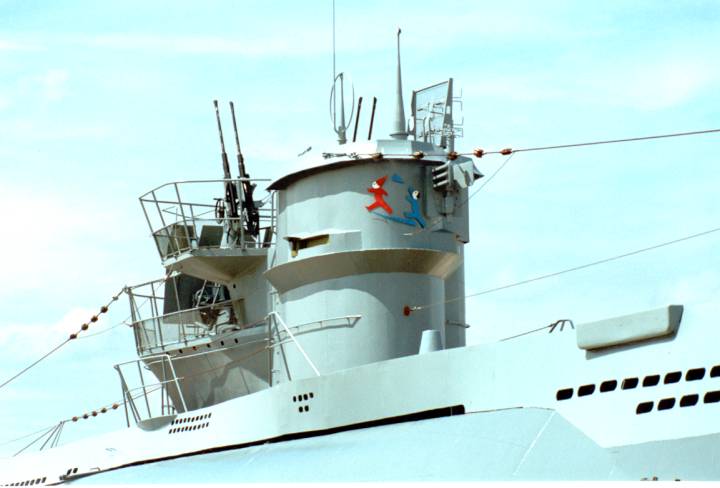 U995 Insignia.
Blorn and Voss launched the U995 on the 22 July 1943. A few days later she was badly damaged in a bombing raid and her future put into doubt. However the demands of a severely over stretched U. Boat arm demanded that all possible submarines were made ready and after a huge amount of effort, U995 was repaired and became operational on September 16th. She was assigned to the 5th Submarine Flotilla stationed at Kiel where she successfully completed her work-up.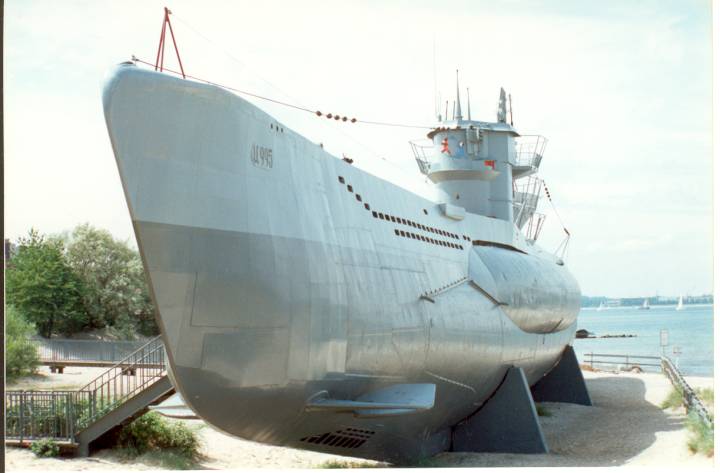 U995 Bows.
On 25th. April 1944 U995 sailed to Norway in readiness for the suspected invasion. In the middle of May she was attacked by a Sunderland Flying boat. She lost five men in the encounter but was only slightly damaged. Once repaired she then moved to the 13th. Submarine Fleet at Trondheim.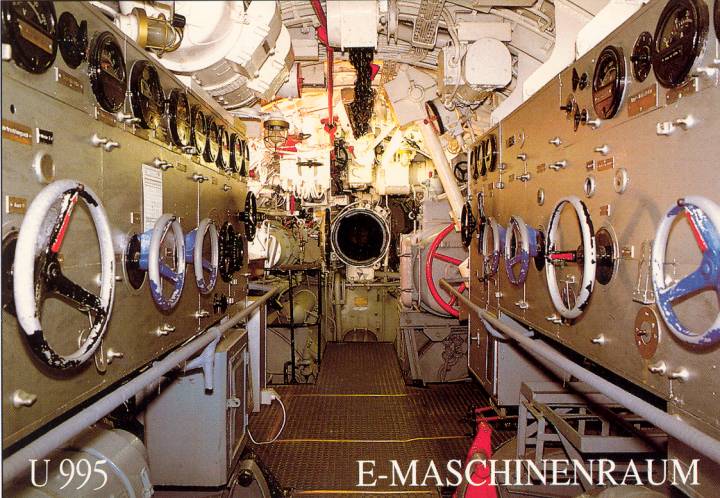 Postcard of the Machine.
The U995 carried out nine patrols in her career, sinking four ships, one of them being the American cargo vessel Horace Bushnell. On February 8th. 1945 Kaptain Hans-George Hess earned the Knights Cross for a daring raid into Kirkenes Fjord were he torpedoed and sunk a freighter. On May 8th. 1945 the War was over and Kapitain Hess surrendered his boat at Trondheim and spent a year in a Norwegian prison camp. (He later became a lawyer in Hanover)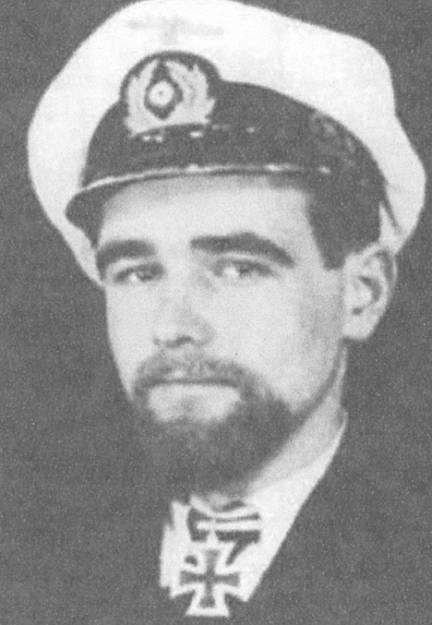 Kapitain Hans Georg Hess.
U995 should have been taken to England, but was in too poor a condition to make the trip so she was handed over to the Norwegian Navy as part of their War Reparations. The Norwegians completely refitted her and returned her to service on December 6th. 1952 under her new name of Kaura, Nato Fleet Number S309. Ironically it was as the Kaura that she later visited England as part of a Nato exercise. By 1962 the Kaura's operational life was over and she was laid up.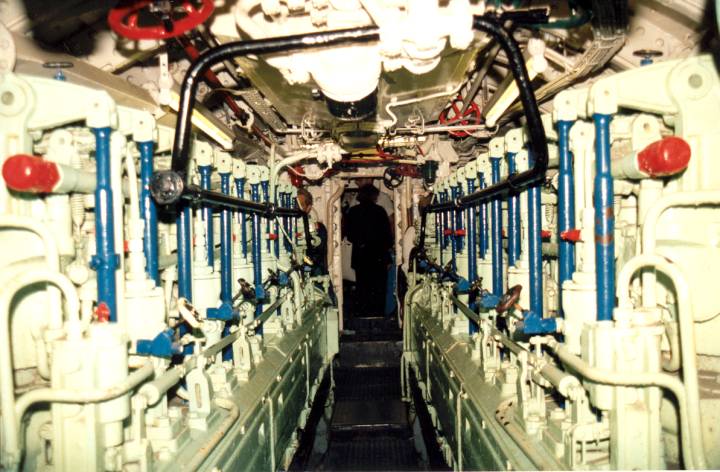 The Engine Room.
It was then that the German Navy Association had the idea of rescuing her and putting her on display. There was some political opposition to this as in those days Germany still was not considered completely rehabilitated, and nobody wanted to give a working submarine back to a country that had been the worlds best submarine nation. In the end these fears were overcome, and in an extraordinary gesture of friendship, Norway, who had suffered terribly at the hands of the German military machine, said that they would be happy to present the submarine to the German Navy Association.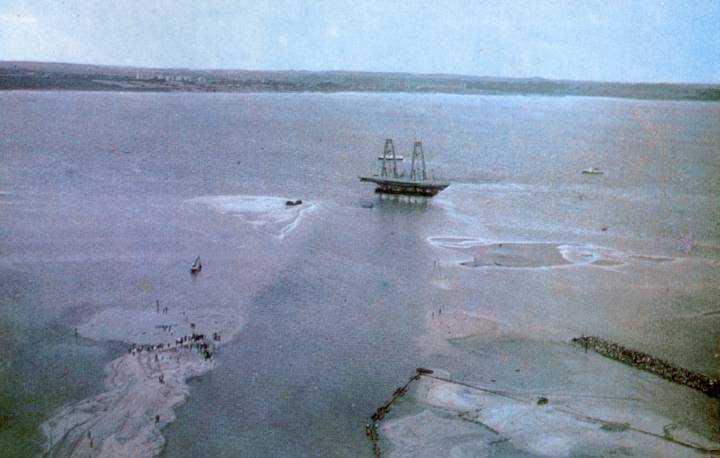 Towed up a newly dug Channel.
The work to turn the battered U995 into a museum took many years, but finally in 1972 all was nearly ready. The U995 was slung beneath a colossal floating crane and slowly towed through a specially dug channel to the beach just in front of the Marine-Ehrenmal memorial at LaBoe where she was lowered into a specially prepared concrete cradle. At her dedication she was visited by many great names including Donitz and Krechmeyer. I would love to know what they were thinking as they walked around this once deadly submarine.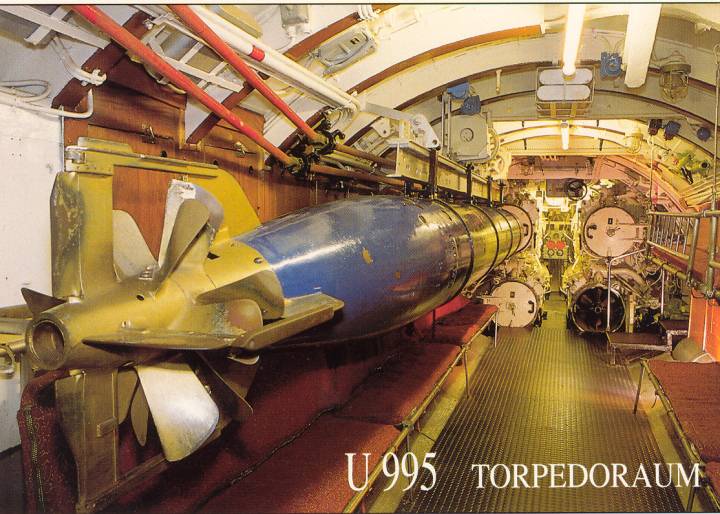 Postcard of the Torpedo Room.
The U995 has been beautifully restored and works very well as a museum exhibit. On one level she shows exactly what a submarine was like and just how complicated and cramped they were. But on another level the U995 manages to connect with that awful past out there in the freezing Atlantic, the domain of the Wolf packs. What it must have been like to fight and die in these steel coffins is almost unimaginable in today's world. U995 fulfils its aim of being a museum, and also a dreadful reminder of those far off days that all of us hope never to see again.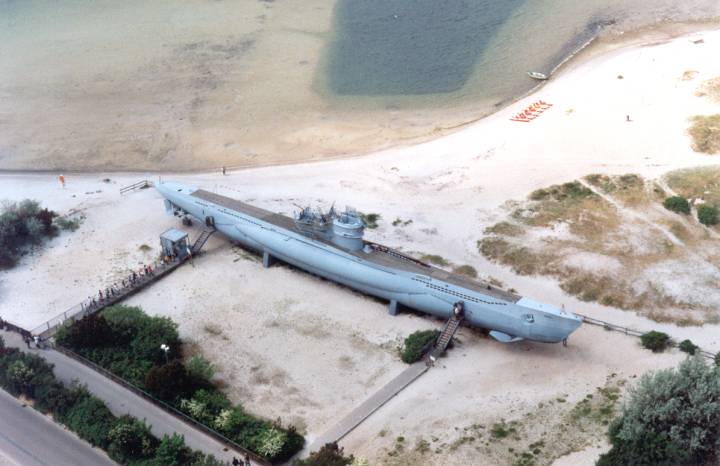 Ariel view of U 995.

Workhorse of the Wolfpacks
Extract from The Silent Menace.dvd