I am extremely grateful to Mrs Marlene Horton for allowing me to post her son's letter, and for lending me the photos and video footage below Sydney Horton joined the Royal Navy on 15th July 1947 as a Boy Seaman. He did his basic training at H.M.S.Ganges (alas no more) and joined H.M.S.Norfolk. Sydney stayed in the Royal Navy for twelve years, bought himself out for a while and and then re-entered the Service for a few more years. When Sydney finally left he went to work for the Paper Converting Company, based in Plymouth for 28 years. Sadly, Sydney Horton died of Asbestosis on 28 January 1995.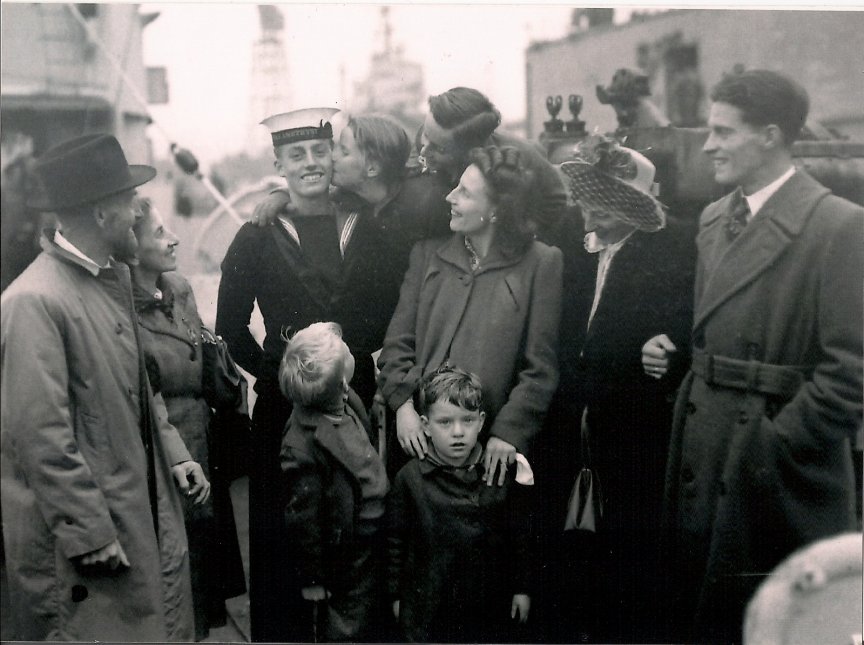 Sid Horton with his family, on his return home.
Here is Sydney's own description of what happened on H.M.S.Amethyst. Dear Sir, In answer to your request for any information regarding H.M.S. Amethyst, I will give you a build up of how I started my Naval service and ended up on the Amethyst. I Joined H.M.S. Ganges as a boy seaman on 15th July 1947, did my basic training and left there on 1st July 1948 to join H.M.S. Norfolk which was a 6 inch cruiser stationed on the East indies ( Tricomalee ) for a two and a half year commission. When Norfolk sailed for home waters on completion of her commission, 90 of her boy seamen were drafted to other ships, mainly in the Far East to complete their two and a half years.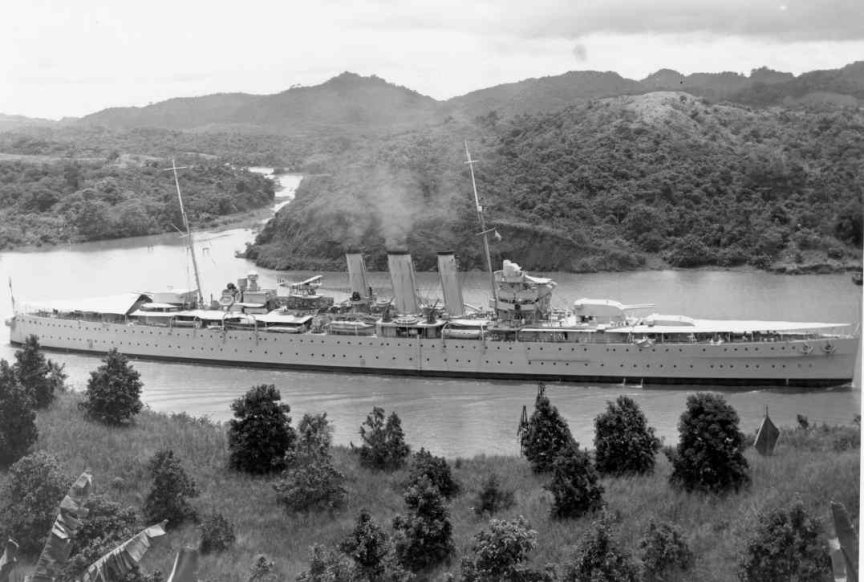 H.M.S. Norfolk
Myself and fifteen other boy seamen ended up on our way to join H.M.S. Amethyst in the far East. We joined Amethyst in Hong Kong in March and sailed for Shanghi. We left for Nanking on the 19th April and anchored overnight with some Nationalist warships. Early next morning we got underway and proceeded up the river. Around nine o'clock we were closed up at action stations. My station was on 'B' 4 inch gun just below the bridge when I heard rifle fire and shortly after gunfire, and shell whooshed over the bows which had canvas Union Jacks draped over the sides, but luckily there had been no hits to the ship. About twenty minutes later there was more gunfire and this time shells hit the wheelhouse, the bridge and other parts of the ship, and within minutes the ship started to turn to port very quickly and ran aground on a small island known later as Rose Island. With the ship stuck on the mud of the Island 'B' guns crew were of no further use because the guns could not bear on the target. We dispersed as a crew and tried to be of help in other parts of the ship.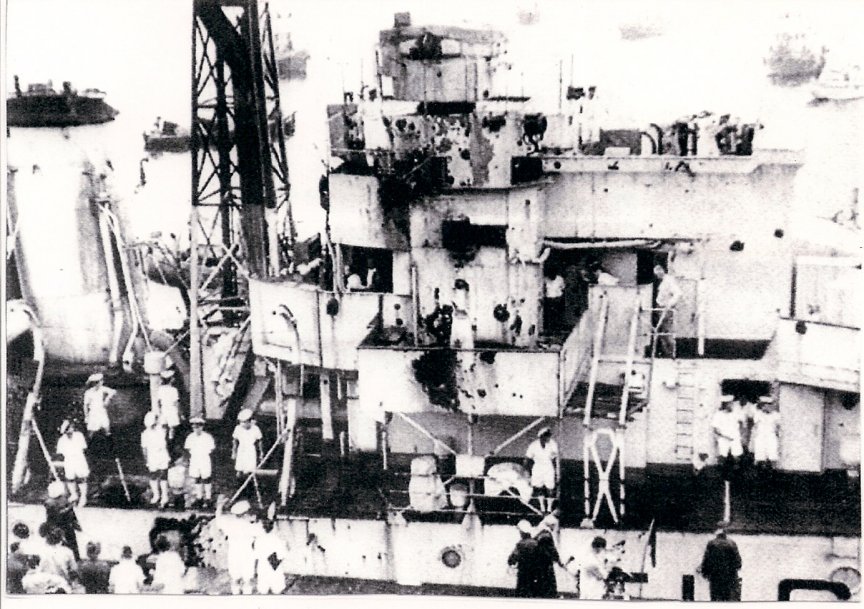 Effects of gunfire on 'Amethyst'.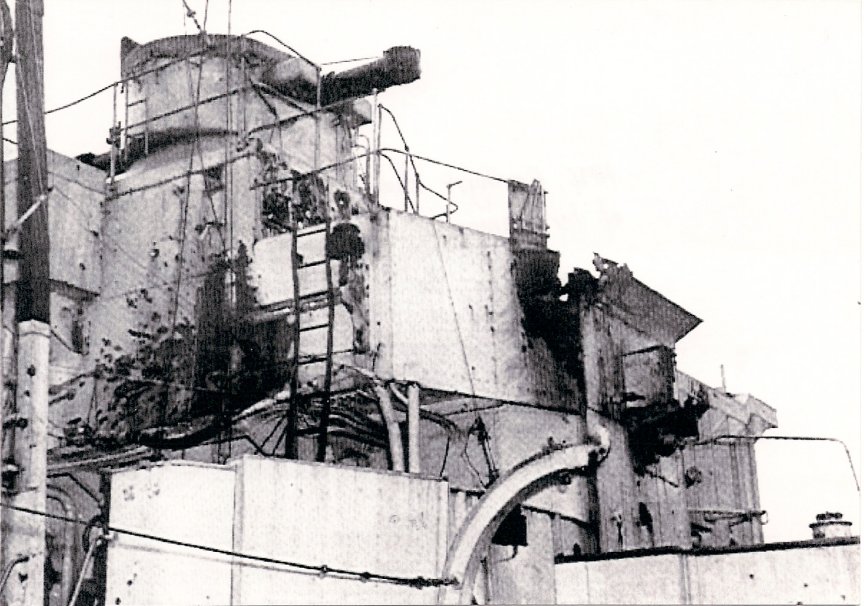 Effects of gunfire on 'Amethyst'.
I found myself going up the wheelhouse steps and found the place in chaos. The Coxswain and telegraph men had all been hit leaving the second Coxswain the only man on his feet. There was an awful smell of smoke, and I helped to get the wounded down into the seamans mess deck, went back up to the bridge and helped to bring the injured men down below, noticing Lt. Berger had most of his clothes blown off by the blast. The ship by now could only defend herself with 'X' gun back aft, which she did until 'X' gun also had a direct hit. I found myself taking small arms up to the upper deck, and within minutes down below again because any movement on the upper deck was met with small arms fire from the shore. The upper deck was a shambles, there was bits of boat, bodies and wounded, who we took below to the messdeck. By now the ship reeked of smoke, cordite, sweat and blood.
Next came the order to abandon ship and take the wounded to the whaler to get them ashore out of the way, but even with men in the water following the whaler to the shore the small arms fire never ceased. My next job was down below tidying up the living quarters and tending to the wounded that was left onboard. I was given the job of lookout on 'B' gun deck, looking out for the destroyer Consort coming down from Nanking. What a thrill Consort gave me when i first sighted her, the gunner asked the signalman to flash her. On the way down towards us she opened fire to Port and I could see her hits on the gun positions on the banks, there was bits of everything flying in the air that was once gun emplacements. She came down to a position almost abreast of us and slowed down to make signals, then went down river to us and turned around and came back up never firing her guns to starboard, the sight of how calm and collected her crew were made me feel very proud to be British.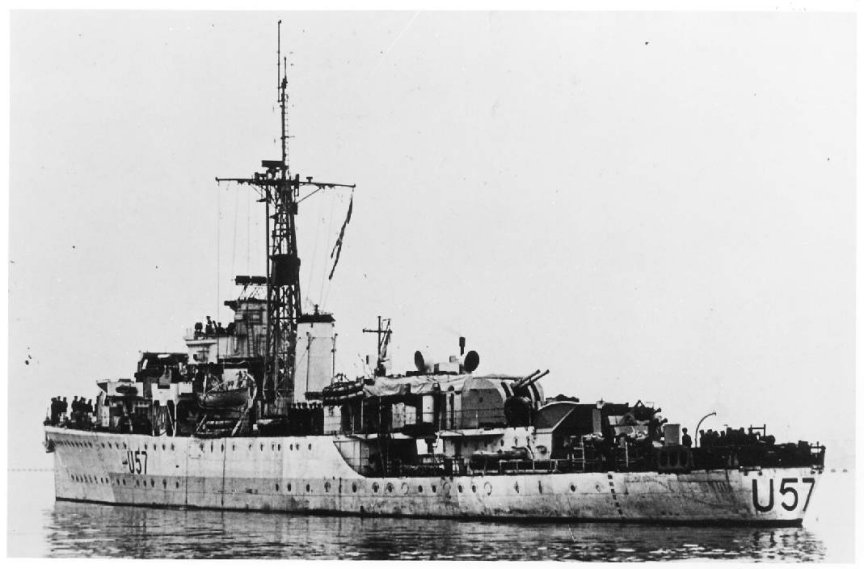 H.M.S. Black Swan H.M.S. Consort.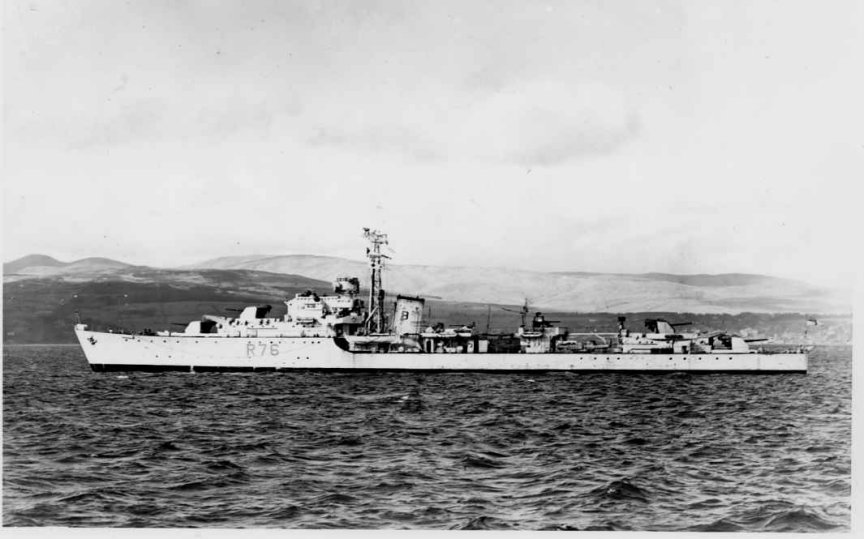 H.M.S. Black Swan H.M.S. Consort.
The Consort then turned around again and with a whacking great bow wave which was sweeping the banks away disappeared out of sight down river. Not long after a couple of nationalist fighter planes shot overhead and straffed the banks with what sounded like machine guns. My next job was helping to lighten the ship so as we could have a go at getting the ship off the mud. We looked at anything of weight, and if it moved, threw it over the side, and by this means, plus pumping oil over the side we managed to free the ship from the mud and moved a couple of miles up river and anchored. My next task was helping tidy up the ship and the awful task of collecting the dead from around the ship from around the ship and placing them on 'X' gun deck, this was made easier by a couple of tots of spirits.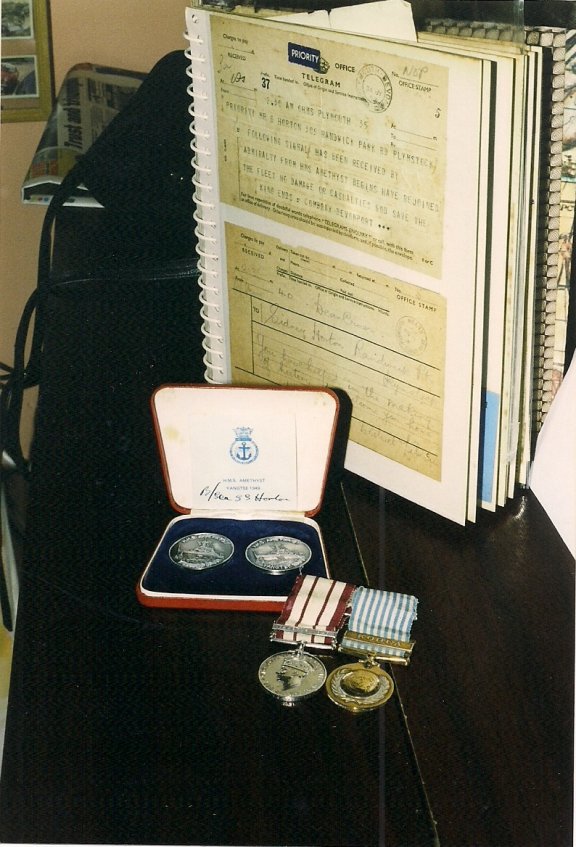 Sydney's medals,with the famous telegram, and the return home.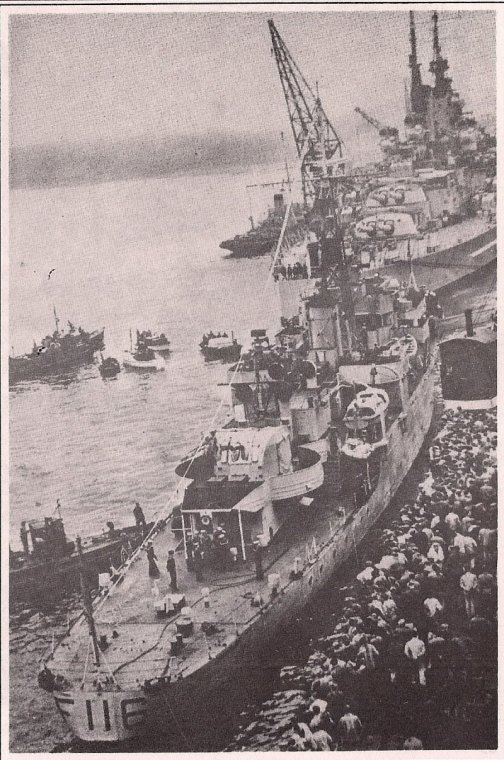 Sydney's medals,with the famous telegram, and the return home.
My next thrill was being told that the cruiser London, and the frigate Black Swan were on their way up river to help us out. I had heard the sound of distant gunfire, but this came to nothing because both ships had come into heavy gunfire. When the London and Black Swan failed to reach us just about everyone left on board felt utterly dejected. There were rumours about submarines and aircraft trying to help us, and to our surprise a Sunderland flying boat circled us then landed and left us a doctor and medical supplies, but left us minus our ships gunner.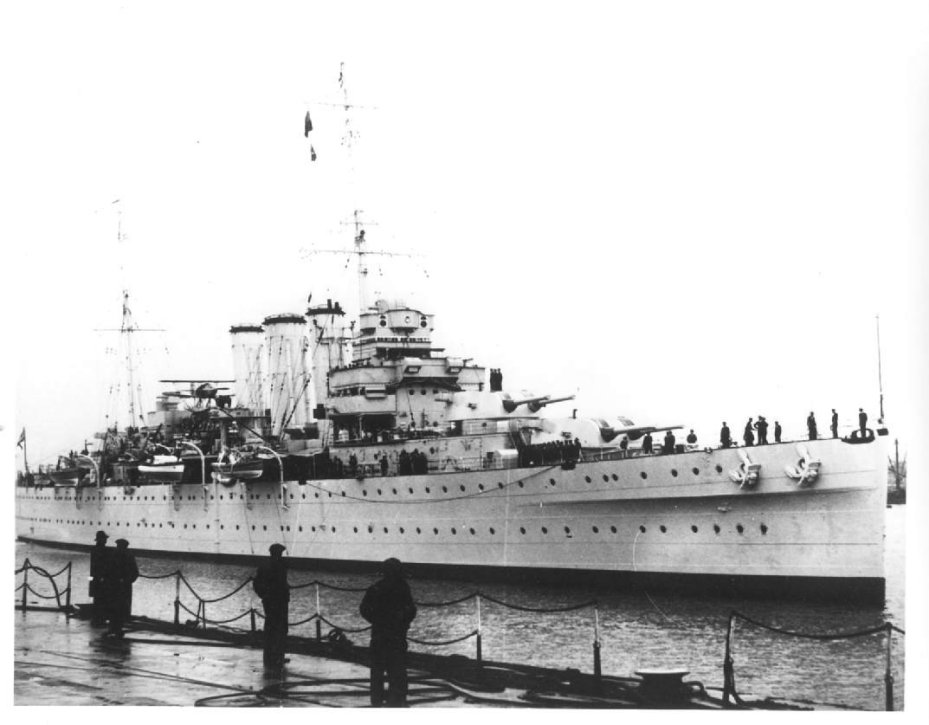 H.M.S. London
We next moved further up river and re- anchored where the new Captain of our ship came aboard from a Nationalist landing craft. He walked around and assessed the damage to the ship and almost right away arranged the burial of our dead into the Yangste river . A couple of times after this we were told to be ready to abandon ship, the Captain had charges placed and had plans to scuttle the ship seeing we never had enough boats to row ashore.
We watched the Communist Army make its crossing of the river in every boat imaginable, then for week upon week we fell into a ships routine again, tidying up, making different parts of the ship better to live in, and better protected against shrapnel and small arms fire if that arose. Over this period the Captain had been in touch with the Army ashore, and our 'Jack Dusty' had been able to procure eggs and fresh vegetables with bartering against a trader from ashore. One afternoon I was working on the cable deck, forward, making an adjustment to a steel cable holding a bolt of timber between the ships bows and the anchor chain, when the cable suddenly came under load and broke my right arm at the elbow.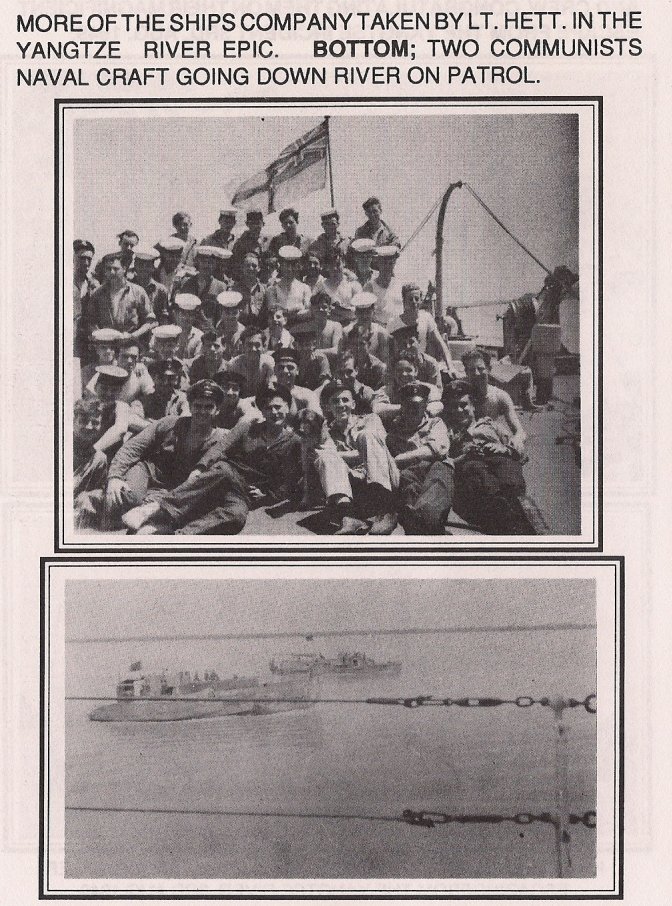 Sid with broken right arm.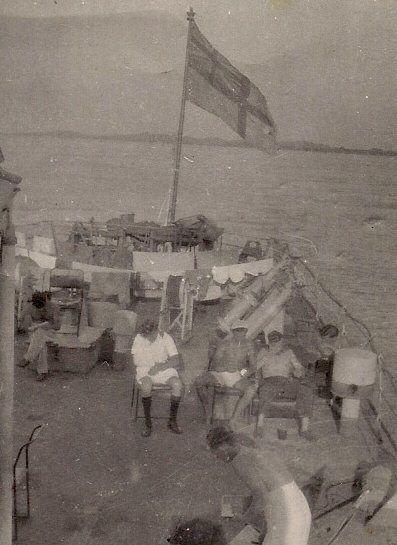 Sid with broken right arm.
A couple of weeks after breaking my arm, I was sent ashore with the R.A.F. Doctor and given an X ray, and returned back on board. When the captain decided to make a break for it, I and one other was stationed back aft in the tiller flat to steer the ship if the wheelhouse was hit on the way down. The ship reached Woosung, and was met by the destroyer Concord, and on coming up from below what a beautiful sight she made and what a lovely feeling it was to feel free at last. After much cheering, laughing and shouting, we headed for Hong Kong.