Of all the wrecks that I dived on in Scapa Flow the Brummer remains my favourite. It certainly is not the biggest, but for sheer dive sensation I believe that it typifies what it is like to dive on these fantastic wrecks.
Built at Stettin and launched in December 1915, the Brummer was a light cruiser of some four and a half thousand tons. Its main armament consisted of four 5.9 inch guns and she had a top speed of twenty eight knots. At 14.30 on the 21 June 1919 she was scuttled along with the rest of the German fleet at Scapa Flow. Well that's the bare facts. It certainly tells you about the boat, but it does not tell you anything about the almost heart stopping sensation that you get when you first dive on this relic of a once mighty Navy. Words like awesome, incredible and unbelievable are just some that were used by the other divers on our boat, and they did not even begin to get near the effect that this wreck had on all of us. And remember, this is only a light cruiser, not one of the mighty Battleships.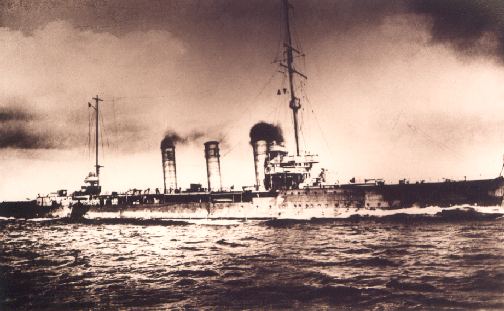 The Brummer.
For once I am not going to try and give you a dive report because I do not think that it would do you any good. The distances to the wrecks are long and you really need local knowledge to sort out the tides and unpredictable weather patterns. Marks are not really much good either, the ring of islands all look so alike that most of us were permanently disorientated for most of our visit. When the weather worsens even the local skippers have some difficulties in finding the wrecks, but when they do they almost always put you on the more interesting bits (like the gun turrets). this sort of expertise is rather important because if you have never seen a light cruiser before, and left's face it, not many of us have, you could find yourself swimming the wrong way along a steel wall reminiscent of a twelve storey block of flats.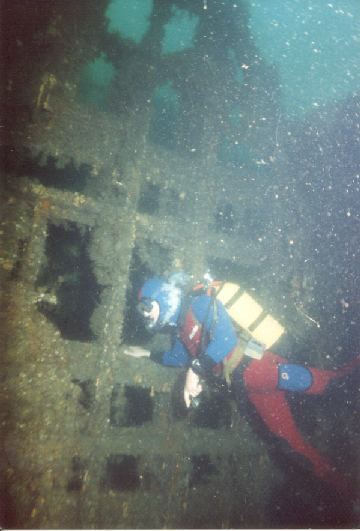 These wrecks are just huge.
Today the Brummer lies on its side in one hundred feet of water. A ship this size, virtually intact and lying on its side takes some getting used to, and at first you tend to swim along with a crick in your neck. Fortunately however the visibility is excellent usually thirty foot or more, and once you see something like a gun turret it orientates you and then you can really start to enjoy your dive. As I said, thirty feet above the wreck, I saw a gun turret, and after examining that we swam into a mess deck. This was amazing. All the portholes, alas only Iron, were completely intact including the glass and deadlights. They were all just hanging open and as you swam along you just reached out and touched them and soon all the row of portholes were swinging to and fro.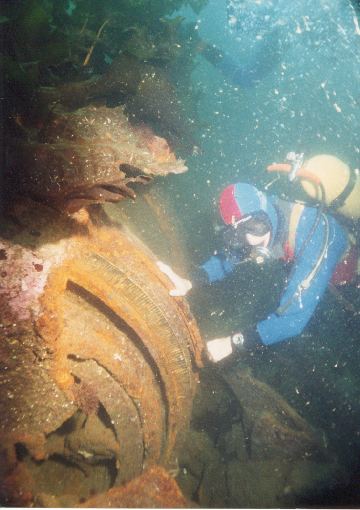 Brass Turbine.
It seems a bit childish now, but we just swam up and down swinging on those portholes, shouting, (or trying to) to each other in our excitement. Looking down the width of the ship you could see the lattice of ironwork that supported the upper deck. At various intervals, hatch and doorways leading to other parts of the ship were visible and it was looking down a huge lift shaft. Light glowed in from a double row of portholes on the ship's hull, lighting up the interior and giving a truly awesome impression of size. We plunged down the lift shaft burbling away to each other and came out of the messdeck through a hole in the side of the hull and found ourselves on another gun turret. The minutes were ticking by, but we just had to have a look at it and then we found that we were right beside the bridge, its empty square windows looking like black pits in a huge wall of steel.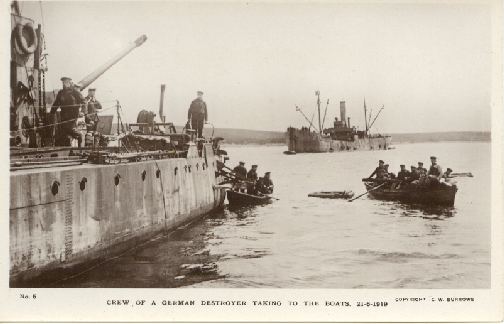 Post Card.
As we swam back to the shot we missed it and came across the mainmast, complete with its fighting top and crows nest, lying stretched out across the sand. You could swim into the fighting top and still see some of the tally's on the now rusting control gear. Absolutely incredible, I just did not want to come up. But, when I finally had to surface, I still could not shake off the feeling of sheer power that this ship conveyed to me. In her day the Brummer was an awesome example of German sea power. Sixty seven years on that word still describes her and the dive – awesome.
---
Special Report: Scapa Flow: